Are you looking for an extra $3,000 per month from a semi-passive website?
Should I buy an established website to create alternative methods of cashflow and steady income streams? Buying and selling websites for profit is a way that we teach our students to build themselves a semi-passive income that they can do while still in their day jobs or running their business.
Today we have Marco from Empire Flippers who shares with us a perfect example of a passive website for sale that makes the owner an extra $3000 per month on autopilot.
This website is a nice lucrative side hustle for the owner who is able to run the website on less than 3 hours per week. He has a virtual team that runs the site which mainly involves posting top quality SEO'd content to help keep his site generating quality traffic.
Today's website for sale showcase is a great example of using other people's skills and time to run your online business passively. Using this method of outsourcing, could you perhaps look to buy or build multiple income-generating websites, and diversify your passive income even more?
CLICK ON THE VIDEO BELOW to hear about this profitable ready made website for sale
Turnkey Website For Sale Makes Passive Income From Reviewing Power Generators
Matt Raad:                  Hi everyone, and welcome to this week's Website Showcase. Today I'm here with Marco Reeves from Empire Flippers, and Marco has got an awesome website listing for us. Wait till you hear this one, guys.
Marco Reeves: Welcome, and thank you for having me.
Matt: Hey, one quick thing to give a bit of an intro to those of you who are listening, and that is Marco has got an Aussie accent. But where are you actually based at the moment, Marco?
Marco:            I'm actually in Medellin, Colombia. This is just one of the perks of the online world as your audience knows. You can pretty much work wherever you want, so I do tend to do that. But I was only supposed to be here for one month in March. And I'm sure you all know what happened in March – lock-down due to COVID19. The world kind of changed and they cancelled my flight home and closed the borders. So I'm just stuck here for the time being as a digital nomad. There are worse places to be, but that's my situation right now.
Matt: There you go. The ultimate digital nomad lifestyle in COVID-19 back in Colombia, helping you to buy and sell awesome affiliate websites.
Marco: That's it. Well, I'm stuck here with two of my co-workers as well. We're pretty much got an online business selling brokerage grindhouse going on right now; just hustling, buying and selling websites. It's hard work but it's good to keep you focused.
This Passive Website makes $3,000 a month from Amazon Affiliate Commissions
Matt:               Awesome. And you're telling me that things are really busy. And that's why I want to talk to you today about a great site that you've got listed at the moment that just seems to have taken off during the lockdown period.
Marco:            For sure. Look, I picked this one. So, for your readers, they can go to EmpireFlippers.com and create an account and just go through our listings. This website for sale listing is 47540. For anyone who's applied to unlock the listing, they can see a lot more of the confidential information.
This is a website that's making USD$3000 a month selling on a 32 times multiple, and it's listed at USD$97,000. It's an Amazon Affiliate Commission website, and it reviews home generators.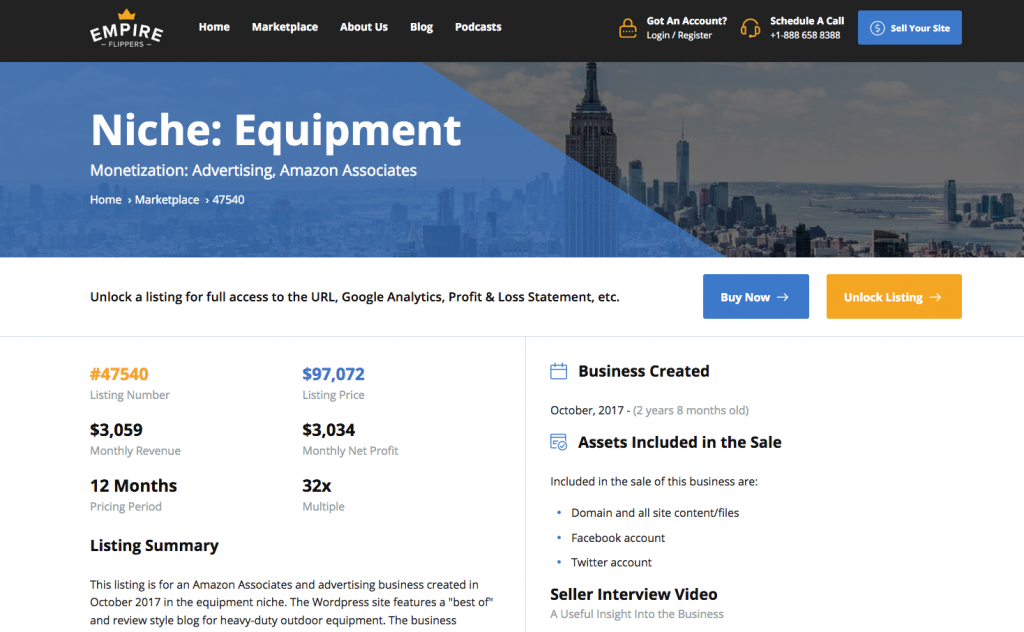 …Creating Passive Cash-Flow in an Evergreen Niche using a Simple Content Strategy
And I thought that would be pretty good because I just remember hearing stories from back home: Everyone's running out of toilet paper back home, so I just thought maybe we could do with some generators as well. So pretty important.
Matt:               Well, obviously generators are really popular there in America. So basically, if anyone's reading this who's a beginner online and doesn't understand the model, this is a site where presumably the owner has been reviewing generators.
How Do Websites Without Products Make Money?
Marco:            Yes, it would be a content website. And then it would have content specifically around the specific niche and topic; this one is generators. They would either review or have content around a specific topic. And then of course, that would link somewhere in the article to Amazon via an affiliate link. And whenever someone purchases from that link, then the site owner gets a commission from that.
Matt: And, this is quite an established site. This is not a brand-new site is it? It has good solid history?
Marco:            It's almost three years old. And it has a really good link profile. It's been performing quite well during the whole corona pandemic. I think people just want to make sure they've got some extra cash flow for their families. And I know, it's a really solid earning website and that's certainly why I decided to recommend it.
Content Website Sticks To The Tight Niche Of Generators Only…
Matt:               And does he have any other product reviews on there or is it just specific on generators?
Marco:            This one is specifically generators. So, depending on what strategy you want to use to improve the website, that could be an opportunity to expand to different niches. I would say, with this one, there's not much social media and there's not much of an email list here.
So, for me, I always like to look at these niche online businesses for sale. And look, it's great that it's gotten to $3,000 a month but if your audience starts imagining, what if you were to build out social, what if you were to build out an email list? The potential is quite endless, actually.
How to grow the website…
Matt:               So with a site like this, in addition to improving it by building an email list or social media, what other typical things would a new buyer of this website need to be doing to keep it running and to grow it?
Marco: I guess the good thing about a lot of our websites is we will typically provide that information, as some of them do have virtual assistants who already do a lot of the work for them.
But at the very least you know the initial website skills you would need to develop, if there was no assistance. You would be learning how to write some content. You wouldn't need to know about generators, but having an interest for that niche wouldn't hurt. And then also skills like using SEO to improve the site traffic and ranking.
Matt: We teach good quality SEO skills here at the eBusiness Institute.
Marco: I'd say those are the basics of a content site. And then once you understand that, and you've got it running, then you can look at expanding into other channels.
Current owner only spends 3 hours a week on this semi-passive website
Matt: Is there any indication how many hours the current owner of this website working on the site?
Marco:            For this one in particular… this is an example where the owner actually doesn't write the content. So that would actually save quite a lot of time, and he only spends around three hours per week managing the outsourced writer, managing authority builders and monthly billing.
He's actually hiring someone for his SEO, formatting and publishing new content, updating that to WordPress when required and monitoring analytics. For an asset site that's giving you USD$3000 a month, and only spending three hours a week on it sounds pretty good to me.
Steps To Buying A Website On Empire Flippers…
Matt:               Awesome. If someone is interested in doing website purchase due diligence on this site, how do they go about buying a website on Empire Flippers? Is there a process there for them to do that?
Marco: That's where we can hold your hand along the way. We are certainly known for being one of the stringent and stingiest in regards to letting people onto our marketplace. So we do reject around 80% of people that get on.
But, if any of your audience want help with buying websites off our platform, they can always reach out to us. There are forms out there to book an appointment with a salesperson. And we can guide you through that whole website buying process, all the little ins and out.
Should I Buy An Established Website right now?
Matt:               Fantastic. And there's a lot of interest from buyers to purchase a profitable website like this at the moment. What are you seeing out there on the website buyer side?
Marco: Things are crazy at the moment. I think even some of your audience who are already running online businesses could attest to it.
When the Covid-19 first hit, I was very worried about how things would play out of course. But now over the last few months, things have just been really crazy out there. I'm sure your audience has seen the stats for the rest of the economy; it's not exactly pretty.
But while consumer spending is down, it's just all concentrated online. And a lot of these online businesses (not everyone, but a lot) are having record months.
"In regards to just looking at new asset classes to diversify and create new sources of income, I really can't speak about online businesses strongly enough." – Marco Reeves, Empire Flippers
Matt: That's awesome. And especially generators; it sounds like it's a booming market.
Marco: Yes. We've actually got a toilet paper roll website as well, so that's another one maybe your audience can check out as well.
Matt:               That might be a bit more faddish, I think, because the generator one has been around three years; it's established, its a proven profitable website, no matter what happens out there now. But obviously at the moment, it's booming really well but I think it will keep going really well especially if someone keeps working at it.
Finding Ready Made Websites For Sale…
So if anyone's reading this, and you're interested in getting online and purchasing a ready made, good, solid affiliate website that's evergreen, then make sure you head over to Empire Flippers.
Marco:            I'd encourage you all to create an account on Empire Flippers. You can become verified as a website buyer on our platform and then, we can give you more detailed information on this current listing.
To see more details on this ready made Amazon affiliate website its listing number 47540: https://empireflippers.com/listing/47540/
Matt: Awesome. Thanks so much for that Marco. We'll see you next time.
If you want to know more about how to buy and sell websites for profit, then make sure you attend our free online training series: A Smart New Way To Build an Online Business. This training will give you a great start in what to look for when completing due diligence on website purchases.