How Buying Websites Created Lucy & Gary's Dream Lifestyle Business
Several years ago Lucy Walter and Gary Clements were facing an extremely challenging period of their lives – Gary's traditional business once worth millions of dollars was being decimated by online business to the point where it may become worthless and Lucy was facing the prospect of never being able to work or generate income ever again due to her MS (Multiple Sclerosis).
They knew they had to do something to turn their situation around and this amazing couple did exactly that and in doing so completely changed their lives through restarting (and retraining) all over again with digital online business.
At our live events our audiences always love hearing Lucy and Gary speak as they are such an inspirational couple and so we are very grateful that they recently shared their turnaround story here for us.
Lucy and Gary now have $100,000+ MONTHS! Working the hours they want from their beautiful hinterlands rural property…
They came onto our E-Business Institute program with very little technical knowledge and zero online income. They followed the lessons and applied what we taught to create their own portfolio of income-generating websites. They've now achieved their ultimate freedom of being able to work full-time online from their beautiful Sunshine Coast property, generating $100,000 per months and now enjoy a life of complete freedom to do what they want, when they want.
CLICK ON THE VIDEO BELOW to hear from Lucy & Gary
Liz Raad: I'm here today with some very special people – Lucy Walters and Gary Clements – who I really wanted to talk to, because they have had such an amazing journey.
Let's start out with where you are now, because gosh, you've had an amazing online journey. But what's life like now that you're online full-time?
Ideal Lifestyle Business
"We work when we want"
…with a portfolio of websites that make money for us whether we work or not…
Lucy Walter: Wow, it's been quite a ride. But we have the best life now, Liz. We work when we want. We basically work how we want. We have a really great portfolio of websites that just make money for us whether we're doing something or not. It's just fantastic.
Lucy: Gosh no!
Liz: So now, you both now don't need to work on other businesses? And you don't have a job?
Lucy needed to find a way to work from home…
Liz: So, what actually started you down the online income path?
Lucy: I think it was a combination of me not being well, I was diagnosed with MS (Multiple Sclerosis, a chronic neurological disease)
Gary needed to find a way to move from traditional business to online…
Gary Clements: And my mainstream distributing business throughout Australia was going to be crushed by the international web. So, as the internet came on, we had to find another solution. Nothing better than using the internet as our revenge for the internet killing our business!
Liz: So, you were in a traditional wholesale business that was going to die?
Gary: Yes, we had millions of dollars, and people everywhere, and cars on the road, and reps traveling etc. And we could see that the end was in sight. So, we simply had to find another way.
The journey started with a private coaching program…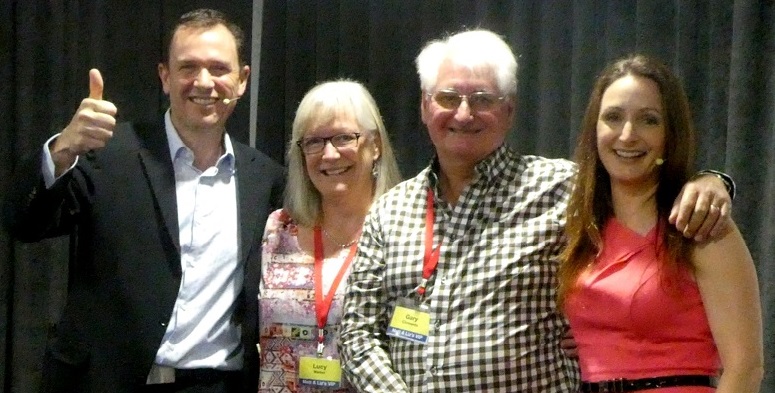 Liz: So, obviously you did our Champions program. While you were on that program, you were learning. But then, once you got off your training wheels, what was the first deal that you made?
Learn How To Do Website Due Diligence…
Gary: For our first real deal, we were still doing the course. I was studying lots of due diligence across lots of sites. And then, once Matt (Raad) said "okay, you guys are ready", we really looked closely at one particular site in one particular niche. But they wanted $50,000 for it, and the deal fell over. We couldn't afford it at that time anyway.
The advantages of knowing how to do good website buying due diligence…
But shortly after, another one came up in the same niche, for a little less. We knew that site backwards, and better than the seller did. So, we were able to buy that website, spending around US$28,000 on it.
We did what you guys teach. We bought it well, and we've renovated it. I think we bought it on an 8x payback multiple.
Liz: Which is a great deal to start with, eight times multiple.
Gary: But we paid off in three months, and it just keeps ticking over and selling and making money every month. And that's probably our favourite online deal.
All-time Favourite Deal: Website bought for $28,000 and paid off within 3 months!
Liz: That's pretty incredible. I'll repeat that – you paid it off in three months!
Gary: And that's the best thing. We were used to being in business with the sort of background we had, with all that money tied up, and all that debt. But now, here's a business that's running on its own, debt free, there's no more risk.
Taking it to the next level was easier than they first thought…
Liz: That's great, but it doesn't end there. You then had a lovely nice surprise, even after you bought that website, didn't you?
Gary: Yes, because the original one came back up for sale.
Lucy: And we were then in a position to buy it.
Gary: So we bought that site as well.
Tip: Own a niche by buying up other websites
Liz: So, now, you're starting to be your own moguls in that niche.
Gary: But that was even more fun. Because this new seller – he's sitting there, talking to us about this website. And I'm sitting here with all my real analytics from the first website we had bought. I know exactly what he's talking about, because he's number one and we're number two (in Google). Everything he tells me; I can validate or cross off the list as blue skies. So, we bought that one too.
Lucy: And that's thanks to what you guys taught us at the eBusiness Institute.
Making passive 6-figure income each month!
Liz: So, now you're having $100,000 months!
Lucy: Yes, and that's profit. That's not just turnover. There's no cost involved once you have bought your websites and paid them off.
Liz: Our accountant's always saying to us, what the heck are you guys doing? Where are your costs?
Gary: There are no costs. A little bit of hosting. A techie for safety.
Complete financial (and time) freedom through websites…
Lucy: So much freedom. It is remarkable, isn't it? The amount of freedom we have. And every night we just go through our spreadsheet with all our websites, and we go "wow! Look how much we made today". It's so fun!
Lucy and Gary started with no prior knowledge of how to build or buy websites…
Liz: So, for those people who are just starting out, and want to know – did you start out with technical knowledge?
Lucy: Gosh no! I would say, we probably weren't the most novice in the room. We could send emails. Gary could manage spreadsheets.
"We knew what websites were. But we had no idea how to build them, what to do with them, certainly not how to go in, buy them and renovate them".
Tip: Start small and learn how to build and buy small websites first
Gary: But, I think, for anyone starting out – just login to Matt and Liz's Digital Investors program, follow the system, and trust it. As long as you take the action, do the repetition (doing something every day), and learn the process. And once you're comfortable, just start taking small risks. Just buy some smaller websites, build some websites, and you'll never look back. (Side note: As part of Matt Raad's coaching Gary Clements on how to buy websites, he made Gary stick to buying websites under $300 until Gary was ready to progress to much bigger websites)
Lucy: The thing is, with what you guys teach and the way you teach it, you don't need to spend $30,000 to buy a website anymore. It might take a little longer to get there.
But as you teach, its a great low risk strategy for building a portfolio of passive websites – build the money up, and buy websites when you're ready. There's almost no investment needed, other than the education, which is great.
Lucy and Gary now have highly valuable digital skills they can use to make money anywhere…
Liz: Fantastic, and now you guys have got a skill for life. To create money anywhere at any time.
Lucy: We have indeed. And we love it.
"We have complete freedom, and it's a fun life!" – Lucy Walter
And no one can take away knowledge. So, it's just fantastic. We love that. We have complete freedom, and it's a fun life.
Liz: Fantastic. Yes, these guys live on the most beautiful rural property. I'm even jealous. Thank you so much for sharing that with us guys. We really appreciate it. And congratulations. It's an amazing journey you guys have done, and we're really proud of what you've achieved.
Gary: Thank you, and thanks for taking us there.
If you want to learn how to develop a significant passive income stream through buying websites like Lucy and Gary, then attend our Free masterclass on buying websites for passive income.