Digital Training Courses For Future-Proof Income
Practical digital skills and knowledge that will help you succeed in your business, career and life, and create wealth and income on your terms
Unique Digital Strategies, Real World Experience
Learn from experienced online investors how to buy, build, renovate and sell websites and digital assets, to generate cash flow and a portfolio for the future
The eBusiness Institute is a private digital education company that helps Australians upskill or retrain for the future with high-demand digital focussed skills. We offer a range of Digital Marketing Training courses, certifications and micro-credentials .
Our courses are highly specific private training courses designed to retrain even complete beginners, and have been created by successful online entrepreneurs so you get certification in the most practical, money making digital marketing skills.
Practical digital skills and training are the smart way to future proof your income
Who Should Enrol in Our Courses?
Need to re-train or a new career
Need to work in a rural or remote area
Need to rapidly grow or start your own business
Don't want to commit to a four year degree
Need alternative part-time income
Need to work from home
Total beginner needing digital literacy skills
A goal to retire early or live a laptop lifestyle
Become Certified in Digital Marketing
Get certification in the most important digital skills
Search Engine Optimisation (SEO) certification
UX Website Design certification
WordPress Website Development certification
Webmaster management certification
FROM MINE WORKER TO DIGITAL AGENCY OWNER:

"Thank you Matt and Liz for everything you have done for me. The skills I have learnt in this program has opened my eyes to world of possibilities. From a mine worker to owner of a digital agency. Funny where life takes you when someone gives you the tools to take control of it!

- Chris Dinham,

Perth, WA
Now Works From Home Digital Agency Owner:

I have retrained as a website designer in my mid 40's. I now have my own digital agency and am President of my local business networking group. I'm looking forward to the big sell-out in 5 years and will hold onto my portfolio of purchased and bought sites.

- Amanda Steele,

Melbourne, Vic
The information I am learning on this course is priceless, it has already helped me change my life dramatically. From customer service/admin (being tied 9-5 life and the work phone) to becoming the companies digital marketing consultant, earning a sweet pay-rise and choosing my own hours – all in the space of 1-2 months!

- Despina Gavoyannis,

Byron Bay, Northern NSW
Live Digital Training Events
Experience digital learning like never before! Enhance your online learning with unique Training Events, Conferences and Live Webinars - designed to educate and inspire!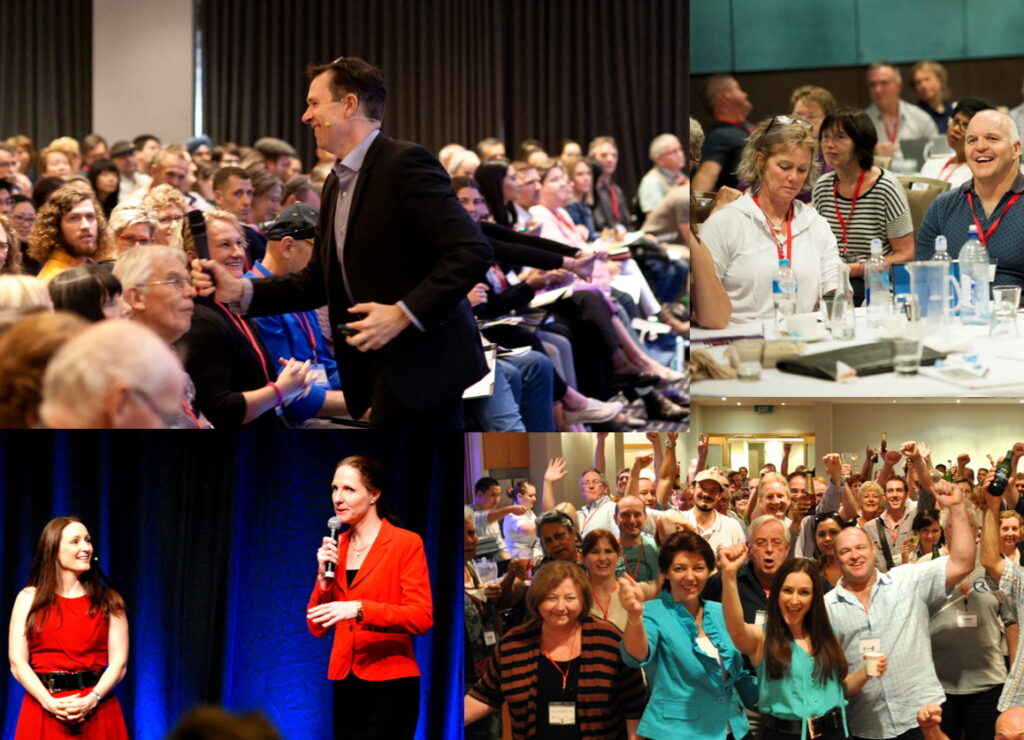 The Founders of eBusiness Institute Matt and Liz Raad are experts at breaking down the complex and sometimes overwhelming world of digital marketing, website development and online business into simple, easy to follow steps in a fun and highly engaging way.
Their live events always inspire, educate and energise audiences - with lots of laughs thrown in!
Come along and experience Digital learning at a whole new level for yourself!
The entire weekend was incredibly beneficial and I have come out inspired to pursue a career in digital marketing. Liz and Matt are amazing and incredibly genuine people who are eager to teach and share their valuable knowledge on the world of digital marketing which is where the future is going.

- Alyssa Crawford,

Northern Beaches, NSW
I liked "all the knowledge on business valuations and big deals – it was all new to me and made me see a much larger perspective of how the online business world works – and how I can get started now to make my own pot of gold online."

- Amanda Byrne,

Adelaide, SA
"I have attended a lot of 3 day workshops over the years and have found Matt & Liz Raads course absolutely amazing. It's relevant and up to date from obvious experts. Brilliant content that will enable me to change my life radically for good. I bought my first website while on the course."

- Sean Levy ,

Gold Coast, Qld
Matt and Liz Raad are the most genuine and knowledgeable web marketing experts I have seen.


- Craig Sharwood,

Sydney NSW
"Very strong strategic business knowledge applied to buying and selling websites."

- Cheryle Doonan,

ACT
"Matt and Liz are just the right mix of care and commerce. Their training courses over deliver value. They laugh easily and tell it like it is. Thank you, very refreshing."

- Steven Hein,

Sunshine Coast, Qld
Why Study With The eBusiness Institute?
Cutting Edge Content

Everything you need to know in today's digital marketing world – from website design and user experience to SEO, mobile marketing and social media – updated for today's marketplace

Practical Training

Not just theory – these courses are designed specifically to give you the skills that make money online.

Get hands-on, bankable digital skills that work in the real world of online marketing

High Dollar Outcomes

Learn how to how to create money making websites for yourself and create a valuable online portfolio of cash generating websites, or become a valuable consultant with the digital skills to transform a business.
Fully Supported Training

You can also get yourself up to speed with our digital live training events, live webinars and the full support of our awesome team

Ecourse 24/7 Study Flexibility

All our Digital Marketing courses are delivered as online E-courses so you can study anytime, anywhere at your own pace. No rushed deadlines or need to leave home. Perfect for distance learning.
The skills that matt and liz teach us are extremely empowering. It gave me (and could give anyone) a real way to make money/create wealth, no matter what your age, background, knowledge or ability… and this is very powerful! An investment that pays back very quickly and in a huge way, unlike any other I know of.

- Ratna Rashid,

Brisbane Qld
Beautiful partnership between Matt and Liz is inspiring. These guys have incredible knowledge and expertise in what they teach. Highly recommend anyone wanting passive income to learn from Matt and Liz Raad

- Kalie Blavius,

Gold Coast Hinterland
Matt and Liz have shown me a way to make money without the need for capital or debt – as a young person this course will help me find financial freedom and allow me to enjoy life without the headache and complexity of buying property or shares.

- Jasmine Facchini,

Sydney, NSW
Without doubt the best avenue for a life-long income producing strategy. And can be passive. Thanks Matt and Liz, this has been an awesome journey. You guys are so genuine and thorough in your teaching. You Rock.

- Richard Burke,

Bundaberg, QLD
An amazingly simple way to build wealth which I had never thought of or even thought it was possible. Such a smaller buy in price compared to property with better returns and quicker. I love Matt and Liz's energy, enthusiasm and passion.

- Nathan Broadbridge,

Sydney, NSW
Matt and Liz and your team, you are doing an awesome job changing peoples lives. I have come from not knowing anything about the online world at the start of the year to now earning $1200 per month passively online. That is AWESOME! Thank you!

- Alexa Mikaelian,

Parramatta, NSW
"Digital skills are becoming more important and more valuable than ever before – now is the time to educate yourself and be ready for the changes that are coming."

Matt and Liz Raad,

Founders, eBusiness Institute
Retrain For A New Career In The Digital Economy
Earn more and secure your future income
Is Your Job Safe? The Digital Career Shift Is Coming!
Will your job or career be safe? Current reports predict that over 40% of Australian jobs will be lost due to disruptive technology and digitisation over the next 20 years.

Now is the time to re-train in jobs for the future with high-demand digital-focused skills.

At the E-Business Institute we help complete beginners re-train in digital skills so they can successfully make money online and/or work in this new digital economy
Even 'Safe' Jobs At Risk

Traditionally secure careers and sectors like law, accounting, insurance, administration, transportation, accommodation and travel are under high levels of change and digital disruption

Online Business Skills Are Becoming Essential

If you are in business and don't have an understanding of digital marketing, you will probably be overcharged and under-serviced – making it hard to stay profitable and ahead of the competition
Two Thirds of Students Studying For Jobs That Won't Exist

According to the Foundation For Young Australians, students need more digitally focussed education. More than 90% of Australia's current workforce will need digital skills to be able to perform their roles in the next 2-5 years

Learn Bankable Digital Skills

The key is to learn the digital skills that can make you money going into the future – whether through a safer job or career, through business, or through investment in online assets
Protect yourself from future job loss

Learn how to re-skill in the digital economy to create cash flow and digital assets
I have been attending business entrepreneur seminars for many years since 1980. Matt and Liz Raad stand out as the most genuine providers of quality useable education I have ever seen. Their information, presentation and support are the best and most generous  that I have experienced.

- David Moore,

Sydney, NSW
NOW RUNS DIGITAL AGENCY FROM HOME WITH HUSBAND:

It is amazing journey and space to be in. It has provided us with time, leverage and a vision for the future. We have the ability now to be able to live anywhere in the world and still be provided with an income on an ongoing basis.

- Lorraine Brooks,

Melbourne, VIC
Now Works From Home Digital Agency Owner:

Matt and Liz Raad are great at making a seemingly complex subject easy to understand. The content and support of their system is superb and can help every internet website novice to earn money online.

- Ward Van Damme ,

Samson Valley, Qld
Recent Posts From
Our Blog