What are the best places to buy websites in 2023? That's a question we get a lot so we went out and did our own research on the top places to buy websites. Today, we're sharing that list with you. You'll learn how these platforms work and the different options available depending on your budgets and skill level, so whether you're a complete newbie or an experienced website investor, there's something for everyone.
Each of these platforms has its own strengths and weaknesses, so it's important to do your research and determine which one is the best fit for your needs. Some of them specialize in certain niches or types of websites, while others offer a wide variety of options. Additionally, some platforms offer more support and guidance for beginners, while others are geared towards more experienced investors.
I hope this list is helpful to you as you explore the world of website buying and selling.
Let's get started!
Detailed Reviews Of The Best Website Brokers 2023
Flippa Review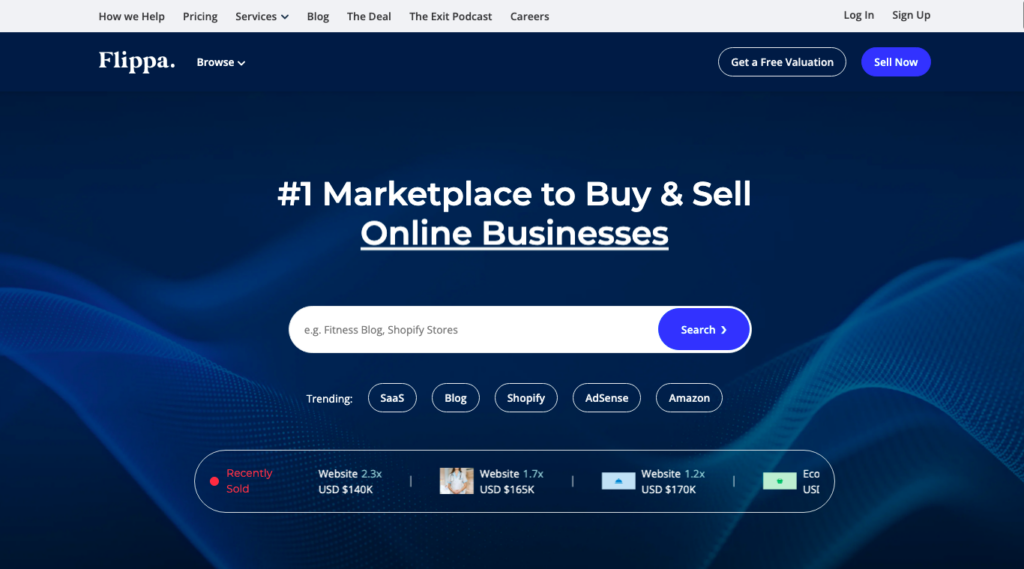 Flippa is the worlds largest website marketplace having sold over 250,000 websites! and where we recommend anyone new to buying websites start because it has such a large range of websites available including much smaller priced ones. Flippa has several other key advantages if you are new to this and want to learn how to buy websites – it has very detailed listings with LOTS of useful data on the websites being sold.
You can very quickly jump onto Flippa and find great sites and do lots of in depth research yourself without having to engage a broker. Tip: Flippa is also great for market and niche website research for more advanced people as well. Flippa works as an auction site for website deals and runs very much like the "ebay" of websites deals. Listings tend to be sold via auction and there are both seller and buyer ratings which is handy in your due diligence and finding trustworthy website sellers.
Flippa is the best marketplace to check out if you want to get into website flipping, starting out small. But don't just think of Flippa as the marketplace to go for smaller sites or for beginners – It has come a long way over the years and has turned into one of the leading marketplaces for intermediate and bigger deals too with high quality listings in the 6 & 7 figure range so there is something for everyone here an its an awesome resource for researching money making websites quickly. Flippa now provides masses of data on profitable websites for free.
Make sure you watch my interview with the CEO of Flippa Blake Hutchison on buying and selling cashflow websites.
2. Empire Flippers Review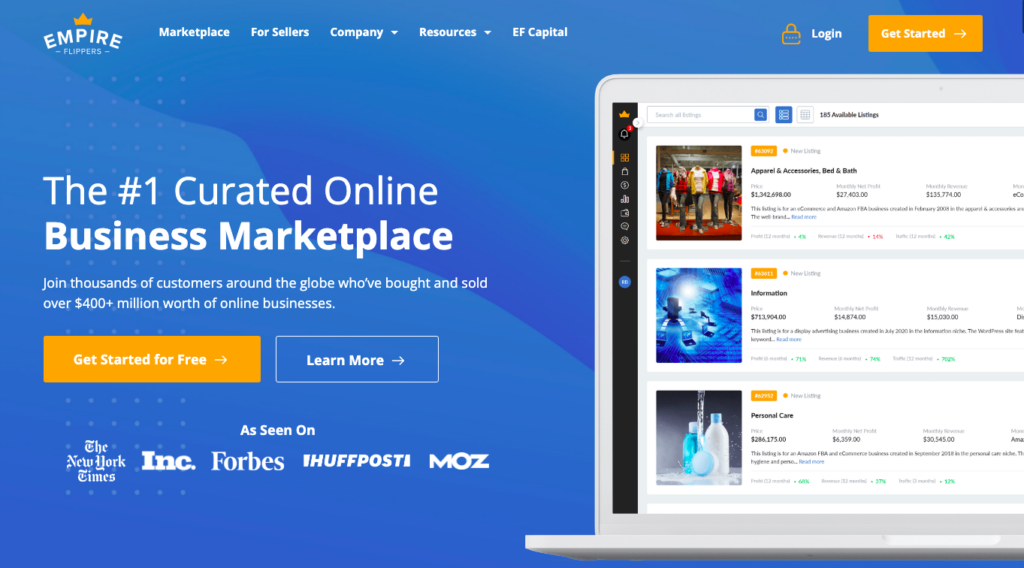 Empire Flippers – Long established and highly trusted website brokers having done over $400 million worth of website business sales. This is the place to go once you are ready to step up and buy 6 & 7+ figure websites. Well known for selling high quality Amazon businesses. The website deals are all vetted by brokers meaning the quality of listings is high – but so too are the sales multiples so you don't usually get bargains here, but you do get great online businesses.
Empire flippers has a thorough screening process meaning the listings are of high quality. To learn more, watch our interview with the CEO of Empire Flippers Justin Cooke to hear his insights.
3. Quiet Light Review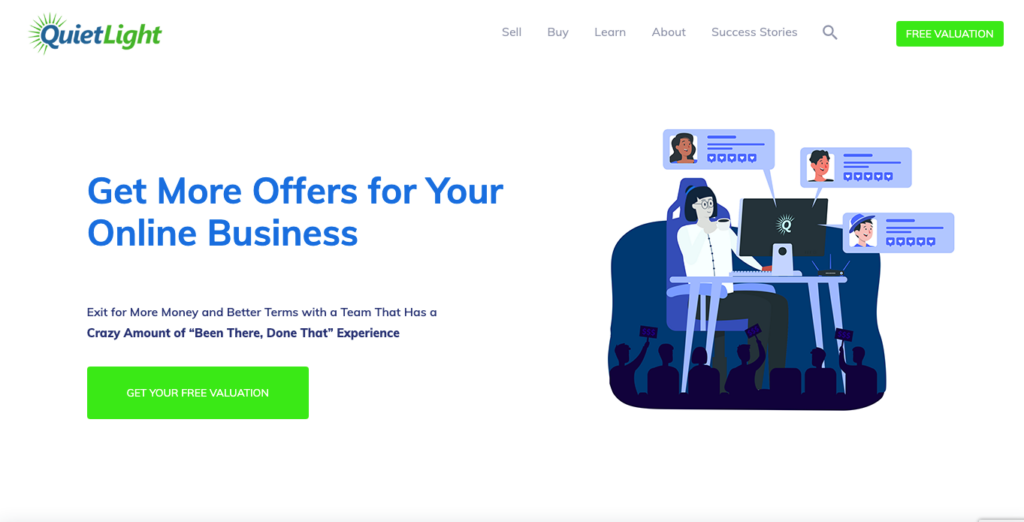 Quiet Light – Highly regarded for selling all styles of mainly larger sized websites, especially over 7 figures. Quiet light is widely recognized as a premium internet business M&A advisor and heres why: One standout with Quiet Light is that all the brokers are experienced online entrepreneurs who have each started, bought and flipped their own online businesses in the 6, 7 & 8 figure range. So they have specialist knowledge in the kinds of online businesses they are selling and as such offer a very personal hands on approach and trusted advice for both buyers and sellers of websites.
Long established 2006 by Founder/CEO Mark Daoust, specialist in selling larger sized online businesses in the millions and tens of millions of dollars, especially in e-commerce, Amazon FBA, shopify stores, content sites and affiliate blogs, and have sold over $300,000,000 in total transaction value.
Make sure you read my interview with Co-Owner of Quiet Light Joe Valley on flipping websites for $9million. Joe Valley is one of their leading brokers who specializes in selling content sites.
4. FE International Review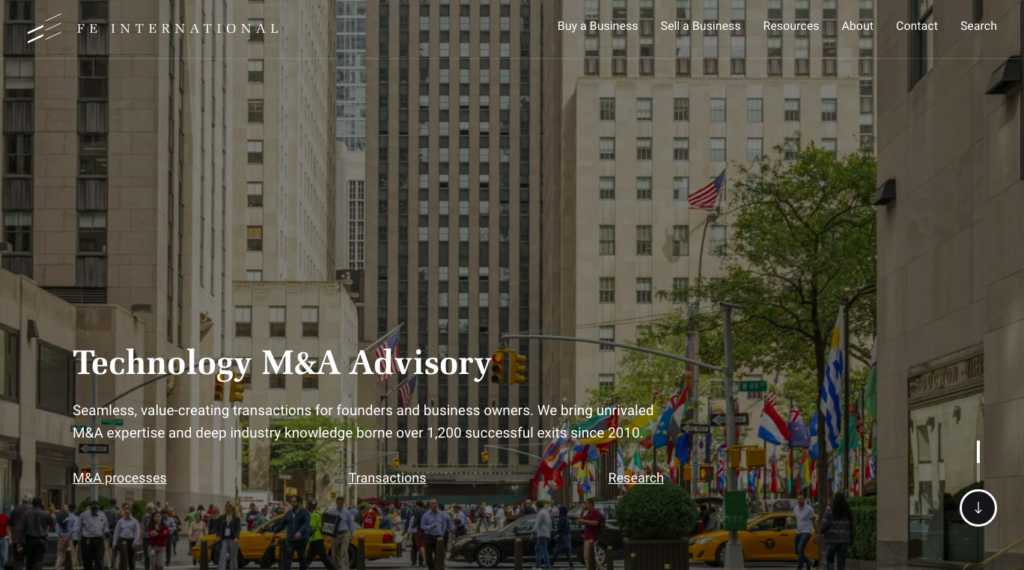 FE International – as above. Run as a professional merger & acquisitions firm selling websites businesses in the tens of millions and up. They are well known for being specialists in selling high quality larger sized SaaS, e-commerce and content sites. They have done over $1 Billion in sales. FE international was listed as one of the fastest growing companies in USA in 2020, 2021 & 2022.
Check out my interview with CEO & Founder Thomas Smale to get valuable insights into the website sale marketplace.
5. Investor Club Review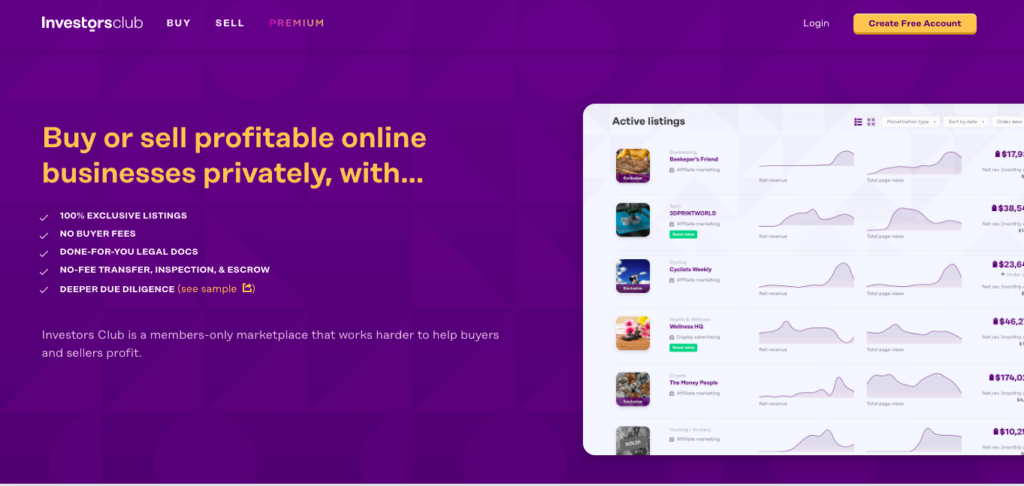 Investors.club – specialized marketplace for affiliate and content websites making $500 per month with lower broker commissions (only 5%). As the name suggests, it is set up as a club for members only so if you join their premium membership you get access to extra perks like detailed website due diligence reports, seller interviews and, deals concierge service, and a great range of content sites or sale in the $5,000 to $200,000 range, especially in the $50,000 sweet spot which can be ideal for beginners and intermediates looking for simple sites you can fix up and flip.
6. MicroAcquire Review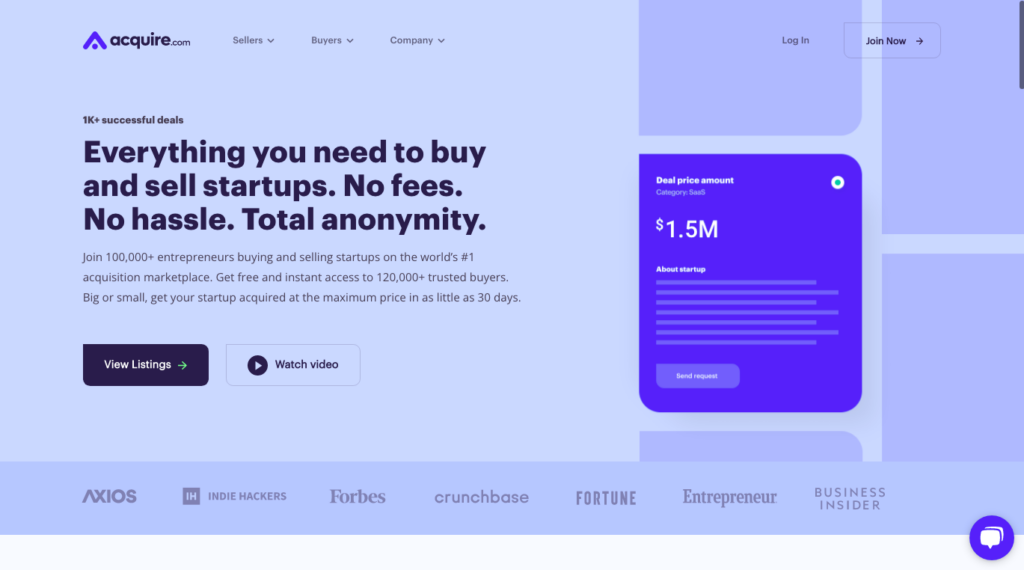 MicroAcquire now rebranded to Acquire.com – One to watch! A new marketplace that we keep hearing about amongst other online entrepreneur friends we know and is an excellent option if you are more experienced. Marketplace style setup that seems to mostly sell SaaS businesses, apps & software. No commission fees, buyers pay an annual members fee to get access to deals. Interesting points of difference: They specialize in selling successful startups (eg 6 figure range) and they take a proactive role in helping buyers find the right startup by getting conversations going that lead to an acquisition in just 30 days. They have over 120,000 website buyers so great place for founders to sell their websites.
Think of an introduction agency/marketplace that matches good buyers with legitimate & successful digital businesses. The buyer & seller negotiate the deal themselves so better suited to intermediate – advanced website buyers with buyout knowledge & experience looking for great sites and great deals not
available anywhere else. Sale Price range: $100,000's + but some great bargains in the sub $50K sweetspot.
7. Motion Invest Review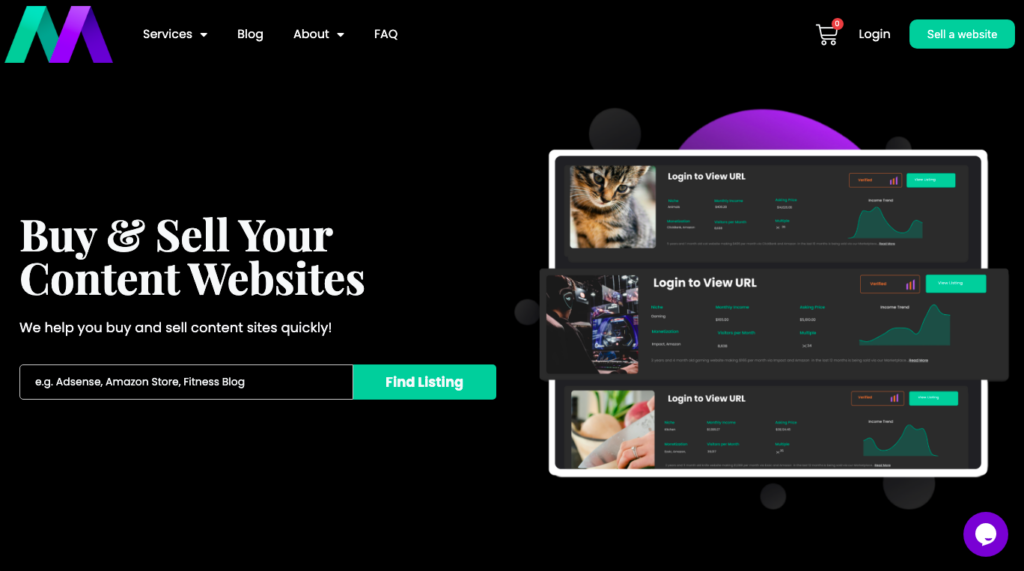 MotionInvest – is a popular online marketplace specializing in the sale of small profitable content websites. They are quite niche with a smaller number of listings compared to other website brokers or marketplaces but as a beginner to intermediate you can find some great quality small passive websites for sale here under $5,000. They specialize in selling semi-passive content and affiliate websites in the $1,000 to $50,000 sweet spot.
Whilst the listings are generally higher quality with vetted earnings & traffic, you still need to know how to do your own website due diligence here.
Also to keep in mind, sellers on Motion Invest can be more experienced content site creators which means the quality of the sites is generally high but you may get better bargain website buys on Flippa. Great marketplace to check out if you like flipping small simple website under say $20,000.
8. BuySellEmpire Review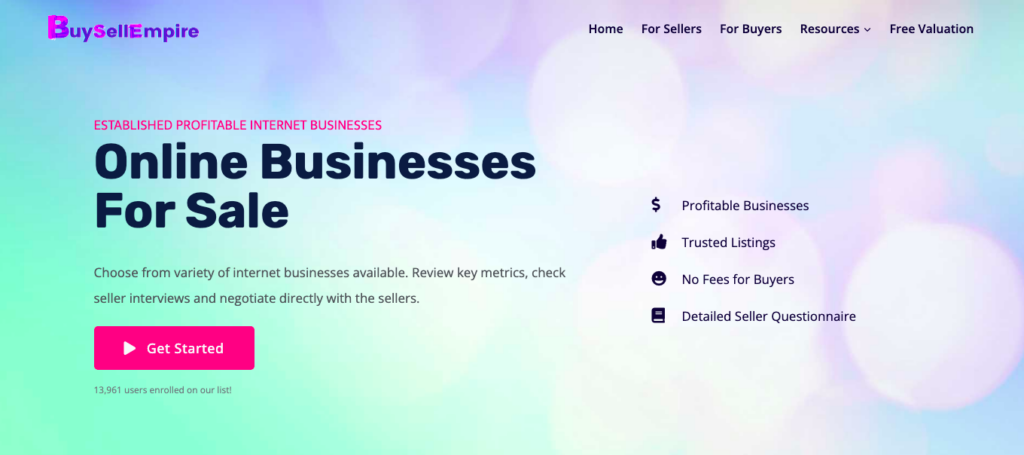 BuySellEmpire.com – is a private online marketplace for buyers and sellers of internet businesses and sells all styles on online businesses including content sites, affiliate sites, lead generation sites, digital agencies, e-commerce, Amazon sites, etc. The sites must have a minimum of $1,500 per month profit and 12 months verifiable traffic & revenue so can be a great option to look for good profitable websites if you are an intermediate to advanced as they have lots of quality digital businesses in the $100,000 range.
9. BizBuySell Review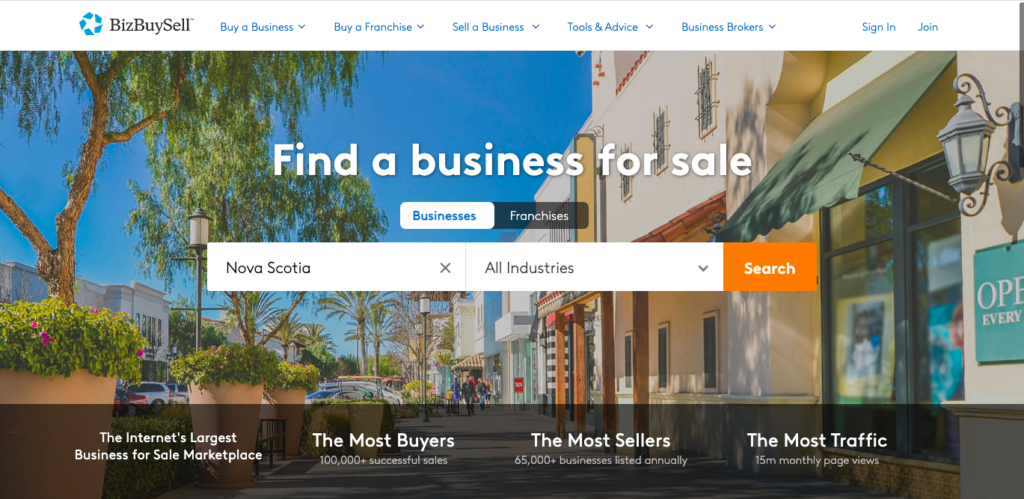 BizBuySell.com – Like hunting out bargains? This could be an option for you, and claims to be the internets largest business for sale exchange. Here you will find a massive range of all kinds of business for sale including both online and offline businesses, franchises, retail, manufacturing, dropshipping, ecommerce and websites.
Whilst massive, the advantage here is if you are a bargain hunter you can sift through the many online businesses for sale and find yourself a great website business to buy with hardly any competition or grab yourself a bargain because most professional website investors are on the broker websites and not trawling through a big marketplace like this one.
10. FlipWP Review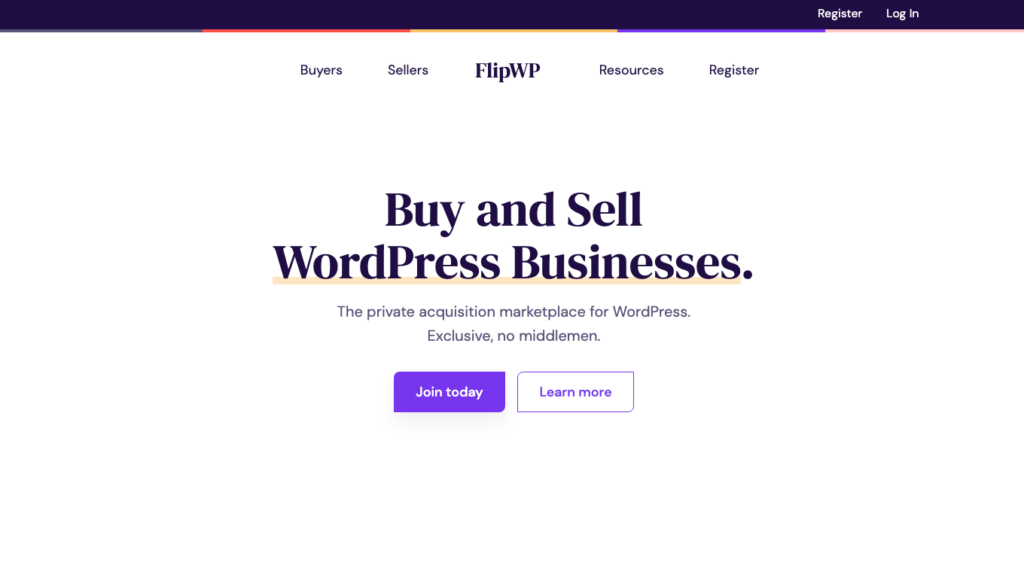 Flipwp.co – this is a private acquisition marketplace specifically for wordpress sites and interestingly has no middlemen and no commissions. They specialize in vetted "exclusive" wordpress businesses including wordpress tools like plugins and so have focused a number of deals that are high quality in the $100,000 to $1 million dollar selling range. Not really for beginners but good option if your more advanced and looking to buy a wordpress plugin business which can be a lucrative online business model, eg. you can buy a simple plugin or wp tool, build it up and then resell or "flip" to a big tech company.
11. WebsiteProperties Review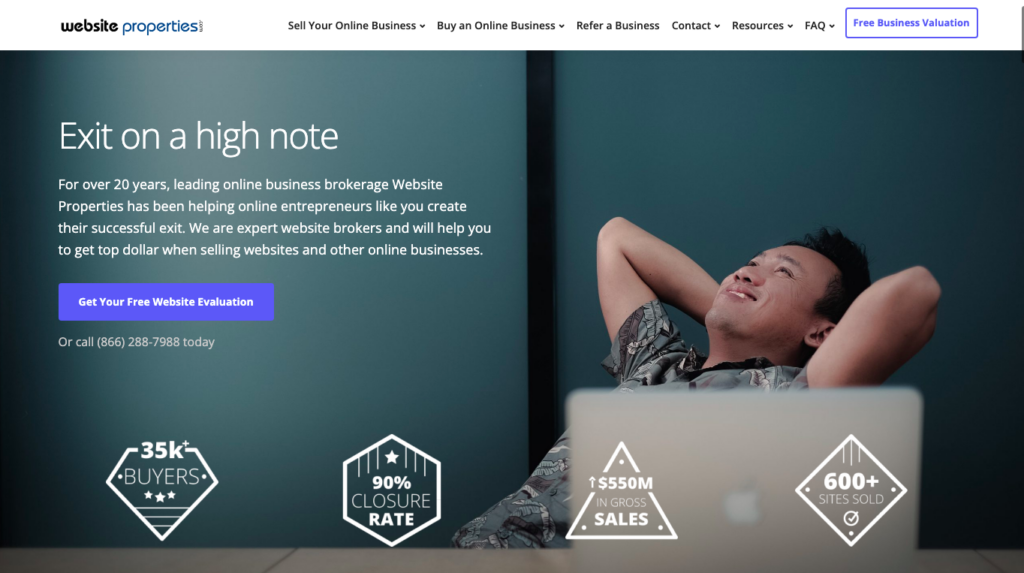 WebsiteProperties.com – excellent listings, boutique brokerage format, been around for 20 years, sell sites in the $100K to $100M range. Founded and run by very experienced internet entrepreneurs so expert industry M&A advisors who aim for quality not quantity. Interesting fact: the founder & CEO David Fairley has been buying & selling websites since 2002 (pre any other broker) and has sold over 500 online businesses worth 100's of Millions of dollars. Like all of the bigger established brokers they specialize in selling ecommerce sites, dropshipping, Amazon sites, SaaS and large content sites. For more experienced buyers $1 Million + looking for serious online revenues.
12. BizBroker24 Review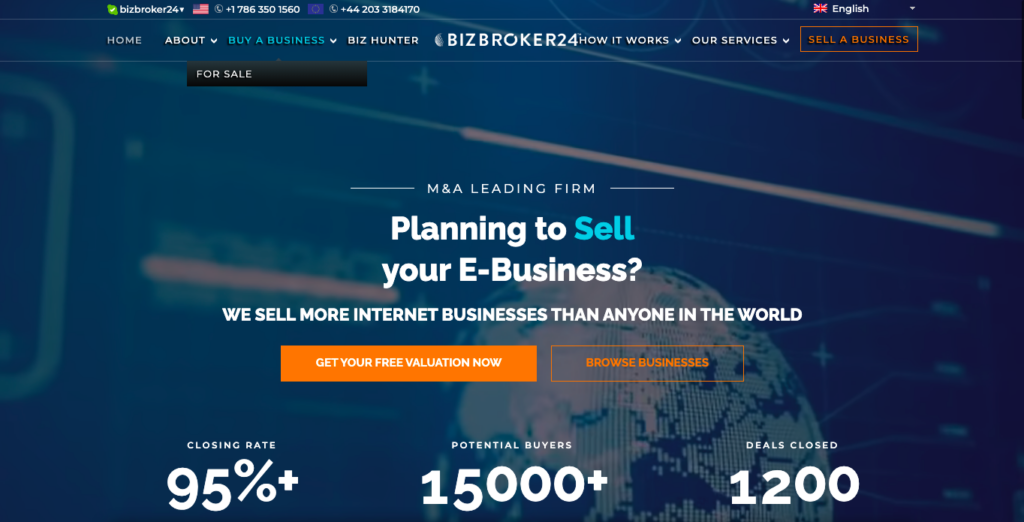 BizBroker24.com – another long established M&A firm who specialize in online business sales, mergers, acquisitions and valuations with a focus on middle sized digital businesses with annual revenues from $5-50 Million. Whilst they do offer some online businesses for sale under $5M, they mainly focus on selling e-businesses in the $5M and up range.

13. DigitalExits Review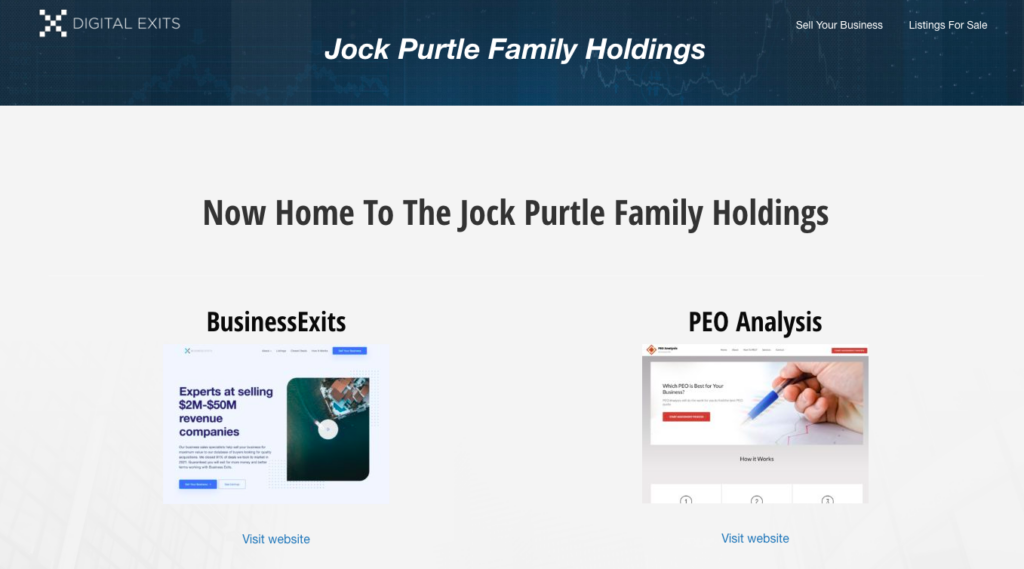 DigitalExits.com now rebranded to businessexits.com – do larger deals – experts at selling $2M – $50M revenue businesses. Whilst at first glance they look more like a traditional business broker selling all kinds of larger businesses, they have deep expertise and success in selling online businesses. Big team of professional brokers, many who are successful entrepreneurs themselves, sell high quality online businesses. Ideally, if you are serious about buying or selling bigger websites making serious money.
14. Latonas Review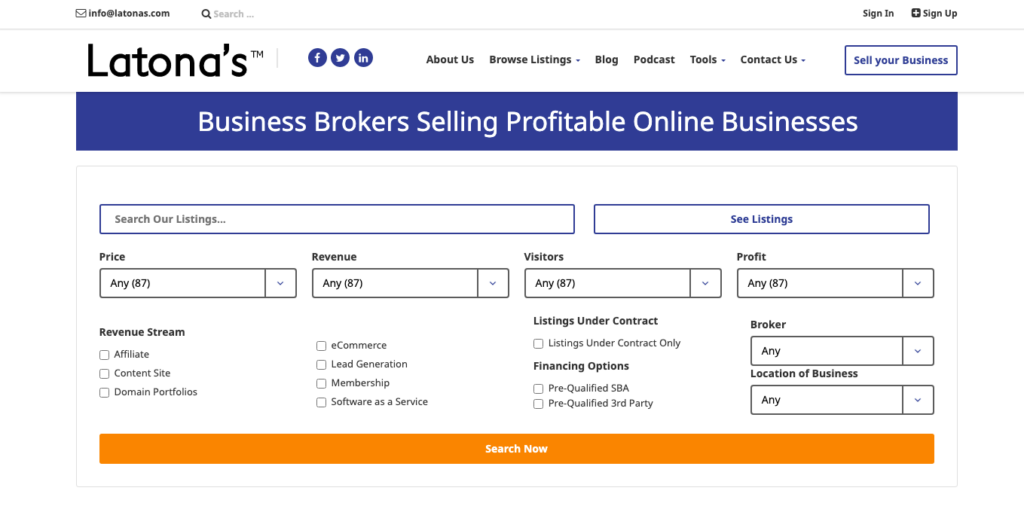 Latonas.com – Long established (since 2008) & with deep experience in the industry, Latonas are a boutique mergers & acquisition broker specializing in selling established online business in the 6, 7 & 8 figure range so are well experienced in bigger website acquisitions. They originally started as a domain name brokerage but now sell an excellent and varied range of websites including: e-commerce, SaaS businesses, content websites, premium domain portfolios, lead generating sites and membership sites. On Latonas you will find lots of listings in the $ Million dollar range covering lots of interesting niches.
15. Trustiu Review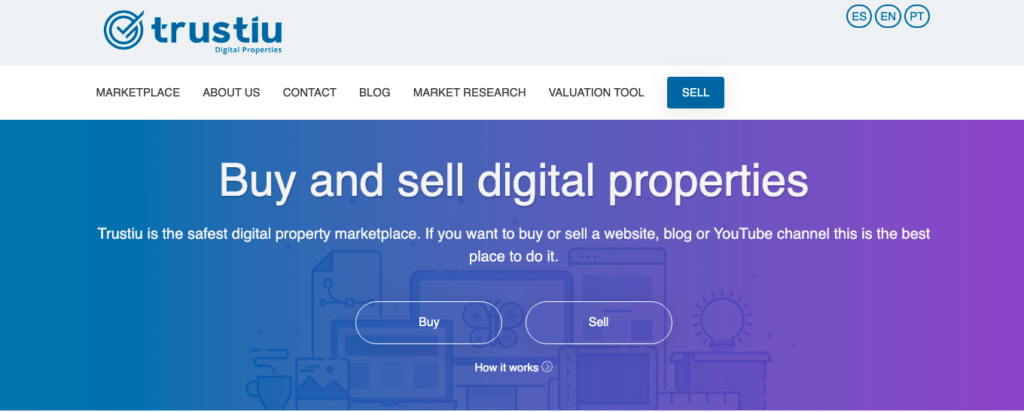 Trustiu.com – Interesting new player – Trustiu is a vetted marketplace for mainly European online businesses. What's also interesting is that in addition to European e-commerce sites, blogs & apps, etc, they specialize in selling successful Youtube channels with lots of subscribers.
Needless to say there are some very interesting looking listings on trustiu and anyone in our community knows there are great opportunities (once you know what you are doing) buying European based websites because the competition is not as high in the USA. This should be a great place for bargain website buys in the $1000 to $100,000 range. This is one to watch!
Alternative places to buy websites… the new, upcoming small website marketplaces…
Now that this market of buying and selling websites has matured there are lots of smaller newcomers and startups selling websites.
Here is a quick list of some of the current 2023 smaller website marketplaces where you may be able to find better priced deals as they are not mainstream
16. SideProjectors Review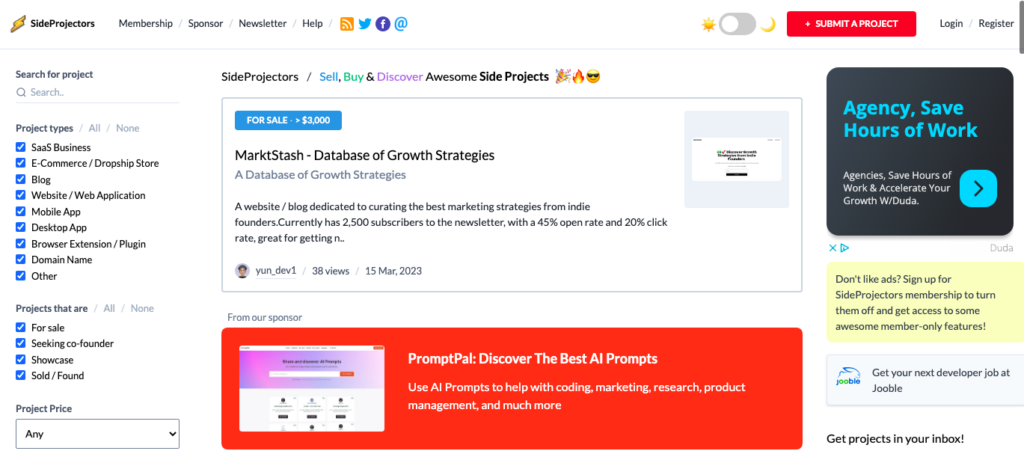 Sideprojectors.com – offers all sorts of digital assets & interesting side hustles for sale, you can get some great bargains (& inspiration)

17. NicheWebsiteBuilders Review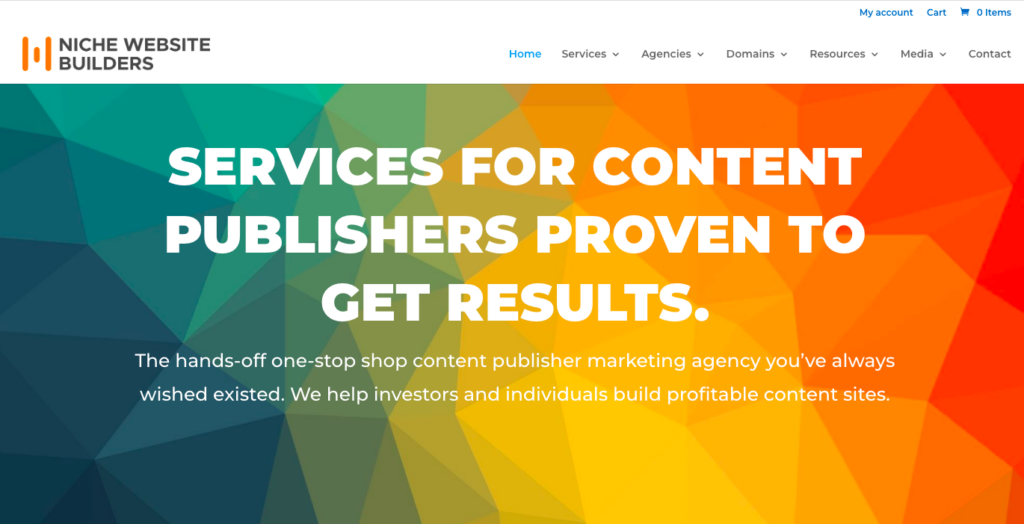 NicheWebsiteBuilders – new service where you can buy and sell great content sites + domain names.
Make sure to check out my interview with Niche Website Builders CEO Adam Smith on how they help busy corporates build website portfolios.
18. TheSwiftExit Review
Theswiftexit.com – sells smaller shopify sites so can be a good for beginners looking for cheap e-commerce sites.
19. TinyAcquisitions Review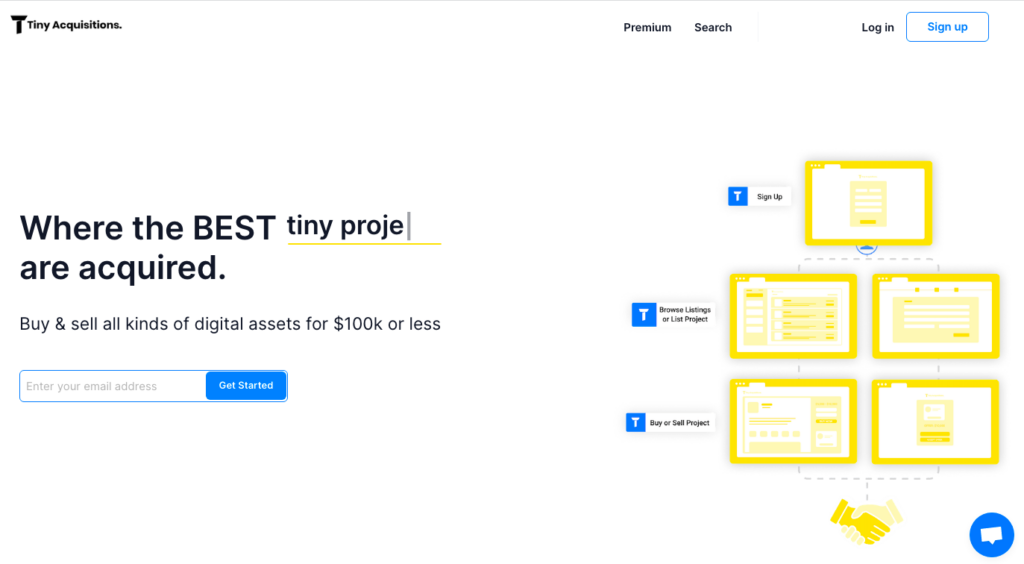 TinyAcquisitions.com – as the name suggests you can find smaller websites here typically under $10K. Great spot for beginners and bargain hunters to find cheap websites to buy. And if you want to sell off your small website, this could be an interesting alternative to Flippa.

20. Microns Review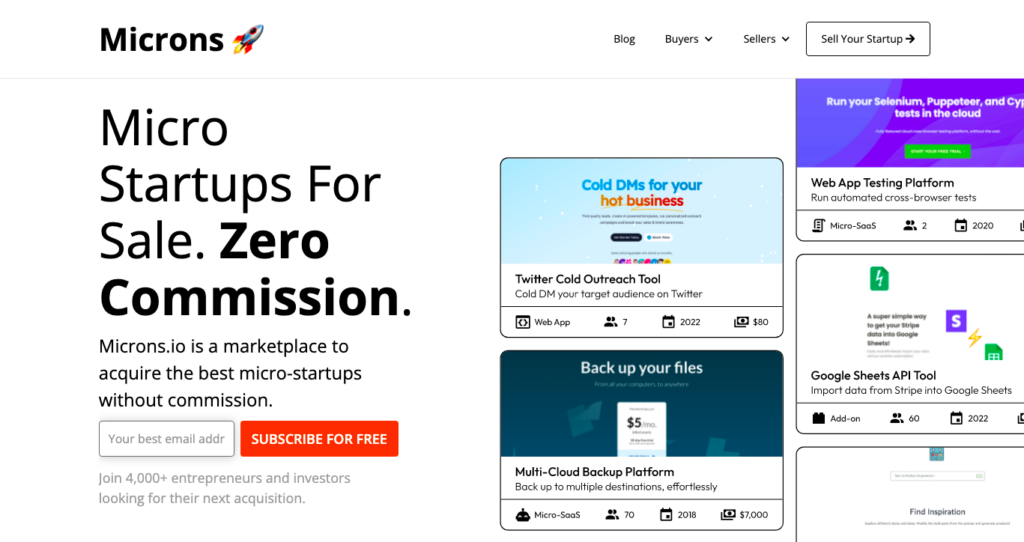 Microns.io – as the names suggests you can buy or sell micro startup digital businesses. This is a well run marketplace with zero commissions. Lists some great startup apps, online tools and Saas business for sale here
21. FreeMarket Review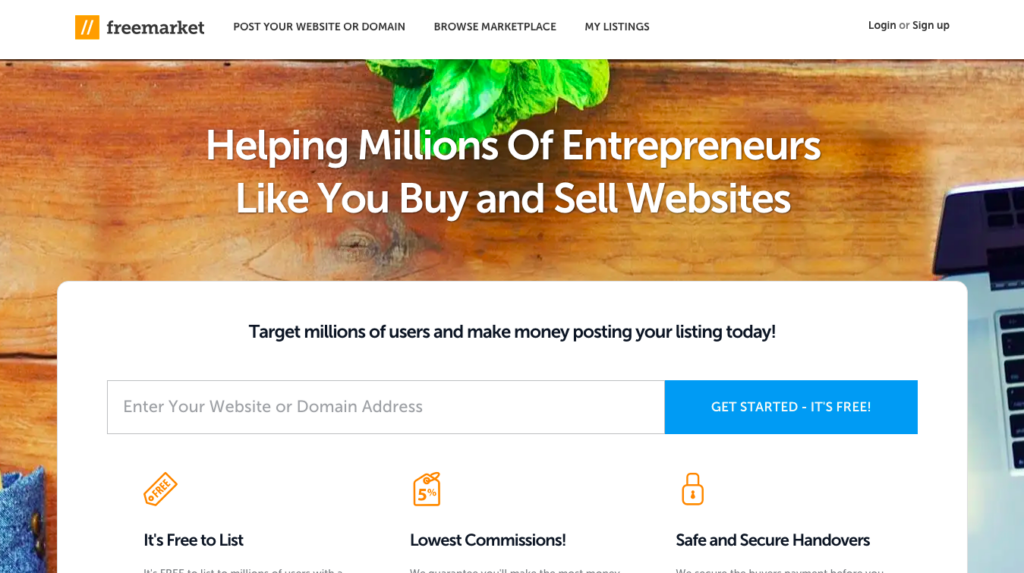 Freemarket.com – sells very small/micro startup websites and domains. If you are looking to buy a cheap starter site.
22. DealFeed Review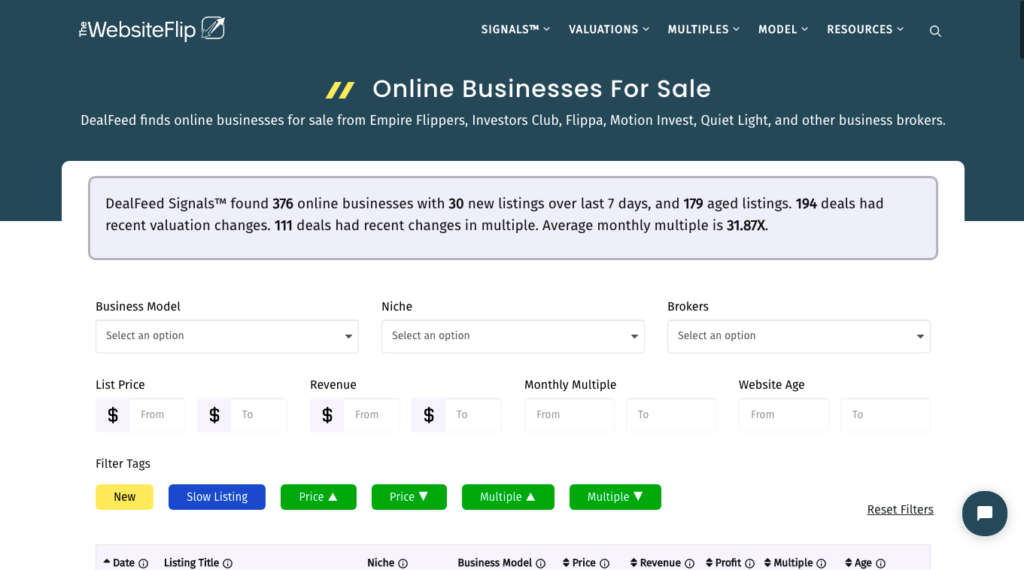 DealFeed.io – conglomerates a bunch of current deals from lots of the main website brokers like Flippa, Empire Flippers, Investors Club, Motion Invest, Quiet Light, FE International etc. This is a quick and handy and quick way to eyeball lots of listings across lots of website brokers.
23. Transferslot Review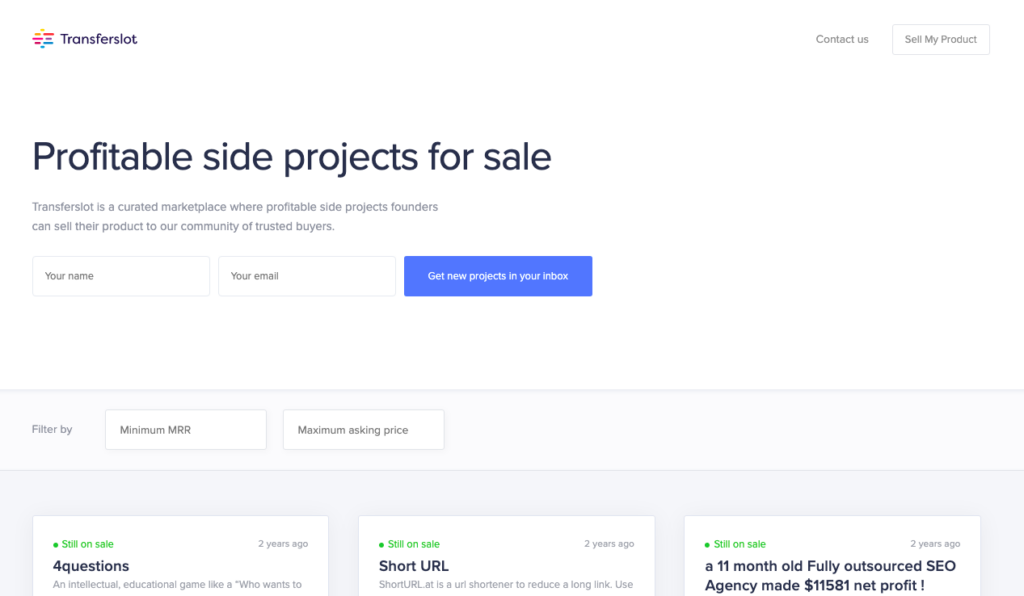 23. Transferslot.com – relatively new & small in the website sale marketplace. This has been setup to help you sell your side project to a trusted buyer community because it specializes in the sale of side projects and newer startup projects. This can be a viable platform for buying much smaller websites (although they tend to be startups) so you can easily find interesting newish digital businesses to buy for under $5000 and up to $100,000.
24. JustWebsiteBrokerage.com – Joe Burrill Review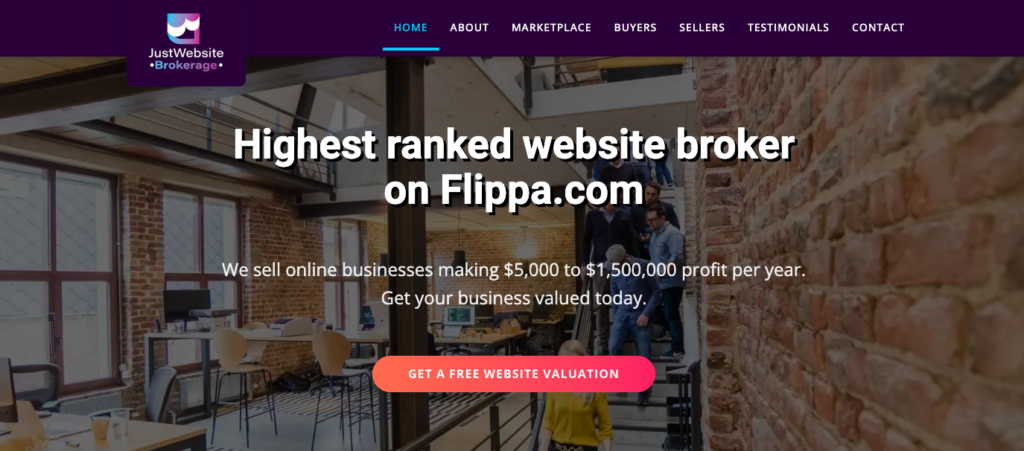 Joe Burrill – We have saved the best till last! Well of course we are biased as we have personally trained Joe Burrill for many years (he started his online education and training with us, and originally learnt how to buy & sell websites with the E-Business Institute).
Joe is the highest rated broker working on the Flippa platform and voted Flippa's website broker of the year for the last 3 years – and for good reason – he is really good at selling websites! Joe has helped many of our clients successfully sell their niche websites on the Flippa platform for top prices as he does such a great job personally handling and guiding the sale. Joe is a very hands on broker who specializes in selling websites from around $20,000 up to $200,000. (2023 update – Joe just crossed $4.13M in website sales!)
On this website you will find lots of interviews we have done with Joe Burrill as he is one of our star students. For instance you can check this one out where Joe shares how to get top price when selling niche websites.
We hope you found this article on the top 24 places to buy websites in 2023 for beginners helpful. If you want to learn how you can buy websites, check out our free masterclass where we show you our 3-step strategy for buying websites. You'll example websites we and our students have bought and how much we make from them. Click here to learn more.