Can you still buy profitable websites on Flippa or have you missed out?
That's a question we get asked all the time, and who better to answer this than Blake Hutchison, the CEO of Flippa.
Blake covers exactly what they are implementing to continue to be the marketplace of choice for beginners looking to buy websites for passive income, right through to larger corporate investors looking to buy multi-million dollar online assets.
Read the article or watch the video below to hear how Flippa makes it easy for sellers to find the right buyers. And as a buyer, how you can find the asset/website that's right for you.
Matt Raad: Hi everyone. It's Matt Raad here from eBusiness Institute, and we teach beginners how to buy and sell websites.
If you are looking to buy or sell an online business, then today's interview will be ideal for you. I'm really excited to have Blake Hutchison, the CEO of Flippa. If you're a beginner, then we highly recommend you jump onto the Flippa platform for buying websites.
I asked Blake to come back and give our community an update. Whether you're a beginner, an intermediate, or even an advanced website investor or buyer, there will be some amazing tips and ideas that come from Blake today.
Today we're looking for some of the opportunities out there for any of you in those groups. I hope I've introduced that right. But thanks so much for coming along, Blake.
Blake Hutchison: Great to see you, Matt. I hope you're doing well. I think we can give your audience some cool insights and a couple of case studies from which they can learn.
Matt: It certainly sounds like it because the market is really moving.
Flippa updates to become a marketplace for new and advanced website buyers
Matt: As you know, Blake, for many years here at eBusiness Institute, we've specialized in teaching total beginners and people who want to retrain in the digital age. When our students are starting out, we show them how to jump on the Flippa platform and buy a small website.
Our number one rule here is that there's no risk in buying a little tiny website, and the Flippa platform makes that so easy. But over the last few years, it seems, wow, things have really transformed. It's a totally different marketplace now.
We want to help our intermediate and advanced members with some of these updates. But I think it'll be inspiring for everyone, no matter what level they're at because this market's booming.
Blake: Yes, so today we can cover the following three things:
1./ First, we can cover the marketplace dynamic, which is essentially how we look at it each day, the number of new listings coming on board and the average value of those listings.
2./ We can also look at average transaction value, and we can go through that because it shows that the market has matured and, on average, it's a bigger deal that's getting completed.
3./ Then we can cover the insatiable buyer demand. I can share some numbers about what buyers have to spend on average for each buyer type. You've got company buyers, entrepreneurial buyers who look to buy and operate, and side hustlers who are just buying to generate some cash flow returns.
So, three things there and then maybe we can finish off with three specific case studies.
Matt: That would be fantastic.
The Marketplace Values being achieved on Flippa
Matt: Let's start with the first one because the market's booming. But I want to hear it in your words because you are at the coal face. You literally have the data sitting right in front of you, don't you?
Blake: I do, and we look at it pretty closely.
The first thing we should talk about is the marketplace values. That's the value of listings added to Flippa using our valuation guidance, which is all machine learning and data science-based.
We have five different machine learning models to inform valuation and pricing guidance for our sellers. And we are up 84% year-on-year for marketplace value.
There has been $224 million in marketplace value added for this current March quarter. That means that when a seller comes and adds their listing to the marketplace, say their listing is valued at $50,000, that's $50,000 in marketplace value added. So, the combined total of listings added to the platform for the March quarter is $224 million.
2 main reasons why are websites sales up 84% this year
Matt: Wow, I can remember when we first started talking to you guys at Flippa and it was nowhere near that number. Even after COVID, this is up 84%?
Blake: That's correct. And that's simply as a form of:
More mature sellers being available in the marketplace, and;
Flippa is building awareness for its marketplace.
Matt: Yes, we saw a big boost during that COVID period.
I'm sure many of our students remember listening to you at our annual Digital Investors Summit with our last update with you. You were talking about how there was this massive shift to buying online businesses.
That's been sustained now to the point where it's matured even more. It's almost double what it was from that time. So, we're in a real exciting marketplace there.
Average website transaction size on Flippa has increased over 370% in 2022
Matt: So, we've got an abundant marketplace for potential buyers of websites out there, which is wonderful news for our community. Can you share in terms of the average transaction size?
Blake: That's a great question. What we do is look at the top 100 deals every year. In other words, the top 100 deals for 2019, 2020, 2021, and then 2022 year to date.
Now, obviously we're only one quarter into 2022. So, we expect this number to get bigger and more impressive than it currently is. But let's just go back in time a little. And remember, this is the just the top 100 deals, so the top of the pyramid:
In 2019, our average transaction value was $84,000.
In 2020, it was $145,000.
In 2021, it was essentially flat at $142,000.
The calendar year to date for 2022 is $530,000.
So far in 2022, we've seen a material increase in the value of transactions added and our average deal size.
Matt: What!? Okay, that is just phenomenal. We need to look at that.
Reasons for Flippa's big market growth
Matt: I know this is public, but what insights can you give us there? Why is that growth happening even after the COVID boost? What are some of the contributing factors that you can share with us on that one? Because that's a phenomenal growth from $142,000 to $530,000.
Blake: It comes down to a couple of things.
Reason #1 –Higher quality websites for sale on the Flippa platform
Blake: The first thing is Flippa positioning itself to be applicable for the market of digital assets that its buyers are after.
Up until now, Flippa's had the largest universe of buyers. But, for a long time, Flippa hasn't necessarily had the most applicable universe of sellers for that buy pool and marketplaces are complex things. You're always trying to achieve maximum liquidity.
What that means is:
A greater understanding of what our buyers want
A sales and marketing lift
Building awareness for the brand
Building credibility around its offering.
And ultimately going and telling the story to enough high-quality business owners. These are owners who are already involved with the community but didn't necessarily perceive us as the marketplace that was a great fit for their size of business.
Reason #2 – Flippa has invested in higher quality sales and tools to meet buyer demands
Blake: So, it's a monumental shift in the perception of the type of business that Flippa represents. And that comes as a result of a few things:
1./ One, we built a big sales team in Austin, Texas and they are actively touching with business owners all over the world.
2./ We built out our valuation tools such that it was based on machine learning. This is arguably the most accurate valuation tool for business owners, digital business owners, and locals. As a result, we've got this monster lead pool from which we can have informed discussions with our business owners worldwide.
3./ The next thing we did is started to build buyer preferences and profiling so that we could match them up. And therefore, we were enabling our sellers to meet the right buyer faster. And of course, they like that. They get excited by that, and you get benefits through word of mouth and other goodwill.
So, it's a combination of factors that we've invested in that have gotten us to this point, and it won't stop there. The reality is that the marketplace value number is the leading indicator for your average transaction value.
We started with marketplace value, and we talked about a record quarter, up 80% from the prior year. We've now spoken about average transaction value, but the deal takes 90 to 120 days to complete. So, we expect that the next quarter will be even bigger again.
Matt: Wow, so it's just continually growing.
Are there still opportunities to buy smaller websites on Flippa?
Matt: Now, I didn't mention this at the beginning of this interview, but Flippa is the biggest marketplace for buying and selling websites and always has been. And in the past, it's been very well known for smaller deals.
Now that you're shifting your size significantly, do you still look at smaller deals, Blake?
Blake: Yes. We are value-agnostic, and we are a marketplace. So, we don't form a bias just because you have a small value asset or a bigger value asset. And we certainly don't disregard buyers who are entering the ecosystem for the first time.
What we do is create a fair and equal marketplace for all. We have what we call a "quality score". The quality score looks at many factors and metrics for the assets that list on Flippa. That helps us decide how best to market the asset and which buyers it should be introduced to.
But we do not have a price bias.
How Flippa brokers are helping sellers find the right buyers for their online business
Matt: From what I can see, one of the fundamental changes that Flippa has implemented is you now have in-house brokers that can help clients buy and sell websites.
Blake: That's correct. We have a multi-pronged approach to ensure that business owners get the support they need when they want to sell:
Approach #1: Flippa In-House Broker
Blake: You can work with an in-house advisor, and they provide 2 key roles:
They will be there every step of the way from meeting buyers, understanding their preferences, and providing due diligence reports to those buyers.
They also help you understand as the seller who the right buyer is for you and talk you through a workflow that enables you to get the deal done.
Approach #2: Third-Party Broker
Blake: Alternatively, you can work with a third-party broker; the choice is yours.
Matt: Everyone in our community knows Joe Burrow, and he's one of your top third-party website brokers, Blake. Joe gets awesome results for our clients on smaller sites.
How high net worth buyers can find website deals on Flippa
Matt: I'm just thinking of our clients who are high net worth and looking at investing significantly more money.
I'm sure you're seeing some very successful investments in real estate here in Australia. And these investors now have excess funds, and they don't want to overcapitalize in real estate. Everyone has their opinion on where real estate's at, but it certainly looks to be a bit overpriced.
If someone had a budget of $500,000 to $1 million, is that where they would make a personal approach to Flippa and say, "Look, can I get a concierge broker to help advise me and look out for deals for me?"
Is that how you now run your in-house brokers?
Blake: There are a couple of things that you could take into consideration if you are a prospective buyer:
1./ Set Your Preferences in Flippa to help find the right deals for you
Blake: The first thing to do is jump onto Flippa and set your preferences. You can set preferences with the budget range as low or as high as you need to.
Flippa doesn't see deals currently above $50 million, so for bigger funds and institutional investors, you would set your preference up to that level rather than beyond that.
So that's a good thing to do because we will match you to relevant listings, and you don't have to do the discovery. We will do the discovery heavy lifting for you so that you can be introduced to those regularly on the fly.
2./ Introducing the Flippa Finder service
Blake: The next thing you can do is you can schedule a call. It's a concierge service we call Flippa Finder, and you can find that on Flippa. Go to the services section on the Flippa website, check out the drop-down menu, and see Flippa Finder.
Flippa Finder lets you have a consultation and essentially learn how the Flippa platform works with one of our customer success staff members in Austin, Texas. They're there to help you out.
"If you are an institutional buyer or high net worth, we have relationship managers who can work directly with you to find the asset for you." – Blake Hutchison – Flippa
That's the best thing to do there, as we're really starting to get that service off the ground.
If you are a high-net-worth buyer, you can email me at [email protected], and I'll personally introduce you to one of our relationship managers. We have relationship managers in Asia, as well as the US.
And then, once you inquire about a listing, we start to get involved with you and help you understand the nature of the listing. We can set up web calls between you and the seller and start to get into the weeds there.
So, it's an end-to-end service. It's designed to ensure that both buyers and sellers are equally happy.
Matt: And that is a bit of a difference now with the platform. It's not just Flippa.
Flippa was traditionally the place you come to buy a small website, and it was a very big platform for that. And there were always bigger deals. But now, obviously, it's everything across the board.
How the Flippa marketplace caters for buyers of all sizes
Matt: You mentioned to me before $50 million just rolls off the tongue, but that's the size of deals that you do go up to now, isn't it?
Blake: Yes, and I can take you through some deals from last week and get a pretty clear picture. Do you want me to do that now?
Matt: Yes, let's look at that because I want our community to understand this is what's going on. We're not just talking here about buying and selling $1,000 or $10,000 or $100,000 websites.
Flippa has 3 main types of buyers for online businesses
Matt: Let's look at some of the deals you've done recently that are happening out there in the marketplace that people may not realize are going on the Flippa platform.
Blake: Yes, of course. But there's something we should look at before we get into that, which is the average budget of the buyer.
We have three types of buyers:
You've got a buyer who fits a company,
You've got a buyer who is an entrepreneur and therefore wants to operate,
And you've got a buyer who might be deemed a side hustler. The benefits of a side hustle are an incremental income source.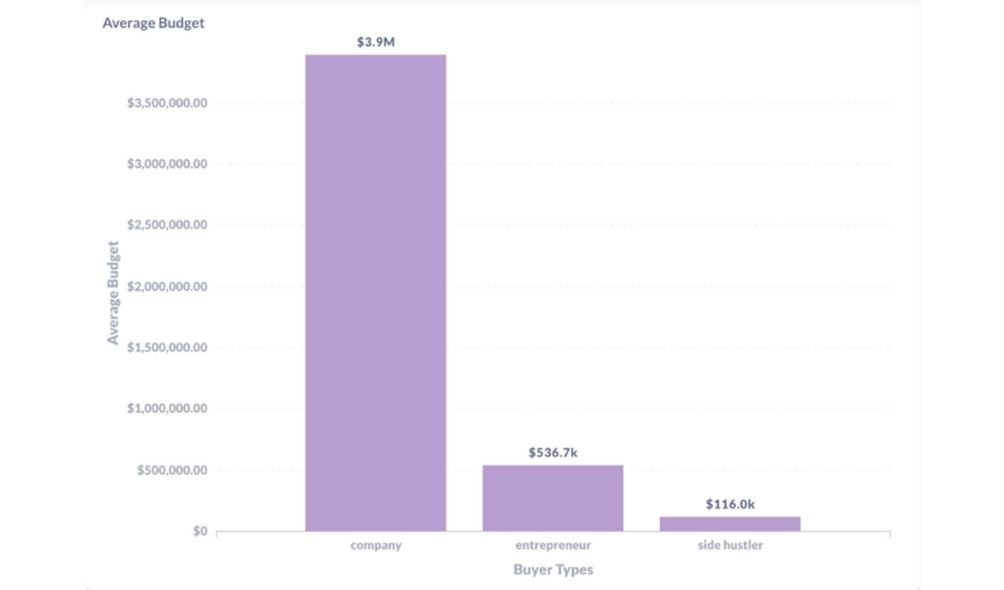 And so you can see there (and clearly bigger budgets skew the average) that on average:
A side hustler has $116,000 in total to deploy. They might want to buy multiple assets, right?
An entrepreneur who wants to operate spends on average $536,000, and;
As you would expect, companies have far higher budgets than the others who are individual at nearly $4 million.
Individual investors on Flippa tend to diversify their portfolio whilst companies have a more targeted approach
Blake: Now, this graph shows you the number of assets each buyer type wants to acquire. And I find this super interesting.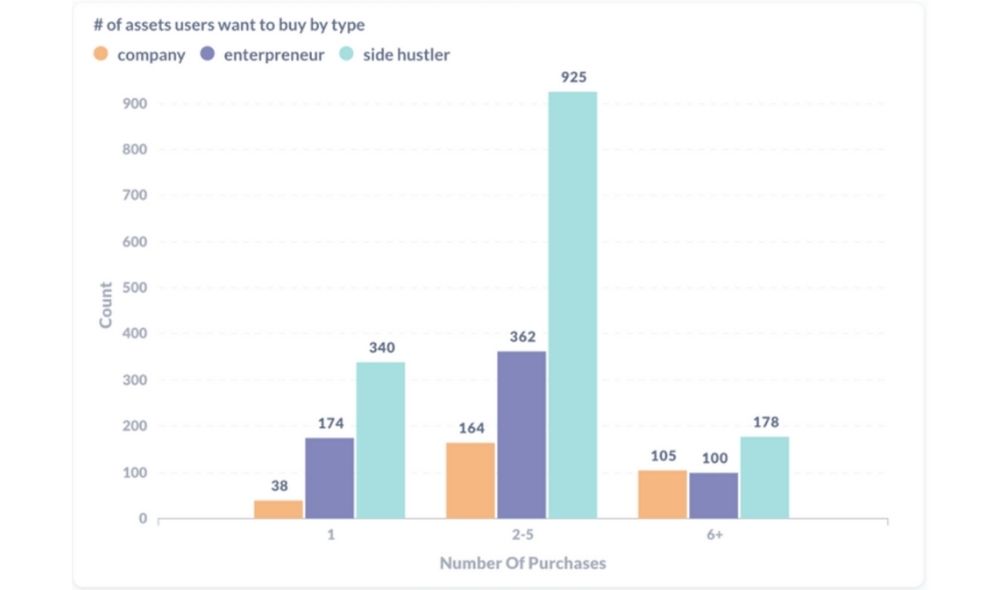 We've found that our side hustlers are buying multiple small websites. Even though we talked about the $116,000 budget, that doesn't mean they want to spend $116,000 per asset. It simply means they want to divide their budget into multiple acquisitions and get a portfolio effect.
On average, what we find interesting is that side hustlers actually want to buy more assets than the rest. Basically, more side hustlers want to buy two to five websites. More side hustlers want to buy more than six websites.
Whereas company buyers typically only want to buy one or a few. So it's interesting to think about that in context.
Let's look at the types of deals available on Flippa
Blake: Now, I've got this up on the screen here only because I wrote the blog last week for insights of buyers, sellers and investors on the Flippa platform. This gives you a little bit of context as to the types of deals that happened in the prior week.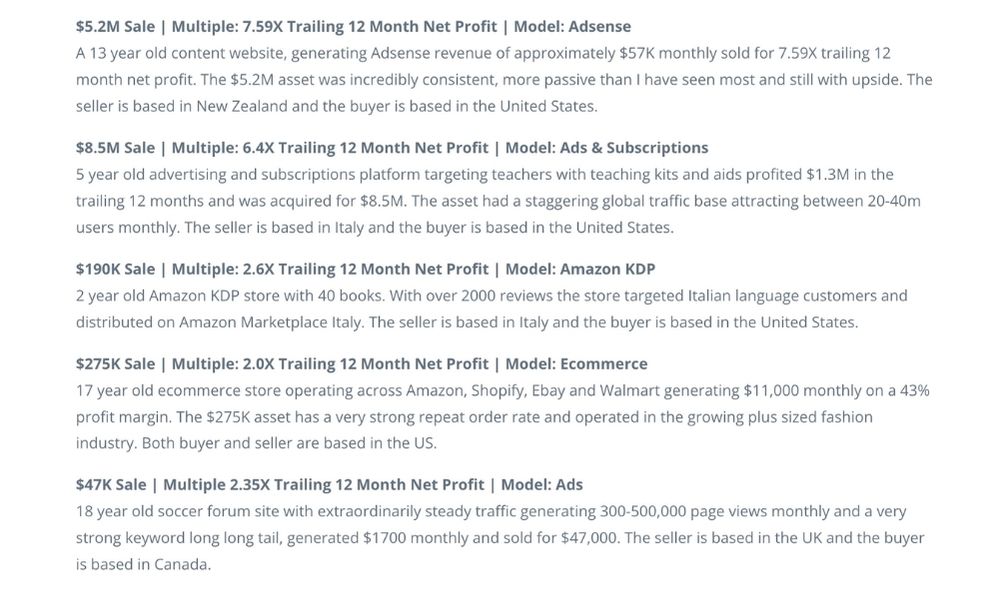 DEAL #1 – Example of an Individual selling their website to a Company
Blake: So a $5.2 million sale. Let's just talk about that a little bit. It's a multiple of 7.59x trailing 12-month net profit. It's an AdSense content website, and it's been around for 13 years. It was doing $7,000 in monthly revenue, and it sold for $5.2 million. This shows you the global nature of the marketplace. The owner of that asset was based in New Zealand and the buyer was located in the United States.
DEAL #2 – Second example of a Company buying a website from an Individual seller
Blake: Moving on to the next one. You've got an ad and subscription model supporting an education-based platform that targets teaching kids and adults. And that business was five years old. And for the trailing 12-month period generated (or profited) $1.3 million and therefore a 6.4x trailing 12-month net profit for an $8.5 million sale.
The staggering global traffic base was the thing about this asset that was super intriguing and obviously very exciting for the acquirer. Almost 40 million users monthly and again, very global. Italian based seller selling to somebody in the United States.
Now, both of those are individuals selling to companies.
DEAL #3 – Smaller website deal between an Individual seller and an Entrepreneur
Blake: If we look at a couple of smaller deals, these are individuals selling to entrepreneurs and therefore, the different buyer type comes to the fore. This was a $190,000 sale, a multiple of 2.6x trailing monthly net profit. It's an Amazon KDP, which is Kindle Publishing.
It's published 40 books and 2000 reviews, all in the Italian language, distributed on the Amazon Marketplace in Italy. And it's important to get these diversified business models out because there are meaningful and multiple ways these digital assets are finding their way to the marketplace these days.
DEAL #4 – Small eCommerce website sold for $275,000
Blake: $275,000 deal, eCommerce. Different again, diversified revenue sources operating across Amazon, Shopify, eBay, and Walmart generating 11,000 monthly, 43% profit margin, been around for a long time, 17 years old. And a slightly less big deal size at $275,000.
So hopefully, that starts to give you a sense. We can talk about examples all day long, but that gives you some sense of the types of deal sizes Flippa represents and proof that those deals have been achieved on the platform.
What can you learn from these website deals on Flippa? How simple sites are selling for huge multiples over 2-5 years
Matt: That's absolutely fantastic, and it's such a change to see. I haven't seen deals like this on Flippa before in all the years we've been on there.
That was a random snapshot of what you just did the last month. It's just a summary, and they're all significant businesses. They're so inspirational to our community because, as you know, we don't teach eCommerce websites. We're all about content sites, sometimes forums or subscription sites, but particularly content sites.
So, to see that first site sell for $5 million. Wow!
Blake: Yes, that was a really interesting website. It is essentially orientated to GDPR compliance. Their content was oriented towards governance and compliance for website management and administration. And you know how that business was generating substantial ad revenue?
Matt: It was all monetized by ads. And it obviously sold to a big company.
Blake: That's right. It was sold to a publisher in Florida.
Matt: That makes sense.
Blake: And the business owner was in New Zealand.
So, I love the global nature of our ecosystem. And, as we say now:
"We're making millionaires, because you can build these sites and Flippa's got a buyer for you." – Blake Hutchison, Flippa CEO
That gives us an immense amount of satisfaction and pride.
Matt: And that's where our community's at and what they're doing. They're building up their web assets over the years with the view of selling them out, just like that summary you showed earlier, somewhere in the next two to five years.
Flippa has grown into a leading worldwide marketplace for website sales
Matt: I want to talk about another interesting thing I've been seeing lately. Over the last few years, some of our clients have been buying incredibly profitable web assets from the Flippa platform.
They're just quietly buying them up, and I'm looking at these deals thinking, "Damn, I can't believe I missed that one. I would've bought that even without doing full website due diligence." Not that I should ever say that (!), but they're just really good sites.
Flippa caters for all ranges of clients – big and small
Matt: Liz and I often go live onto the Flippa platform in front of our community at our private webinars, and it's really easy to find a wide range of high-quality sites now.
Now, sites under $5,000 seem super-hot, and the valuations are always ridiculously high.
But when we start looking at sites in the $5,000 to $50,000 range for our community's sake, there's been some awesome listings recently, particularly content sites.
Obviously, you guys have done a good job of attracting some great listings there. And like you said, you've got such a big database and brand name worldwide. Flippa is just so huge now.
Even here in Australia, I read about you in the Financial Review. You see the name Flippa appearing everywhere. And I think I've seen it on some other financial sites that aren't related to website investing, which is hats off to you.
You've come in and really got that brand name out there, perfectly timed with this boom in the market, so that's very impressive. That does answer why you're listing much bigger sites now.
Why buyer demand is increasing on the Flippa Platform
Matt: You mentioned another change that you've seen that's come out through all this, which is buyer demand has been going up. Can you comment on that in terms of the range of buyers?
Blake: I can. So, what's happening is you're getting a different type of buyer enter this asset class. And what they've seen is that you can get a material return on investment at what would still be considered a quite modest investment level (or multiple) compared to other asset types.
You and I have had this discussion for years, Matt. But the reality is while we may have known about it, and while some individuals who are savvy (and/or your students who have been taught by you are well aware), institutional buyers are actually pretty new to the space.
Matt: That's right.
Blake: So, they're coming in on mass now, and of course, they have big, deep wallets. As a result, Flippa is on the hunt for as many possible diverse, high-quality sellers as possible because the buyer universe is just so much bigger.
If I look at March alone, an additional $15.5 billion in intent was added to our platform. This shows the wallet size that these people have to play with.
To put that into perspective, I'll get my calculator out quickly. That's $37 billion divided by 10,000. So, we're talking about a $3.7 million budget for those company buyers. That's a lot of money.
So, we need to chase the assets that match the buyer pool, which continues to go up. And we don't expect that to stop anytime soon.
Institutional Investors have a lot of money to spend in a maturing online market
Matt: I saw this happen when Liz and I were involved in mergers and acquisitions with bricks and mortar. We were dealing with private equity firms and the amount of money they had.
Our biggest problem was just getting them the deals and they would say, "Matt, we want you to go out and source deals for us. We've got $50 million, and we need to spend it."
I was talking to you about this the other day, Blake. And I mentioned to you that those same private equity firms are now reaching out to us after 20 years. We had a good network back in those days, and they're just quietly ringing us again.
I've actually introduced a couple to you as well. But they're basically saying, "Hey, Matt, how are you going? We know you've been involved in website businesses. Can you help us find deals? We've got $50 million to spend."
They have to spend it; that's their mandate. What that tells me is this market is definitely maturing now. It's on par with bricks and mortar mergers and acquisitions at all levels, and it's booming.
Why buying websites for profit isn't in a bubble
Matt: I know for someone sitting on the outside who's not used to this world of buying and selling businesses and these big institutional buyers, it can look like it's a bit of a boom or a bubble.
People ask me, so I'm going to ask you the question; do you see this as a bubble or as an ongoing trend? What are your thoughts there?
Blake: It's not a bubble. The consumer wallet has shifted from brick and mortar to online. So that's a trend that is here to stay.
They don't just suddenly say, "Well, I found my favourite online shop selling me my favourite candles." And they suddenly just abandon ship and say, "Well, I don't want to shop online anymore." That's not the way consumer behaviour works.
So no, it's not a bubble.
Reason #1 – The quality of online businesses is maturing
Blake: I think the other thing, don't forget, is that businesses tend to mature. And with maturity, you get better quality, you get better performance, and you get higher valuations. For all of the assets that have sprung up over the last 10 years, those early adopters to the ecosystem today are now mature businesses that are ripe for individuals and/or private equity buyers.
The other thing to bear in mind is that the next four billion consumers will come online over the next five years. So, we're not nearly at the tipping point. The online universe is still young and immature.
Despite what it might look like to you, for anyone who gets in now, you are still relatively early.
As long as you can build a niche and invest wisely in acquiring customers (and doing that profitably), you'll find yourself with a cash flow generating asset. This asset will help you with your lifestyle today, but you may actually find yourself with a material exit three to five years from now.
Matt: I agree wholeheartedly. You summed it up perfectly, and I think it's still only the beginning, even after 10 years.
The fact that these institutional buyers are here to stay now. They're not silly, and they finally see what we all see after all these years. They go, "Hang on a minute. I can just buy an internet business for $3 million, with hardly any capital expense in it. And can just grow it, get a team on it. It's a growing market, 24/7." And they all know exactly what you just said.
Just remember, another four or five billion people are about to come online. And I'm sure Elon Musk has noticed that too with Starlink, which is now rolling out in Australia. But all jokes aside, that sort of a thing does make a huge difference. The total addressable market here is now just starting to get bigger and bigger.
Reason #2 – Website prices are still undervalued
Blake: Remember that these aren't tech stocks either, so you don't get inflated valuations. The valuations are real-world valuations. Arguably, they're undervalued still.
Matt: I was just going to say they're still cheap. We used to sell bricks and mortar manufacturing businesses on a four and five times EBITDA. And I would never pay that for a manufacturing business now. I'd much rather pay that for an internet business.
And then you just showed there are good sites. And we've got clients buying sites anywhere from a three to four times multiple. I saw one of our students recently just buy a site of your Flippa platform for a two times multiple.
Blake: That's an absolute bargain.
I think that the boom or bust question shouldn't even be there yet, because you can't just lump one asset class into an all-asset class discussion. They're independent of each other. And we're not talking about traditional M and A, or technology innovations.
We're talking about real small businesses, getting real value for real customers. This is your opportunity to tap into that ecosystem. Buy yourself a deal and continue to leverage that quality asset, improve it and get a return on investment. That's the asset class that we're in.
Matt: That is brilliant and hopefully is inspiring everyone. It's fantastic to see this marketplace mature.
Are you ready to start buying websites on Flippa?
Matt: So, a big thank you to you, Blake, for sharing so openly with our community the actual numbers you are doing and seeing at Flippa. Everyone can see it's real. There's nothing better than hearing it from the CEO himself of the world's biggest website broker, Blake Hutchison from Flippa.
I'd just love to say a big thank you, Blake, as always, for helping inspire our community to do really well in this marketplace. And congratulations on the amazing results that you guys have just achieved over the last couple of years as well.
Blake: Thanks very much. Ultimately, all we've done is built a platform. We are beholden to our community, and we often talk about this like a dating website. We're there just to match you up.
As a business owner, you find a pathway to the right buyer. And as a buyer, you find the right asset for you.
Matt: Awesome. So, for all our readers, if you're looking at getting some advice or you're looking at buying and selling websites, obviously go and check out the Flippa platform.
And if you're a high net-worth, or you're an institutional investor, and you want to contact Flippa, you can reach out to Blake himself.
A big thank you, Blake, for coming on today's interview.
Blake: Thank you. Awesome to see you again.
Matt: Awesome. Thanks there, Blake.
Other videos on how to use Flippa to buy cashflow websites
Sell your site on Flippa for top dollar
Buying websites on Flippa for passive profits
[Case Study] How Mark bought 2 websites on Flippa and made over 100k