… Even though she had no experience and no network but she still grew an online business from 0 to 30k while raising 3 kids
Today, you'll hear how this amazing mum did it, including:
The business strategy she followed to make her first $30,000 online
What she did to get clients even though she had no network or audience to rely on
The shift she made to go from making $1000 per sale to $9000 per sale
And much much more, including her plans to grow their business so her husband can leave his job.
Jing is a testament to what's possible when you pick one strategy and give it your laser focus for one year. Click below to hear her insights.
Matt Raad: Hello again, it's Matt Raad here, host of the Digital Investor Podcast, where we teach beginners how to get online and earn money from websites.
We have a special guest with us today, Jing, our recent Graduate of the Year Ultimate Champions Cup winner.
I want Jing to share her story with you because, over the last 12 months, she has already made $30,000 in her first year in our program. Not only that, but the exciting bit is she's generating anywhere from $6,000-$7,000 a month in ongoing income from her leading Bayside Brisbane Digital Agency.
If you're a complete beginner online, you might wonder how someone can achieve this when starting from scratch without any technical or website-building skills. If you want to get online and replace your income, then you definitely want to read this interview.
So, Jing, a big thank you and welcome for sharing your story today.
Jing: Thank you so much for having me, Matt. I feel very privileged to be on the interview.
Matt: I know you're quite shy, Jing, and it takes a lot for you to be here. So, all of us in our community really appreciate you coming along to share your story. And we would love to know how the heck you have been able to do this.
Jing has not only started from scratch (knowing nothing about being online), but she's also a mum of three kids under six. She is also new to this area and has no known network in this space whatsoever.
Jing, you moved to Brisbane two years ago and have done everything from scratch. Hearing your story and seeing what you've achieved in such a short amount of time is phenomenal.
Swapping the city commute for laptop lifestyle to be at home with her kids
Matt: So, let's start with what made you join Champions. What made you want to learn these digital skills?
Jing: I worked in a corporate role in the international education sector. Then, when I had my first child, I decided to stay home. So, I stayed home for about five years and then returned to work.
We moved to Brisbane, and I was working in an administration role. I didn't get to see my children much at all. I would leave early in the morning, take the train to the city, work the whole day, and come home.
I only spent about half an hour with my kids because they would go to bed at seven. So, it didn't make sense for me to keep doing this, and I was looking for a change.
Then I heard your podcast, and I felt super inspired. I watched many of your videos where you interviewed previous Champions, so I asked my husband to buy the Digital Investors course as my birthday present.
So, I joined Digital Investors in early 2022. We went to the Digital Investors Summit later that year, and there was no question I wanted to be part of the Champions program.
Jing is the mum of 3 young boys under the age of 6
Matt: Awesome. And what stage were you at with your family? Because Jing, as you know, family is important, and we have a lot of parents in our community.
Jing: We already had two boys when I joined Digital Investors. My third baby was born in April, and the Champions program started in September. So, it was a very busy year!
Within 12 months, she has built her digital agency from scratch
Matt: We are now literally 12 months from when you first joined Champions in September. When you look back over the last year, do you pinch yourself about how far you've come? When you first started, you couldn't even build a website and now look at where you are.
Jing: Oh yes, there has been so much growth and mindset change. This program is just life-changing.
I was talking to some people recently asking me if it's worth the investment to join Champions. And I said it's absolutely a hundred per cent worth the investment. It doesn't only change the monetary side of things, but it also changes your personal life and your mindset.
I'm very grateful to have been part of the program.
Matt: Your husband, Matthew, must also be super proud of you and your achievements this year. It's seriously amazing!
Jing chose the Digital Agency strategy to create cashflow for her family
Matt: Looking back at your journey, just like many of our readers who are starting in this space, you wanted to buy and build a portfolio of websites. What made you decide to transfer to the strategy of building websites for local businesses?
Jing: The main reason is cash flow because I was on maternity leave for a year and didn't want to return to my previous job. And I really wanted to give this strategy a hundred per cent.
I was very fortunate that I had a chat with Annette, who is a previous Champion. She gave me some great advice early on during the bootcamp. She said, "Pick one strategy and give it your laser focus." And that's what I did.
Matt: Awesome. Okay, so it was about having that timeline. Once maternity leave ended, you didn't ever want to go back to work again.
This makes sense because how long was your commute from where you live? We Brisbane people know what the commute can be like. It's like in any city, but roughly, what was your commute back then?
Jing: It was about an hour to commute to work.
Her first client website build was free to gain experience & confidence
Matt: You said you have a new family of three boys under six. Was that your driver for this change?
Also, for our readers to get an idea, what did you charge for your first client website build? Was it paid, or did you do it for free? Being so new, how did you get going with all this?
Jing: I actually built my first website before joining the Champions program. It was for my electrician, and I decided to build it for him for free.
My first client website build was a big challenge. I learned a lot about setting boundaries and the right expectations. But he was very happy with the website, which was amazing.
She then charged $1,000 for a website build as her first paying client
Jing: I then went on to build a website for my son's tennis coach. That was the first ever paid client. And even though it was only $1,000, it was the hardest one because now I'm asking people to pay me to build them a website.
Matt: Can you share why that was particularly hard for you?
Jing: It was hard because this was a new skill for me, and I wanted to deliver it well for my client. I've never done this before and was a total beginner. And so, going through the very first sales stage was challenging.
Matt: But that's been hugely successful, hasn't it? It's a beautiful website, and you've got a good eye, which we'll come to in a minute.
How Jing's clients are benefiting from their new websites…
Matt: Can we go back to your very first site for the electrician? How has that site gone for the client 12 months on? Did it start ranking, and was the client happy with the build?
Jing: Yes, the client's very happy with the site. They wanted to be able to edit it themselves, so I did a training session with them, and it is doing really well. He actually doesn't want any more jobs now because he's focusing on other areas in his career. But he was very happy with the website.
Jing loves the creativity & flexibility of being able to help different clients with their websites
Matt: And when you first started building these sites, did you find yourself enjoying the creative side of it?
Jing: Oh, I love it so much! Every day, I wake up and I look forward to the day.
I just love getting to know people around me and see how my skills can help solve their business problems and get paid to do that. It's like a dream come true.
I love the creative side as well as the flexibility side of things as well. I'm no longer tied to an office and having to work a particular hour. I can now work around my family and children, which is the best feeling.
Jing was able to 'earn while you learn' on the Champions program
Matt: Your husband, Matthew, works full-time in another role. So, you've had the time over the last year to build up your skills and knowledge whilst working from home around your family.
Jing: Yes, I work from home and my husband works full-time.
The first half of the Champions year was a learning stage. I was building up the foundations and trying to adapt to our new family of five. I was breastfeeding a newborn and adjusting to a new sleep routine, which wasn't easy.
During the second half of Champions, my baby was now ten months old and was able to go into care. So, I had two days during the week to schedule my client meetings. I wouldn't say they were two full days, though. I still had to drop my kids off at school and pick them up, etc.
So, I only had around five hours a day, two days a week to work on this. And because of the limited time, I didn't want to waste any of it. I wanted to give it my all, even the scary things I had to push myself to do, like cold-calling businesses.
Matt: Yes, you had to fit it all in.
How Jing used her new networking skills to find paying customers
She started with zero business network, but used these 2 strategies to build her local digital agency…
Matt: What would you say to someone who is starting on this journey as a mum in a similar position to you? Was finding the time your biggest challenge?
Jing: Absolutely. It was finding the time around looking after three young boys.
Matt: And when you think about it, I love what you've achieved here because you stepped up to the challenges.
1./ She cold-called local business in her area to see how she could help improve their website
As you mentioned, you did the 100 Call Challenge that we set in the Champions program. And I'm guessing that was very scary for you, Jing! You'd never done sales before. English isn't your first language, and you had no business network.
So, how did you approach the Cold Call Challenge that we tell everyone to do? Did you just pick up the phone and do it?
Jing: No, certainly not!
It was the second bootcamp that Matt and Liz Raad set us the challenge. But it took me three weeks to pick up the courage to make that first phone call. It was so hard!
There were a lot of mindset challenges in the way. Like you said, Matt, English is not my first language, and I didn't know anyone. I was still quite new to building websites and things like that.
So, I don't know how, but I just did it. I picked up the phone and started calling. And once you start calling, it's actually not that scary. People talk to you when they realise you're trying to offer them a solution to their problems.
2./ Jing also joined a local business networking group
Jing: Another thing that helped at the time was joining a new business networking group that had just opened up in my area. The group started with 14 people in it, and they were mostly men. I was only one of two ladies in the group. And so, standing up in front of all these successful men was quite intimidating and way out of my comfort zone.
But, because the group was so small, we needed to get the numbers to 25 members to launch the group properly. So, I had to cold call businesses to join our group on top of my 100 Call Challenge. So, I had lots of practice with cold calling, but luckily, I converted one client from it, which was amazing.
Matt: And how much did that job turn into?
Jing: It was a one-page website design, and I charged $1,500.
Matt: Perfect! This is a great example of "Reps, reps, reps." It's all practice, and you're such a go-getter, so well done.
I'm sure anyone reading this can feel what Jing's saying. This was way outside of her comfort zone. I know you, Jing, and I was very surprised at how much you embraced this challenge.
From shy & introverted… the moment Jing's mindset changed…
Matt: Have you always been a driven person, or is this something that switched on when you had kids?
Jing: I don't think I was a driven person. I'm actually quite shy and introverted.
I remember one day at school pickup, I saw some tradies opposite the school who were measuring up a fence. I googled and saw he didn't have a website, so I wanted to go talk to him.
I said to one of the other mums, "Okay, I'm going to go chat to this person and see how I can help him." She said, "Oh my gosh, you have to put yourself out there all the time!"
It really affected me when she said that. And my old self would hold back and not say anything. I would just stay in my comfort zone and not take any action.
But I remembered what Matt and Liz Raad told us early on in the Champions program. You said, "You guys are Champions now, so you must set the right intentions." That really changed my thinking because now I don't really care what other people say; I just want to put myself out there.
It's okay if people say no, and it's okay if they reject me because that's all part of the process. You'll get there if you have faith, trust the process, and take small steps.
Jing is now a role model for other Champion students learning their digital skills!
Matt: Jing, when Liz and I met with you the other day, you said there are so many role models for you in the Champions community. And I know you've gone out of your way to network with some of them. You've reached out to people like Matt, a burnt-out schoolteacher, and then there's Nathan and Alexa, who buy websites for passive income. And your coach Calem, who quit his corporate role. And you've listened to success stories like Amish and Avani.
You've met all these past Champions and have been able to stand on the shoulders of giants. You've seen what they've achieved, and now you're doing the same thing for others. People will read your story and think, "Wow, if Jing can do that in her first year, I can too!" So, a big thank you for sharing your story, Jing.
We have so many role models of success within our community, showing anyone can do this. It works. And look at the results you've achieved, Jing. You are now building multiple websites and have just finished the first 12 months of learning digital skills.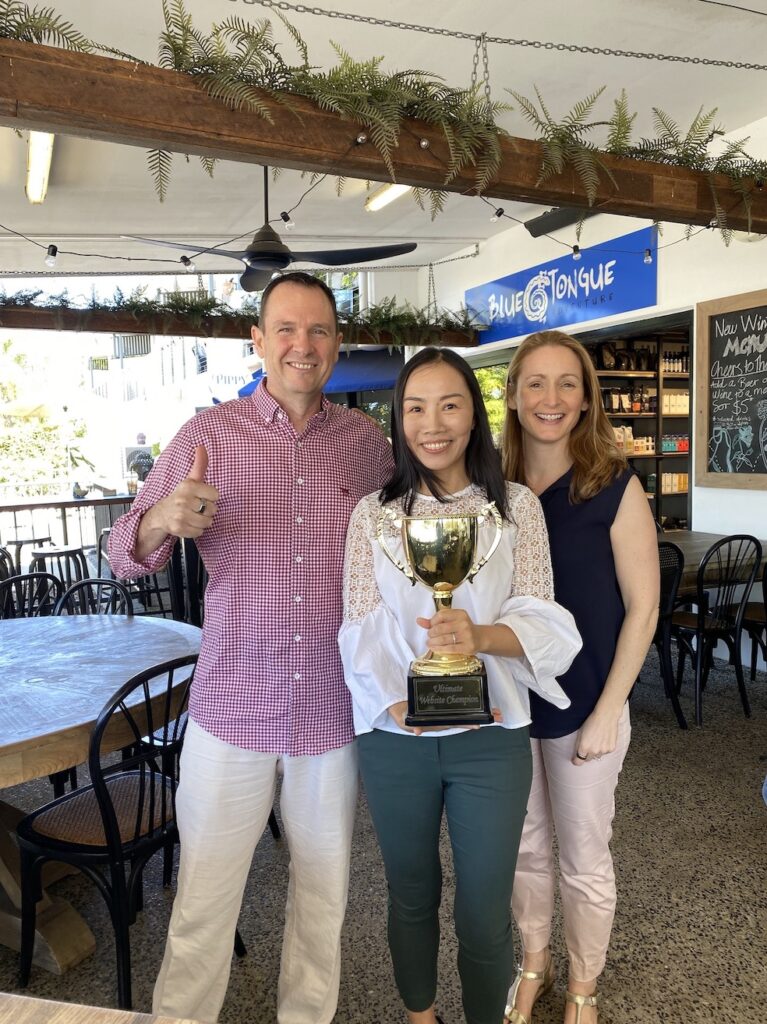 Jing is now charging $9,000 for a client website build
Matt: So, here's an interesting question. You started by building a free site, and then you went ahead and charged for your next website build. Was it for the Tennis Club?
Jing: Yes, the Tennis Club was a paid one. And then the next one was for my other son's kindergarten.
So, there was a free one, and then I helped a local charity to refresh their website, which was a free one, too.
And then the next one was the big one. There was someone from BNI (a business networking group) who really trusted me and let me redesign his website. And I'm now doing SEO work for him, also.
Matt: Great, so now you've stepped it up. And I know you're now working on a website for a client at $9,000, who will also have ongoing SEO.
How she changed her mindset to increase her prices…
Matt: So, I'd love to know how you got around to that mindset of being able to ask for a bigger website build within your first year.
Jing: I think I'd built a lot of confidence by that time. I know now that I can deliver a lot of value for the client.
This is quite a big rebuild for the amount of money I've charged because a lot of work needs to go into it. He's got it for a bargain. But I've just focused on the kind of value I can bring to the client, and that's how I priced it.
Matt: Your mindset is one of the things I've seen that's changed so much in you, and it's inspiring for so much of our community.
As you know, Liz is passionate about teaching us to recognise the value in what we do and asking for our value. Like you just said, 12 months ago you wouldn't have answered in that way. You're now saying the $9,000 website is a bargain.
So, I guess there's another lesson here for our readers when it comes to learning digital skills and buying and selling websites for profit. This journey can go in all sorts of fun ways that you would never have expected, and it can impact your life in major ways.
For Jing, she's now looking back, saying, "Wow, that $9,000 website is actually a bargain." But a year ago, you could never have done that. Now, she works from home with her family, building a very successful business.
Don't do it alone – how Jing asked for help in her online journey…
Matt: And Jing, you build awesome websites. Obviously, you love doing this, and you're very good at it.
Jing: Thank you so much. I couldn't do it without the help of the coaches, my team, and my husband. It is not a one-person effort.
I guess that's another piece of advice I would like to give everyone: ask for help. You have a team of amazing coaches there to help you, along with the community.
I just love our community. I feel like we've got a magic answer machine! You put a question in, and the next day, when you wake up, there are so many answers. There are so many people who are open to helping you. We are just so lucky.
Matt: You've obviously got the support of Matt, your husband, as well. Because, like you said, the biggest challenge for both of you is time. We must acknowledge that you have a young family of three kids under six.
So, it's not just an immediate team or your significant other who's helped you a lot in this journey as well.
Jing: Yes, absolutely. Matt is an amazing dad, and I'm very grateful for him. There have been a lot of sacrifices around time with him and the kids. But just remember, it's only temporary.
…and took small, consistent steps everyday…
Jing: Just stay focused and disciplined, and take small steps. You don't have to spend a whole day doing this. It's so hard with three kids, and you just don't have time. Even just take 15 minutes out a day. Watch a little bit of webinar, do some keyword research, and keep doing that consistently every day.
Even though there are days you won't see any progress and you want to give up, just hang there. Be persistent, and you'll get there.
Matt: That's awesome advice there, Jing.
Jing is slowly building her team as her online business grows
Matt: We've just mentioned the team. So, can I ask, what is your team currently? You've made $30,000 in your first year, and have $6,000 – $7,000 in ongoing monthly revenue. What's your current team to help you achieve that?
Jing: I've got one full-time techie. It was a risk when I hired him because I didn't have that many clients to be able to afford to hire a full-time techie. But I knew I needed to do that so I didn't have to worry about those kinds of tasks. I can just focus on getting more clients.
I also have a graphic designer. And my husband helps me with administration and accounts. So, that's my team.
Matt: All right. I love it. And what country is your techie in?
Jing: He's from the Philippines. He's amazing and deserves a trophy!
Matt: Alright, and did you find him on Upwork?
Jing: Yes, and it took us a couple of months to work out how to work well with each other. But we've now set our expectations, and he's amazing. I couldn't do anything without him.
Matt: You're very similar to Liz. It's always her recommendation to make your first hire a techie. Whereas for me, I'm a content SEO guy, so I want writers.
Jing: Oh yes, sorry, I forgot to mention I also have a writer.
Matt: And is that person full-time or part-time?
Jing: He's part-time, and I give him work whenever needed. Right now, though, it feels like it's full-time!
Matt: Yes, because a lot is happening.
Okay, so you have a nice, easy team setup. It's really just a full-time techie, and that's the normal first hire you'd typically bring onto your team when you get to that six-figure level.
Jing plans to grow her agency so her husband can also leave his job
Matt: And now that you're at this level, Jing, what are your plans for the next 12 months? You're a high achiever and the winner of our Ultimate Champions Cup this year. So, I'm interested to hear what your plans are over the next 12 months. What do you want to achieve?
Jing: Thank you, Matt. One of the quotes I love from you and Liz is:
Today I will do what others won't, so tomorrow I can do what others can't.
I think of that quote almost every day. It's helped me keep going and build the life I want for our family.
Over the next 12 months, we want to keep going, get more clients, and keep helping our existing clients. And we want to achieve $30,000 per month so that Matt can quit his job. That's our goal right now.
Matt: Yes, your husband will join you on this journey, and you have both re-joined us for this year. I can't wait to help you achieve that goal over this coming year.
…and they'll continue to grow their portfolio of websites for semi-passive income
Matt: You're also going to be building your portfolio websites as well. Does that mean you're looking at buying a couple of sites? Or are you going to build some semi-passive websites from scratch? What's your plan there?
Jing: We have started building a directory site, so we want to add more content to it. I also want to buy more websites, so hopefully, we can do that this year as well.
And there's another directory site we like to build as well, so we're currently brainstorming that idea. So it's very exciting.
Matt: It is exciting, Jing, because now you've got the team in place, the world's your oyster.
In just one year, you've achieved all these digital skills, as evidenced by the incredible results and amazing websites that you build. So, if any of our readers need a professional website built in the Bay Area of Brisbane, go chat with Jing.
But Jing, you've also got a team in place where you can now go and do everything you want. You can buy websites, renovate them, find some 'diamonds in the rough', and continue doing good keyword research.
And you'll still be building your sites for local businesses, which obviously creates a nice cash flow for you. As you said, your goal is to hit $30,000 a month, and congratulations, you're definitely on your way.
Is it possible to grow an online business in 12 months?
Matt: So, Jing, thank you for sharing your journey today. One final question, for anyone starting on this journey, do you have any advice for what they should be doing? What do you think made the biggest difference for you?
Jing: I think you need to be intentional, open to growth and discomfort, and stay focused. Aim to be 1% better every day. Take small steps and ask for help. It's also good to learn to say no as well.
So, just keep going. If someone like me can do it, you can do it too. Absolutely.
Matt: I want to say a big thank you, and this is something that really stands out to Liz, myself, and our whole community.
Be willing to push yourself outside of your comfort zone if you want to achieve your goals…
Matt: I think you deserve that cup that's sitting in the background there. Not just for the monetary results you achieved in your first year but also for acquiring practical digital skills. I think you deserve that cup for putting yourself out there and out of your comfort zone.
Hats off to you for what you've just done and for doing everything we suggested over the last year. And I know for you personally, it's a massive step to get out of your comfort zone.
It's great for our readers to see your shift in mindset, Jing. You've really pushed yourself out of your comfort zone, and it's really transformed your life. That's why I'm seriously impressed and want to say a big congratulations.
You've been a high achiever, and you've done many things that have pushed many buttons. You've always found a way to rise to the challenge and look at the results you've achieved. And you've gone out there and inspired our community members as well.
Thank you so much for coming along and sharing today.
Jing: Thank you, Matt and Liz Raad, for having me. I feel honoured to be here and lucky to have found the Champions program. It has been life-changing, and I'm very grateful for you, the coaches, the community, and my husband.
So, thank you and good luck with everyone starting on this journey. You can do it.
Want to learn how to start your own Digital Agency?
Matt: Yes, you can. And if you are brand new to this and want to start the learning process, I recommend you go and listen to our free masterclass where we teach you how you can buy, build and renovate websites. We show you the overriding strategy that we use. This is where Jing started, and you've heard her story today about where she's ended up just within that first year.