How this mum of 4 and her daughter quit their jobs and now work together online
Yvette and Jasmine are a mum and daughter team, who joined our eBusiness Institute program searching for ways to make an income outside of their PAYG jobs and escape their 9 to 5 hard grind.
What we love about their story is that they completely retrained in digital skills starting from zero technical background, to being able to quit their jobs and create a life they truly love working from home.
Not only have they created TWO digital agencies, this team are now earning a side income from buying and renovating websites, plus building their affiliate portfolio to increase their passive income.
It might be easy to think that because Jasmine's young, she probably already had the technical skills to be able to buy, sell and build websites. And whilst that's true to a point – what she really needed was the specific digital skills and strategies we teach to create websites that actually make money.
Yvette and Jasmine both have an incredible mindset when it comes to their personal growth. They work hard and create opportunities that suit their lifestyle and income goals. We really wanted to share their story with you today to give you an idea of what's possible when you have a clear vision.
CLICK ON THE VIDEO BELOW to hear how Yvette and Jasmine changed careers completely to work online
From being unhappy, working long hours in 9-to-5 jobs to working from home full-time…
Liz Raad: Hi, and welcome again to our student success stories. And today we have some very special guests. We've got Yvette and Jasmine. A mum and daughter team!
And these guys are amazing. Give us an idea of where you guys started learning how to buy and sell websites? How much technical knowledge and experience did you have in the beginning?
Yvette: For me, zero.
Jasmine: I didn't know much when it came to digital skills. Growing up, I obviously used computers. But I didn't really know what a server was, and I had to learn how to log into a website when I was first starting. So not much by the way of websites and digital marketing at all.
Liz: That's actually a really interesting point Jasmine, because I think a lot of people assume that just because you're young, you must be good technically.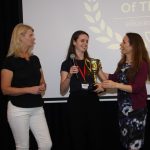 Jasmine: Yes, but it was still a really big learning curve for me. I picked it up a lot easier than mum did, but I still had a lot to learn on how to build a digital portfolio.
Liz: And Jasmine, what was your job before you got into the digital world?
Jasmine: I studied science at Uni, and then just did admin for a Telco and a Technology company after that working full-time. But nothing to do with websites or online marketing or anything like that.
Matt Raad: And Yvette, what about you?
Yvette worked as a manual labourer before retraining in digital skills…
Yvette: I was a manual labourer at Sydney Markets for almost twenty years and my role was selling fruit and vegetables.
Liz: And you were pretty famous there right?
Yvette: Absolutely. I was the blonde lady that wore the mini skirts!
Matt: And you said manual work, so what sort of hours would you be working there? What did a typical day look like?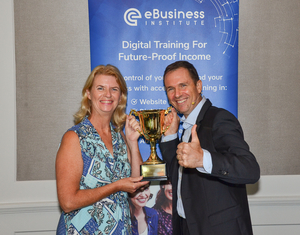 Yvette: A typical day usually started around five o'clock. And quite often (depending on the day) I'd finish either by lunchtime or sometimes as late as four or five o'clock in the afternoon.
I was constantly on my feet, working with my hands, and I also worked with a lot of men. Even with all the political correctness that is in the world today – I had things thrown at me, I was yelled at, screamed at; just by my bosses and some of the customers.
But that was market life. It was chaotic, it smelt, it was life in its rawest form. Overall I loved it, but after a while, your body says "enough!".
Liz: Was that the driver? What drew you to this world of learning how to make money online? And what made you think, "Okay yes, I could actually do this."
How did you first start making money online?
Yvette:             I started this journey when I was into property, I love property. And I saw you both at a conference where you spoke about passive cash flow from websites. I have four children and I thought this is something they can do.
Initially the Online Training Course was supposed to be for her children…
I wanted to give this digital training program to my children to do first. But I also have a love of learning, so I thought I would try to learn how to make money online too.
And it just snowballed from there. It became an online program that I could do with my children, which to me was the most fantastic thing.
I really enjoy working with Jasmine. We are both "Ying and Yang". We both have totally different skills that just complement each other. So, it's been a very good partnership.
Matt: And you're both working your online business full-time now. Jasmine, you've just quit your job as well, haven't you?
Jasmine: Yes, I quit my job a few months ago.
Liz: Well done. How old are you Jasmine?
Jasmine: I'm 26 years old.
Liz: 26 years old, and she's quit her job to make money online full-time!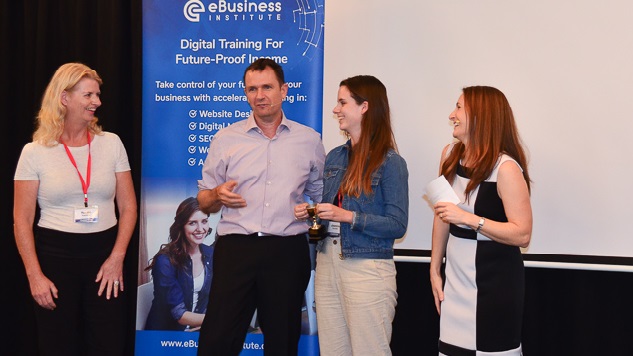 First Website Purchase Now Pays 10x Return On Investment
Matt: And you both are legends in our community because one of the first websites that you purchased was a learner site.
Liz: Yes, tell us about it. Tell us how you found that website and what it does.
Jasmine:          I honestly just stumbled across it. It was listed for sale for around $320. I thought, "I'm already set to buy websites under $300, so an extra $20 doesn't matter."
Once I purchased the website, I had my first call with Matt Raad. This call was included as part of my Online Training program with eBusiness Institute. Matt showed me how to add certain categories across the website, and how to configure the menu. Little changes to renovate the website for more profit.
I followed Matt's advice, and now the website does very well. I've made at least 10 times back what I spent on it so I'm very happy!
Matt: Yes, that's a great learner site for you to get started on. It's impressive to see that you have both bought awesome sites, and they're all nice little sites to learn on.
So, for you Yvette, was that an easy step to get into this game? Is buying these little, smaller websites something you found worthwhile?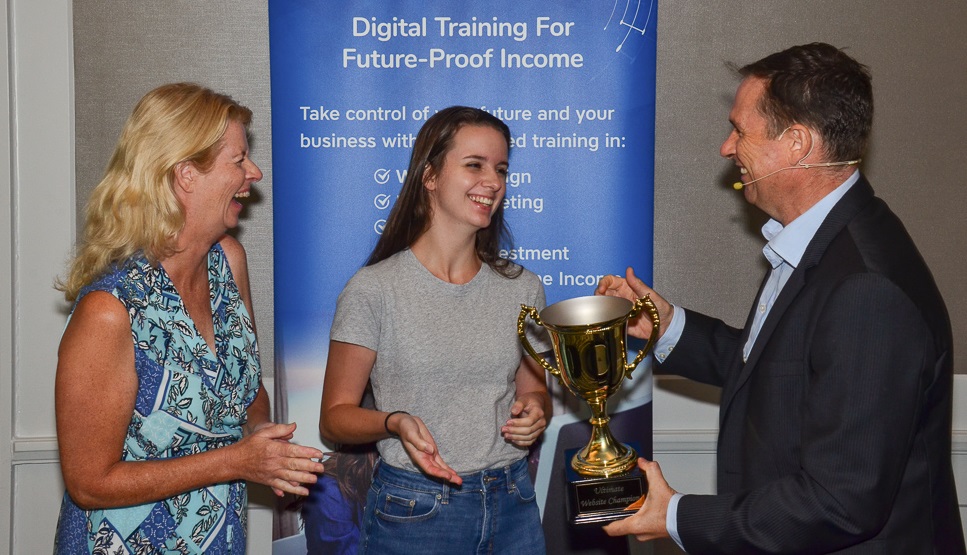 "Buying these smaller websites are a great way for us to learn our digital skills"
Yvette: Yes, and for the websites that we build, we use our new digital skills to see how other people are building their websites, what works well, what doesn't work well, and how we could improve on that. We use our knowledge to invest only a few hundred bucks. So, if it doesn't work out, it doesn't matter. The experience has paid for our education.
We're really enjoying the smaller sites for the moment. And we're now gearing up towards getting bigger websites, among the many other things that we're trying to do as well. There are so many different ways for websites to make money online. And we're learning quite a lot of foundations now to go in the right direction.
Liz: That's interesting you're saying that. We've said this before:
What's wonderful about this digital world is we can give you those foundational skills to help you build a website portfolio, but then everyone can take it in all different directions – Liz Raad
And so now, you guys are actually going down the online advertising route, which is paid traffic. So, what are you doing there?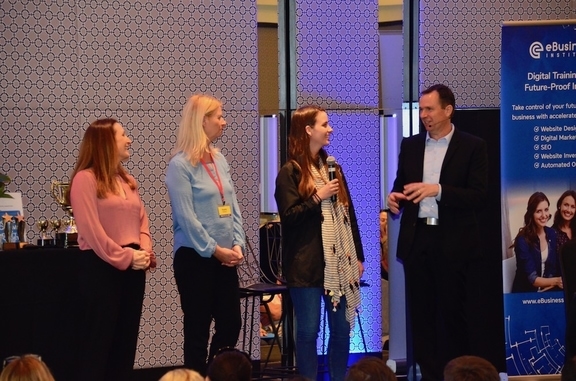 Using Paid Advertising and Affiliate Marketing to Make Money Online
Jasmine:          So, we've recently been getting into Facebook and YouTube. This is a whole other kettle of fish that has been really interesting to learn about. We've been running ads for our own personal digital agency, but also for ClickBank online information products, and just basically good old affiliate marketing.
I put a few dollars into advertising, sell some products, and this generates a few more dollars back. It's been really interesting and just a completely different world to websites. Even though they're so similar, there's a whole other learning experience and it's been really fun.
Liz: The thing is – would you ever even have known that that was a possibility?
Jasmine: Not at all! I actually learned what ClickBank was through your online training program. So, if I hadn't been following your program, I would have no idea it even existed.
Matt:               And look at where you are now. What's impressed both Liz and I about you both, is that you're such go-getters!
And Yvette, to see you suddenly realise the potential and then just take off like a bull at a gate, literally!
And now, you don't just have one digital agency, do you? You've decided one agency isn't enough.
Building Local Digital Agencies to Generate Cash Flow
Liz: You're doing a cash flow strategy building websites for local businesses. So, what's happening there?
Yvette: Well, I'm always up for a challenge! I thought I would go up against a leading roadside assistance company in Sydney. So, I bought mechanic sites to match them in their area. And I have been selling these websites to local mechanics. This is something that we've put a lot of foundations into, so it is now starting to come to fruition.
And so, I've been selling these sites and I'm just waiting for them to rank. I've been getting a very interesting response from these local business owners. Some do already have their own website, but they're on page seven. So, they have to pay for advertising to be seen. But now, I can come along and say, "Well, I can do it better and cheaper for you."
So that's one avenue we've been going along, we've joined a digital marketing franchise as well. And that's opened up a lot of different opportunities for us and so, we have many things on the go, and we're loving it. It's great, it's like how much can we consume? How much more can we learn? And I'm really enjoying it.
Matt:               You're also implementing what you've learned from our digital training course, and that's why you've both been able to quit your 9 to 5 jobs.
Liz:                   You now have digital income online working from home.
From being Computer Illiterate to Making Full Time Income Online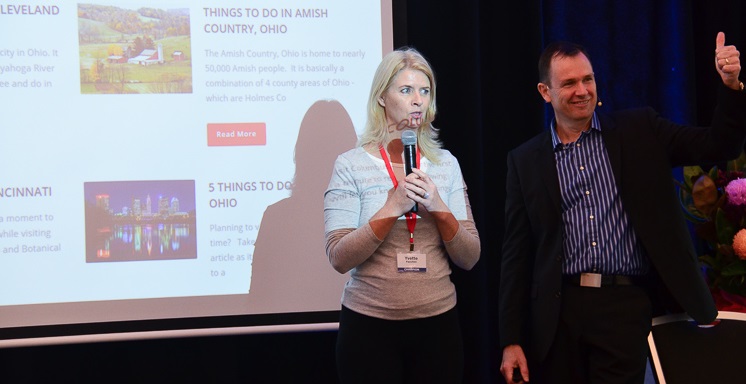 Matt: And now you've been with us for 18 months. Looking back on your journey, what would you say to people? Especially for you Yvette, because I assume it was a lot more challenging for you to pick up these digital skills than it was for Jasmine. So, what would you say to someone starting out in your position, wanting to make that transition?
Yvette:             I really struggled even to put an attachment on an email! I was totally computer illiterate.
And for me, it was a challenge learning how to use a computer before I even got into the digital world and being able to expand on that.
So my true advice is, you can't give up. You have to invest in yourself and in your education. Yes, it's difficult in the beginning. But it's like anything – once you get it, you get it, and then you can build on it.
And like I said, the different directions that we've gone in, I am the future Yvette, whereas 18 months ago I was the past Yvette, and the two aren't the same. They are very different. The way I look at things, the way opportunities just present themselves and to be able to grab those.
And so it's basically determination and accepting the challenge and investing in your own time and education, that's basically what it is. And having a good partner to work with, that always helps!
Liz: We all need a Jasmine!
Developing Your Personal Mindset to Improve Your Ability to Make Money Online
Matt: What do you have written on your computer screen? Share that with us.
"Our greatest weakness lies in giving up, the most certain way to succeed is always to try just one more time." – Thomas Edison.
Yvette: And I firmly live by that, day in and day out. And I have another one on my printer and it says:
"Act like you cannot fail and you won't."
And so, I just assume that if I just keep going, something will happen. There is always a way to do it. If someone else has done, you can do it as well. There is a way to do everything. It might take you longer, but it doesn't matter.
Liz: Now I think that's very inspirational for a lot of people who are in your situation to know that no matter where you're starting from, if you keep going, you can change, things will change. That's fantastic.
Matt:               Jasmine, at your age, do you now feel that you're an entrepreneur? Considering that you were in a full-on PAYG, nine-to-five job that you didn't particularly enjoy. I'm sure there's a lot of people listening who are in that role.
Liz: Yes, where people are just not happy and not seeing their future.
Matt: So, do you now feel like an entrepreneur? Has that made a change in your future?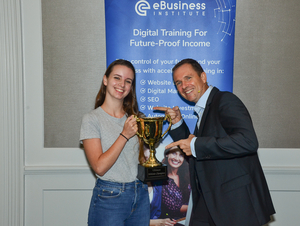 Jasmine: Absolutely 100%.
Most of my friends are still in a nine-to-five job. I look at them, and then I look at myself and think, "Well, I am different. I'm not doing what the rest of my friends are." It's nice to know that I won't have to wake up at the same time every day for the rest of my life and go to a job that's mediocre.
It's such a freeing feeling. I wake up every day and think "Awesome! I can do whatever I want today." – Jasmine
Most of the time, it is working on websites. That's what I want to do!
Liz: Alright. A true convert.
Jasmine: Very much so.
Liz: Great, so what does the future hold? Where are you heading next?
Investing in Your Education to Build Your Digital Skills
Yvette: Sky is the limit!
It's exciting just learning new things. I think it's really about our love of learning regardless of what it is. And we're investing in our education So, it's just that drive that we're just loving.
Liz: And you're building an incredible foundation of knowledge and skills that I bet is going to guide you to something. There's going to be some big opportunity that comes up that is just perfect for the skill set that you've both built.
And that's what we can see coming for you guys. We're very excited to see where you two end up. So, thank you so much for being with us today. We really appreciate it. I'm sure you have inspired a lot of people to get out there and actually take action on the things if they're not happy. Just go out and do something about it and get in there and just keep going. So, thank you so much, we really appreciate it. Congratulations.
Securing Your Future by Learning New Digital Skills
We're going through some pretty interesting times right now. If you're concerned about where your PAYG job might be headed in the future, and looking for a way to provide security, increase your income, and re-skill for the future like Yvette and Jasmine; take a look at our Digital Profits Program online training