It's only been a short couple of years that Kathie has been studying with us here at e-Business Institute. From virtually zero online experience, Kathie followed our methods step-by-step to build money making websites for her (and her partner Rob's) business ideas.
When we last spoke with Kathie and Rob, one of their new online business' was doing just under $7,000 a week. That's already pretty impressive. But when we next spoke with Kathie, that same website is now earning them $60,000 a month – well done guys!
CLICK ON THE VIDEO BELOW to hear how Kathie now works from home full-time earning 6-figures from her online business
Liz Raad: Hi again, and I am here with one of our amazing students, Kath. And I want to share some things that have been going on for you guys.
Rob and Kath joined us at e-Business Institute about a year and a half ago. And since then, they have had a pretty amazing ride.
And there's one business in particular that we want to look at today, which I think is really inspirational. But first, did you start with any technical knowledge? Where have you guys come from?
From Working 9-to-5 in Admin to a successful Online Business Working from Home
Kathie: So, my background was secretarial. In the early days, I had no experience at all in building websites. When I first came here, I didn't even know what the word SEO meant.
I've got a fairly good eye for what looks good as far as design goes. And I really enjoy it. So, it was quite easy for me to adapt and transfer the skill-set that I already had into building websites.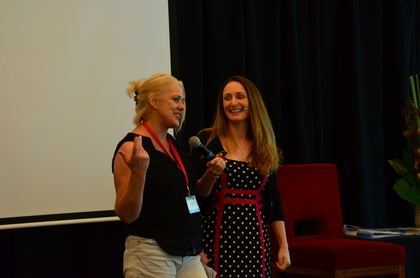 Liz: Yes, and then after you joined us, you had an idea. And one of the things you've said to us was if you didn't know how to actually use a website in this marketplace, it would have been really hard to launch that idea. So, what happened there?
Using new Digital Skills to Launch a 6-Figure Online Business
Kathie: Basically, we had a business that Rob (and his business partner at the time) had an idea about. Rob and I had just started a relationship, and I was quite new in this journey of learning how to build websites. Rob asked me to build a website for the business, and after I built it, it started to rank fairly quickly.
Liz: Yes, because you built the website the right way.
Kathie: That's right. I didn't really have any idea of what I was doing. All I did was follow Matt's website building principles (Matt Raad's rules) and use the recipe. I didn't know what it was going to be like when it was finished. I didn't know where it was going to lead us. But for me, it was an experience in building a website, and then taking it to that next level.
Liz: And from the time you actually built the website and launched it, when did it start earning some money?
Kathie: Well, I was on the journey of building websites. And Rob (being very entrepreneurial) had a number of other businesses going on at the same time. So, this particular business was just sitting there.
But we started getting phone calls and Rob wasn't answering them. Eventually he said to me, "Can you call some of these people back?". Being so new, we had no idea how to actually run the business side of it. But I called the clients back, and we started learning the process on the go.
Building a Website from Scratch – From Zero to $60,000 a month
It basically grew from there. It was around 8 months ago that we really started working on the business. The website was attracting clients in, and as we launched it, it really took off.
Liz: So, our last bootcamp event (closed door event for elite students) was 3 months ago. What was the business turning over back then?
Kathie: At that point in time, we were doing about $6,000 a week.
Liz: That's almost $25,000 a month. And three months later, what is it doing now?
Kathie: Anywhere between $16,000 to $18,000 per week.
Liz: Wow! That's around $60,000 a month.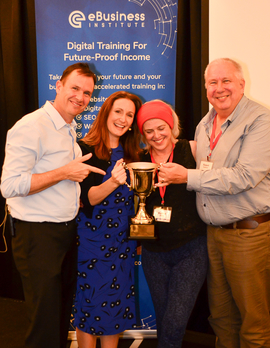 Kathie: Yes, it's a lot of money! It's hard for me to get my head around still.
Liz: So, the lesson here is, you have to go out there and take action. That's what I really admire about you guys. You took action, built the website and just got it out there.
And like you said, you didn't quite know how it was going to work or what was happening, but you just did it anyway. You learned on the fly, you took our principles and applied them. Congratulations guys!
Rinse and Repeat – Generating Multiple Business Opportunities Online
And that's not the only thing you're doing, is it?
Kathie: Oh, no. There's so much more going on.
We're still building our portfolio of passive websites. We're particularly focused in the camping niche, and I think we're going to make a lot of money out of there.
Liz:                   And you and Rob also have some other $million-dollar deals on the table.
So, congratulations! I just admire your total action and commitment and getting in there and making it happen. So, well done! And I can't wait to see what you guys achieve in the future.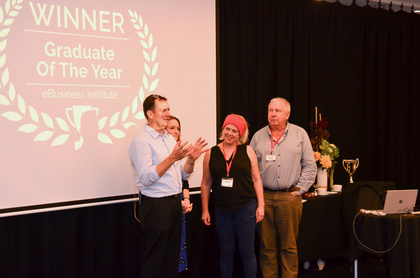 Building a Network of People Around You to Help you Achieve Online Business Success
Kathie: Yeah, but I wouldn't have done it without the right network of people. This is really important. Matt and Liz Raad say:
"You must surround yourself with the people that will support you" – Matt and Liz Raad
That's so true.
If I didn't have Matt and Liz to ask, "What do I do here?" it probably never would have happened. It's like having that little nest that you can go back to knowing that you've got someone there to answer the questions that you don't know. That makes all the difference.
Liz: Well, thank you. We have loved working with you.
So, get inspired guys. Go out there and take action. There are $millions on the table out there if you just go out and get it.
Kathie: There's a lot of money out there, especially in the digital world and it happens quickly!
Rob and Kathie's 6-figure online business all started from a simple idea. Do you have a multi-million dollar idea you think you can create online? At our intensive 3-day Digital Training summit in Queensland, we show you a number of ways you can turn your ideas into successful online businesses – just like Rob and Kathie did.