Imagine owning a semi-passive website that makes over $4,000 a month on only 3 hours work a week
When you're looking create an additional source of cash flow, content-based websites are a really leveraged way of doing this. The majority of time, money and effort taken to grow this type of online business comes from the initial website setup. So, is there a way you can bypass this stage, and 'buy' your way into a new income stream?
The answer is yes – buying established websites for sale is a great way to earn income straight away. These sites are already ranking in Google, already show proven traffic and income, and have age behind them.
Today's website showcase with Marco Reeves from Empire Flippers is a perfect example of this. The owner of the site has already put in the hard work, and now only works 3 hours per week to maintain. Better yet, this website is using a simple content strategy, and earns it's money from high paying affiliate commissions (…hint…it's not Amazon Associates!).
Picture this when you think about building your portfolio of money making websites…. What if you had a website that only requires 3 hours a week of work, earning over $4,000 a month, and running on less than $150 worth of expenses? I can tell you from our days of business brokering – you won't get that with your traditional bricks-and-mortar business!
CLICK ON THE VIDEO BELOW to hear about this profitable ready-made website for sale
Passive Content Website for Sale in the Legal Niche
Matt Raad: Hi everyone, and welcome to this week's Website for Sale Showcase. And this week, we've got Marco Reeves from Empire Flippers. And this week Marco, you've got a really interesting website for sale in a pretty specific niche. Do you want to explain to us what the site is?
Marco Reeves: That's actually why I wanted to talk about it, because it is quite specific. This is a content website for sale. This site is actually 12 ½ years old, so it's an extremely well-aged site. And it's specifically in the legal space. The current owner is producing content around legal-based products, and then linking to different types of legal products and earning affiliate commissions from that.
Established 12-year-old Website that earns over $4,000 net per month
Matt: So, it's a standard content site making affiliate commissions. And what sort of revenues or what profits are they making each month?
Marco: The income is a monthly revenue averaging throughout the pricing window is $4,149. And then a monthly profit is $4,066. So just around $150 in expenses for the whole business.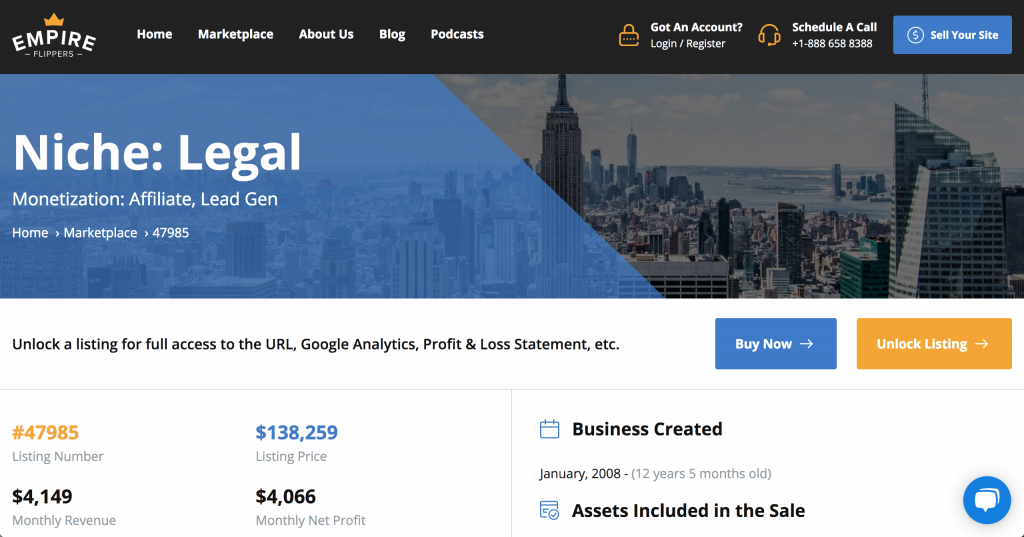 Why a Website Business for Sale beats traditional Bricks and Mortar
Matt: This is why I love content sites; only $150 in expenses! For our readers who own their own bricks and mortar business, this is why you should be considering buying websites. The costs of this site is only $150 a month and it's making $4,000 a month.
Marco: For sure. In general for online businesses, the multiples (or the return you get on your investment), it's not really matched by anything else. And then combine that with the low overheads, you can tell why I'm a fan.
Current owner only spends 3 hours per week on this semi-passive website
Matt: That's right. And maybe we should tempt our traditional bricks and mortar businesses even more with how this online model works. How much work do you think the owner does on this one, Marco? I'm guessing not as much as a bricks and mortar owner.
Marco: Yes, so this owner is currently spending around three hours a week on the business. That includes formatting and publishing content, updating plugins, maintaining the actual website, checking emails, and then doing some link-building.
So three hours a week, which is about 12 hours a month for $4,000 profits. You can't complain about that!
Matt: And I imagine there's probably not many staff, perhaps some outsourced VA's and writers.
Marco: Yes, I don't believe this business has any employees attached to it. Some do, but this business in particular doesn't.
You don't need to be a legal expert to operate this website
There are a couple of ways people can play that. If you're in the legal field, it's a good place for you to start generating content. You can possibly write your own content, or (as a lot of people do), you can just go ahead and outsource that.
Matt: Ok, so this is a site where you don't need to be a legal expert yourself, do you? You can outsource everything, is that right?
Marco: Sure. You don't have to be an expert in any websites. It can't hurt of course, but for a lot of people who just see it through the numbers (which is a lot), you can just hire someone, or outsource the writing. Then you just have to make sure the content is published at a particular time.
This website is showing steady growth using quality content strategies
Matt: And for this particular site, that's $4,000 a month. Is there any indication what it's done over the last 12 years, or even the last five years? Is it increasing? Is it just sitting rock steady?
Marco: I like this one. If you go into the listing page in Empire Flippers (and unlock the listing), you will see that it's had a really nice growth curve. There's a graph in the listing that shows this growth. So, especially over the last 12 months, it's had some nice growth, including the traffic which has also been very nice and steady. Nice and even curve going up.
Matt: Great, and where's the traffic from? What countries is it mainly serving?
Marco: 53% USA, 18% UK, 2% Canadian. The rest of it is just 2% here and there. Mostly made up of organic search. There's some direct traffic there, but 91% is coming from organic search.
Matt: It's got that age sitting there in Google ticking along, and it's doing really well.
Opportunity to grow this website by using Social Media and Email Lists
Marco: It's interesting to see the social media is very sparse with this one. So that's obviously an opportunity. Also there's no email list. I'm a big proponent of email lists. So if I was to look at purchasing this (and looking at ways to expand), then that's what I would be looking at.
Website earns its income from high-paying Affiliate Commissions
Matt: And to be clear, this doesn't sell its own products. It's purely just promoting other products that are out there on the net and presumably getting an affiliate commission. So it gives us an affiliate link, and if someone buys a legal product that this site recommends, then the owner gets a commission.
Marco: Yes, exactly. And this one isn't even using Amazon Associates, which is a very popular affiliate programme out there. This is using other top legal affiliate programmes, and they're doing very well for themselves.
Matt: So, they have quite high commissions and give a good margin of safety for a buyer there as well.
Marco: For sure. Unfortunately for this one, I can't disclose what the actual affiliate programme is. But for anyone who unlocks the listing, you are free to see.
But they recently had a change from 50% commissions, all the way up to 75% because it's digital. This is amazing, because it's a digital product. Because there's no physical aspect, it's a lot cheaper for the promoters. So, they will typically be a lot more generous with their commissions.
Matt: I can say that's a lot more scope than presumably for the new owner of this website. They really want to start working more than three hours a week on it to grow it. It will be worth the while of the new owner to get in and grow upwards with new commissions like that.
Marco: That's right. Normally we mark on our listing page how much time the owner is currently spending on it. It's typically just to maintain the current performance of the business. But if you're willing to put in more than three hours a week, (possibly 3-4 x that), then you could do a lot with these types of websites.
Matt: Perfect! So this is a standard content website, making $4,000 a month, it's on the growth curve up, and earning 75% affiliate commissions. There's a lot of margin there, so you've got money to keep growing the site if you wanted to.
Conducting Website Due Diligence using the Empire Flippers Platform
If someone wanted to buy this site, Marco; they should come and look at the listing with Empire Flippers and then they've got to go through and do their own due diligence.
Marco: For sure. That's something we're very good at. We've got a very strict vetting process. We'll obviously do our best to provide the most accurate information about the business and we were very good at that.
We always stress that website due diligence is the responsibility of the buyer. – Marco Reeves, Empire Flippers
This is your investment, so I encourage you to take any necessary steps there. But yes, once you unlock a listing, we'll provide a lot of the information that allows you to do your own due diligence:
Website details
Financial information
Income verification
Google Analytics
We can also look at setting up conference calls so you can speak directly with the seller. And hopefully after that call, you've got enough information to make a decision on the business.
Owner is Selling this Website to Invest in Property
Matt: Perfect. And one final question that I know everyone's going to be asking. Any indication why the owner is selling this site?
Marco: For this particular website, I've personally spoken to the seller. He just wants the cash, and wants to move on to investing in property.
That's why people always want to sell these types of businesses. Because a lot of the time they're very passive. So it is a good argument – why don't you just keep it then? Why don't you just keep banking the $4,000 a month?
It just comes down to your individual goal. $4,000 a month is great, but having over $20,000 in cash provides you with different opportunities.
It just comes down to different goals and typically just cash is the reason people would want to sell these businesses.
Matt: Yes, they're getting a couple of years' worth of earnings upfront so they can use that money elsewhere.
We find this all the time with sellers. Everyone has their reasons why, and people often want to roll the money out either into a bigger website or property or some other business venture that they're starting up. So, this is a quick and easy way for them to raise two years' profits.
Steps to Purchase this Website with Empire Flippers
Not a bad outcome and the owner's done really well! So that sounds like a fantastic listing. No wonder you picked that one today, Marco! Thank you so much for that.
That's a really exciting listing, and I really like that niche by the way. I've seen some very successful websites in that niche. And I'm actually not surprised by those really high commission rates because it's such a valuable niche (the legal niche).
And as our students know this is a very hot niche. To get an SEO'd site in that space that's over 12 years old; that's very impressive. So thank you so much for sharing this with us today, Marco.
The link for this listing is: https://empireflippers.com/listing/47985/ , and you can have a chat to Marco at Empire Flippers if you'd like to know more. Awesome, thanks so much.
Marco: My pleasure.
Learn How to Buy and Sell Websites for Profit
If you want to learn more about how to buy and sell websites for profit on Empire Flippers, then be sure to go through our free online training: Building an Online Business. This short course will give you the foundations in what to look for when buying websites for sale with our free due diligence checklist.