In today's student success story we interview Ward who suddenly found himself retrenched and decided to retrain in digital so he could work from home.
Ward was working in the oil and gas industry as a senior engineering manager. Things were looking nice and comfortable, but out of the blue he was retrenched.
Going from a "safe" high income to zero income was a big shock to the system. He and his wife Loraine faced some challenges. They had real estate mortgages to pay and had only recently moved to Australia so they didn't really know anyone.
Complete life turnaround – complete career change – True Champions!
Their story is one of a complete turnaround – not only a complete career change to working from home but of also getting out there and going from knowing no-one to rebuilding their financial situation through networking.
Starting from scratch they were able to retrain in practical digital skills that let them build websites for local Brisbane businesses and then they took massive action to build up a network of small businesses who needed to get online.
And once they got their clients, they provided exceptional value to deliver results.
This helped them replace their income within 12 months.
If you're concerned about being made redundant, or what will happen with your job in today's fast-changing world, then you might find some inspiration from Ward and Loraine's story!
CLICK ON THE VIDEO BELOW to hear how Ward and Loraine went from retrenchment to working online from home
Liz Raad:                   Hi. I'm here with Ward and Loraine, two awesome graduates of ours. And I wanted to catch up with them because they've had a really interesting journey. So, a big welcome Ward and Lorraine!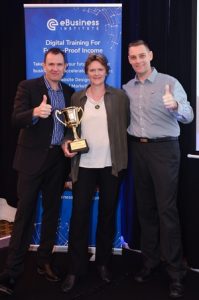 We wanted to hear about your journey. You both retrained in digital skills by joining our Champions program, and then something happened that was a little bit unexpected, didn't it?
Ward: Yes, I was made redundant about four weeks after.
Liz:                   So, what that means is that Ward and Lorraine were learning their digital skills with us. But suddenly, it became very important to put those digital skills into immediate action.
So, tell us what you did.
Their first step to earning money online from home was to build websites…
Ward: We started by developing a website. It was looking good, but then at a certain point we needed to get some income.
I was talking with Matt on a coaching call, and he said, "You have to go out and network."
We had moved from New Zealand a couple of years ago. I worked in very high-end corporate for big companies like Origin, Santos. These are big companies who don't really need a website from a beginner website builder.
Matt Got Ward To Network to Generate Fast Cash Flow!
So, Matt's advice was around getting out there and networking with different businesses. He gave me the phone number of a lady who does networking groups. I got in contact with her and started networking.
Helping Local Businesses Get Online Was The Quick Cash Generator
Liz:                   There we go. And given that you needed cash (fast!), you both decided to focus on the cash-flow strategy we teach, didn't you? This is through building websites for local businesses. So how did that go?
How long did it take you before you could actually get some cash-flow in the door?
Ward:              Well, getting some cash-flow in the door took us about three months.
I got the first client, then got a second client. I built them a website for their business. Once they started ranking in Google and getting leads and phone calls etc, they started talking about us to other businesses and saying, "Hey, you have to talk to these guys about your website."
They built their online home business within a year through referrals…
And from there, one referral came after another. We built our digital agency business up quickly up to a reasonable level, and within a year, we replaced our income while working from home.
"Within a year, we replaced our income while working from home"
Liz:                   Which is pretty amazing! From a digital skill that you've just learnt. So what's the feedback on your websites? Do people like the websites you're building?
Just get the website to generate calls and customers!
Ward: Yes, people like what we're building. But mainly, what they want to see is the results. They want to get the phone calls, that's what the business is about. So how the website looks is not always that important. It's much more important to get the phone calls, and get the clients in.
That's what we talk about with our clients. We say, "We are here mainly to get you customers." We always discuss content and how the website looks (and local business websites should look good), but it's even MORE important to get clients through the door for our businesses.
Liz: Fantastic. Give us some interesting results that you've had by building websites for businesses. You've actually helped them turn around their business, haven't you?
Ward gets results for his clients online…
Ward: Correct. So, one of them was our accountant we had in New Zealand (who was still doing a bit of work for us). He became my first paid client. I told them, "Listen, I will build you a website. But you don't pay me anything until you get clients through the door." And within three months, he gets clients through the door.
Our second client was an IT company here in Brisbane. Before they started with us, they weren't getting the results they wanted. But within about a year of working with us, they are ranking for almost any term Office365 in Brisbane as number 1, 2 and 3 positions in Google. So, they're really happy with those results.
Liz: Fantastic! So, these businesses weren't getting results for the previous years. And you came in and said, "Okay, I can fix this."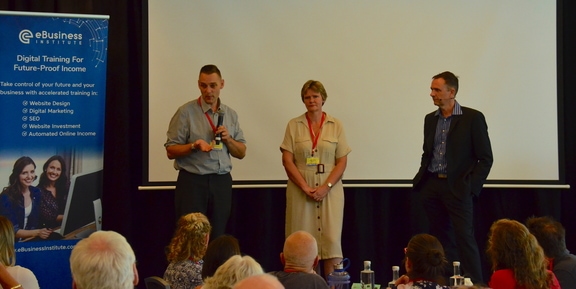 Provide Exceptional Value for your Clients
Ward: Yes, and another point was he was paying somebody to do SEO for his website. I asked him some questions:
"What reporting do you get?". He said, " I don't get any." That's interesting….
"What are they doing each month for the money you're paying them?". He said, "Actually, I don't know."
"So, why are you paying those people?"
And those three questions turned him into a client.
Liz: Yes, I must admit it's a very common thing that I see over and over again in the marketplace. People are paying a lot of money for SEO that does nothing and they're not getting any reporting or anything.
Integrity wins every time…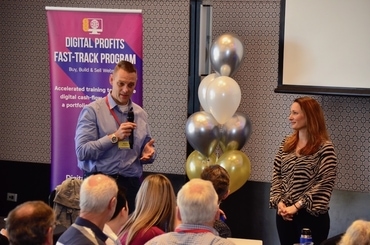 But what's amazing here is that you guys have such a high integrity. And now you're applying what we've showed you, you're getting great results for people. That's fantastic!
Loraine:         You know, people get sucked into the idea, "I need to have a perfectly designed website. It has to look really nice, have huge banners and huge photos etc.". But then the sites are slow to load, and don't perform properly.  I have to explain to them and say, "Look, we have to work on that because it's not good for the conversion."
What we see a lot is people have a new business (or a business that is going really well), and they want to create a prize-looking website. But this website isn't functional and doesn't do anything, so they get very frustrated. So, it's our job to explain those are not important things.
Liz: Yes, let's actually make a website for you that works. A website that generates the leads, gets you money in the door. So that is fantastic and I'm just so impressed guys, you've replaced an engineer's income within a year.
Loraine retrained in Web Design skills with us at the eBusiness Institute
Also, starting from absolute zero digital skills. Did you know any IT before you started?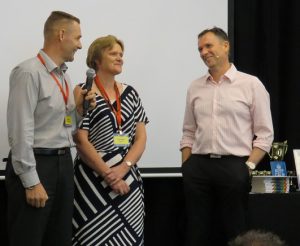 Ward:              I have been working in IT before. I am a mechanical engineer but also have done a lot of IT, so I have done both. So that made it a little bit easier to ease into. But Loraine didn't come from a digital background, and she's built more websites than I have!
Liz:                   So the secret is Loraine!
Loraine:         Yes, I'm more the website builder. And I'm not a really technical person.
Ward:              Loraine does most of the web design and building, I do most of the technical stuff and the SEO.
Liz: Fantastic. What a team! Congratulation guys. Well done! And thank you so much for being with us.
Ward: Our pleasure. We love being here absolutely with you and with the group. It's fantastic. Thank you.
There have been a lot of changes lately in the world, and corporate jobs aren't as safe and reliable as they used to be as Ward found out.
If you're finding yourself thinking more about how you can prepare for the future, and retrain with digital skills to secure your income in a changing marketplace, then…
Here are 3 ways you can get started to learn about online business strategies that let you earn income working from home: