Sitting in the audience of our Digital Profits Fast Track Training Workshop, Mike and Cindy Summers came up with their million-dollar website idea in the session designed to help our students do this.
But they had a few challenges in their way – they came from a background of no tech or online experience, they had no idea how to build a website or monetise websites, and Cindy had not been able to work for the last 12 years.
Complete Online Beginners Retrain To Create High Growth Tech Business
Fast forward just 18 months later, using the digital skills we taught them at the EBusiness Institute this amazing couple with no prior online skills have not only successfully launched but absolutely blitzed their million dollar idea and are now know as "PropTech Disruptors"!
The future is now looking bright for Mike and Cindy, and we hope you find their story as inspiring as we did. And more importantly, we hope you take this story and use it as an example to get out there and take action on those ideas you have sitting there in your mind and in your notebooks. Using Cindy's words – "Just do it!".
CLICK ON THE VIDEO BELOW to hear from Cindy and Mike Summers from PerfectRoom.com.au…
Liz Raad:                  Hi and welcome. Today we have some very special guests with us. We are honoured to have Cindy and Michael Summers.
And the reason we've invited Mike and Cindy to speak with us is because they have such an inspirational story. And a story that I think will really get you motivated and make you believe in the possibilities of what can happen in the online world.
Complete Online Beginners now successful online entreprenuers in just 18 months
So, to start out with, obviously you've had an amazing journey. Let's talk about where you've actually ended up first – because I want to start from the end, and then go backwards to how you got there. So right now, what's happening in your world? How is your business growing and going?
Quit 9-5 Job to work online from home on their big idea…
Mike: Well, Cindy and I now both work from home full-time. I've finished my full-time job, and this has become my full-time job.
Now we're running our main online business, which is Perfect Room.com.au which is the website that we developed and built from scratch with guidance and advice from Matt (Raad). And what we do is provide a 3D virtual renovation service, especially for real estate agents. And we're just rolling it out Australia-wide.
Website has just taken off…
Liz: And so Cindy, what's the growth that you're having on that business at the moment?
Cindy: We're doubling our growth quarter-on-quarter.
Mike: We've just employed a young salesperson as well to help with the phone calls. We need to do that because we're rolling out Australia-wide, and there's over 50,000 agents.
The Website Idea Had Some big Wins Straight Up…
Matt: And you've got some of the major agents onboard already. Even in the testing phase, you had one of Australia's leading real estate agents come on board fully, didn't you?
Mike: Yes. Our first pitch was to McGrath's which are the third largest Australia-wide, and they took on us onboard. And we rolled-out with them through all their company stores and all the franchise stores across Australia.
Liz: There you go. So now you guys are the owners of a high-growth tech business, online business.
Matt: Working from home.
Their journey begins at the E-Business Institute 3-Day Training Event!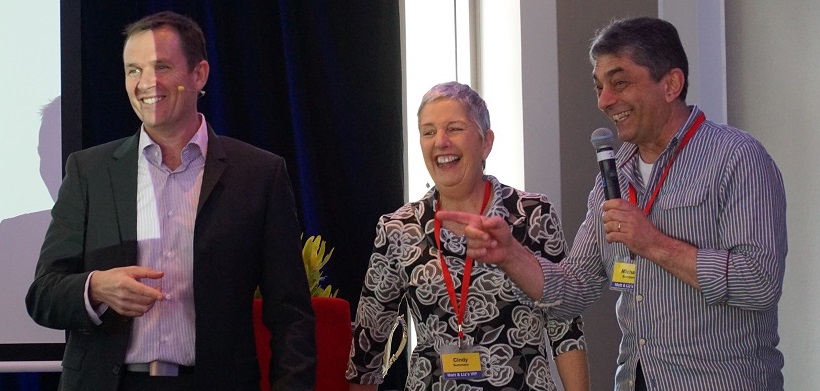 Liz: So, the exciting part of this story is – where were you 18 months ago, or two years ago? Where did it all start?
Cindy: It started with you guys!
Mike:              Well it actually started when we went to a Stuart Zadel property talk. That's when we first heard you guys speak on stage. And we were in real estate. We've developed properties, and we had multiple properties. And we were looking for another stream of income, a bit more passive.
Cindy: And a lot less outlay.
Liz:                  And you'd never had any technical experience obviously, with building websites or anything?
Cindy: No, not at all.
Started out with zero online skills
Mike:              Sending emails was about my total technical abilities! But we loved the concept that you guys pitched. So, we decided to take on your Web Dev website design course, and then we went up to your three-day training event. And we were sitting in the room with a couple of hundred people.
Matt: And you got the big idea. Was it on Sunday by any chance, when you got the big idea? You know when we talk about the big deals and stuff.
Mike: Absolutely.
Cindy hadn't been able to work for the last 12 years, getting online skills changed all that for her…
Liz: And there was something else motivating you to want to change the way you worked and your lifestyle. Cindy do you want to explain a little bit about your journey, and why you've ended up where you are, now wanting an online business?
Cindy: Sure, I haven't worked for over 12 years, because I have Parkinson's, and coming out of the corporate world – it's just not an option to me anymore. But now we work from home and I've worked harder than I've ever worked!
Liz: But you look like you're loving it though.
Cindy: Absolutely. Yes, a labour of love, and it really is great.
Liz: I remember you saying to me it allows you to use that brilliant mind of yours, and you're always wanting to create and do things. And it's wonderful that you're able to continue that and create, no matter what.
Matt: And basically, in a tech business that you've never done before.
Cindy:             So, starting an online business was very foreign to me, but now I feel quite at home.
Mike:              Yes, and we're now listed as a "PropTech Disruptor".
Matt: That's so cool. Coming from absolutely no tech background not long ago, that is awesome.
Cindy's First Online Learning Success: Beating Apple at SEO!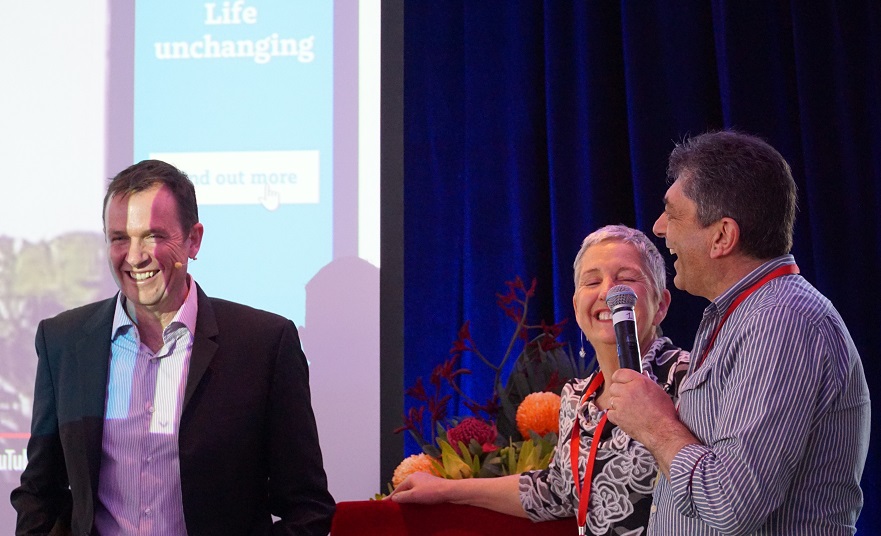 Liz:                  That is phenomenal! And Cindy, since being with us on the Champions Digital Entrepreneurs Program, there are two main things you've achieved that we'd love for you to share with everyone today.
The first thing is your Apple story – can you share a little bit about that?
Cindy: Oh well Michael can probably tell you better.
Mike:              So, a good friend of ours has a business called iTeacher. And when we were half-way through your Champions course, Cindy was really loving the SEO learning from Matt (Raad).
She wanted to test her SEO skills, so we asked our friend if we could review his website. She reviewed the site and gave him a big list of colours and things to change, and where to put his blog on the home page etc. What we found was that within three weeks he was actually ranking higher than Apple on iTeach or iPad training in Sydney. He was actually number one above Apple!
Our friend also does a bit of casual work for Apple. So, when he was in the Apple headquarters, he was talking to the staff there and said, "By the way, how's your iPad training in Sydney going?" And they said "Oh, we own that space." And he said "Really? Yeah? Maybe just check." When they searched online, they couldn't believe it. And they said which company are you using?!
Matt: Excellent, you're off to a good flying start there.
Cindy's Second Learning Success: Overcoming her fear of public speaking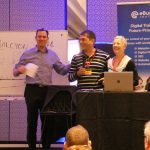 Liz:                  Okay Cindy, so what was the second thing you managed to achieve over the course of being with us on the Champions Digital Entrepreneurs program?
Cindy: I have a real fear of public speaking. And I was given the opportunity to speak at the World Parkinson's conference. It's a global conference and it was a really grand achievement. Something I would never have dared doing beforehand.
Liz: That's fantastic because I know there's around five million people who attended that conference?
Cindy: Probably, there were an awful lot!
Mike:              There was only 30 invited guest speakers which were neurologists from around the world, and only two or three that actually had Parkinson's. So, she was one of an elite few, and I've got no doubts that you and Matt training us up on your stage was certainly great for that.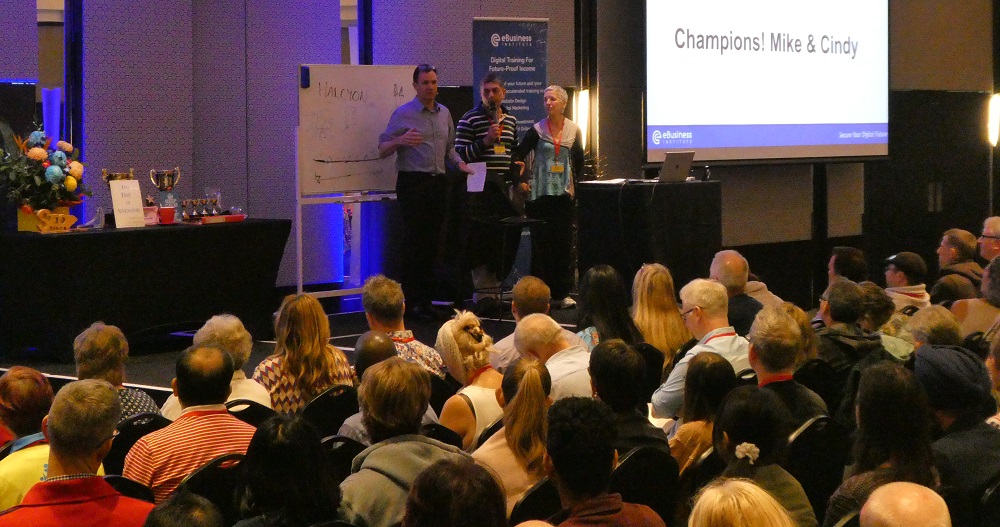 Matt:               I do remember that day yes. And you did so well. You inspired a lot of people that day when you were on our stage (and spoke to our audience of over 200), and then look how you went on and inspired people in your community in the Parkinson's space. That was a huge online event.
Liz: Phenomenal, so lots of life-changes.
Matt: And the two of you did that. You wouldn't have thought a year ago that you would be even technically able to speak to five million people!
Cindy: I wouldn't have had any idea how that would even happen. Let alone be involved, so we're very grateful.
Mike:              Yes, and I think that's one of the things we've noticed is your mindset change, and we're much more open to ideas and different things now because our minds have been opened up to a whole new world.
There are no technical barriers anymore – anyone can create a big business online working from home…
Matt:               And I just love how you guys have heard our message – which is, in this day and age there is no technical barriers anymore. And you're the perfect living proof of that. You were sitting in our workshop, and 18 months later you've got this disruptive property tech business that is just rocking it here in Australia, and I'm sure you'll go further with it.
And now you've already lined up all the real estate agents. It's just the perfect example of what we can do in this day and age. And it's all about the execution of your idea, and you guys are awesome at executing.
Cindy: I like taking action.
Liz: So, obviously you had your idea. And that's the wonderful thing which I really admire about you guys, is that you had the idea and you did something about it.
The three-day workshop is a really wonderful place to have those ideas and mull those things around. And we can't wait to see you at the next one, so you'll be able to sit there and have your next multi-million-dollar idea.
Having a community of like-minded people in your corner
Mike:              Well we love the interaction of being around like-minded people. We've hosted a couple of the local groups here at home in Sydney. We've shared ideas, and we're now partnering up with a couple of other Champions on some projects, and it's just a lovely community of people who have retrained in digital with Matt and Liz.
Cindy: Yes absolutely. We've met some wonderful friends.
Matt:               We know that. You guys are very active with a number of the other Champions, and it's wonderful that you can network with each other. You guys are such an inspiration to people to show there are no barriers, and that's what I love about what you've done.
No matter what – just take action!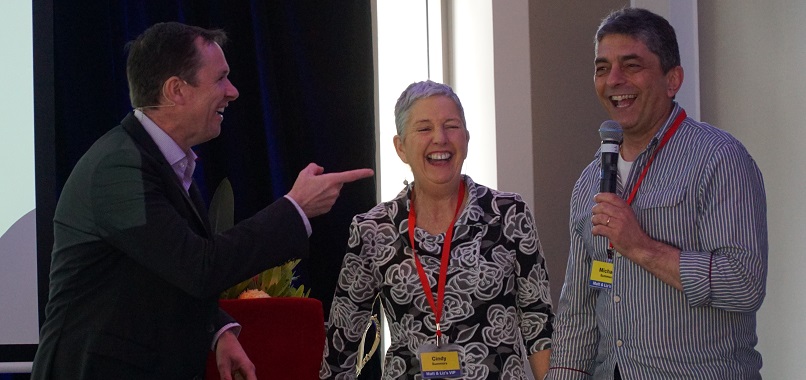 The other thing that maybe we could ask you guys. Looking back now at your dramatic change in life, and how things have just gone ballistic for you. What advice would you have for someone starting out on their journey now?
Cindy: Just do it!
Mike: We were jotting down a few things about that and thinking back, and one of the things I wrote down was, "Progress, not perfection". So as long as you're moving forward. That was a big thing we got from you guys was the saying, "Reps, Reps, Reps".
As long as you're getting up and you're actually doing it and you start. Because it's never going to be perfect, but you can make your way through.
Cindy: And you stay focused.
Liz: Yes, stick with this multi-million-dollar idea. Well this is more than an idea now, that's the wonderful thing. It is now a fully-fledged business. It's profitable, it's making money, it's growing and that is absolutely fantastic. Enough so that here you are living in your beautiful home and being able to work together and enjoy life.
So it has been absolutely fantastic to speak to you. Thank you so much for sharing your journey. I think a lot of people will be inspired by this. I hope it motivates other people to take action and go for those dreams. Go and do something about it.
Mike: No excuses.
Cindy: No age or health or anything really – it can be done. And we're so grateful, we really are.
Liz:                  Well we have absolutely loved being part of your journey, and we feel privileged to be part of that journey. Thank you so much for being with us here today, we really appreciate it.
And if you want to learn how to quit your 9-5 job and /or re-train in digital and learn how to make successful money making websites like our graduates Mike and Cindy did then check out our digital marketing courses.