How this couple quit the corporate grind to spend more time with their young kids by working online
Pete and Renee were doing the long, long corporate grind hours that senior managers need to do these days. Sure, the money was great – Renee had a high end managerial role for one of the biggest banks in the country and Pete was a senior police office and qualified lawyer.
But something wasn't right and they knew it. They had the "Golden Handcuffs" but it came at a price – time and freedom. They felt entrapped by their 60+ hour week jobs.
Something had to change in their lives – and in a major way.
And the final catalyst for that change? – a new family.
They found that the long stressful hours of senior managerial roles was not working for their new young family at all.
They started looking for something more. Something that would allow them to be able to spend quality time with their kids, whilst still making the big money they enjoyed in their corporate jobs.
Pete and Renee retrained in Digital with the E-Business Institute so they could quit their corporate jobs
They came to study with us a few years ago in our elite student programs. They loved the idea of learning our specific digital skills to create a new stream of ongoing, reliable income working from home. They applied what they learnt, and quickly grew their newly created digital agency to replace their high income and leave their corporate jobs.
Fast forward a few short years, their agency is still growing and is renowned as one of the leading digital marketing and SEO agencies on the Gold Coast.
If you're looking to quit your job, re-skill in Digital or change industries, then you will find Pete and Renee's story very inspiring!
CLICK ON THE VIDEO BELOW to hear how Pete and Renee used their digital skills to quit their jobs and replace their high-paying corporate income online
Liz Raad: Today I'm joined by two very special guests, Pete and Renee Curran from Digital Surfer SEO Agency. Thank you so much for joining me.
Why I wanted to talk to you today is because you've had an amazing journey from being completely non-digital to now owning a leading digital agency on the Gold Coast and generating all your income through digital means.
So, I wanted to find out a bit more of your story and where you've come from and where you've come to now. Just to inspire everyone, and what's possible in this journey when you learn these skills.
So, to start out with, can you give us a bit of background about where you guys started out and why you wanted to do something different. What prompted all this change?
Pete: I think the change started when we were first pregnant back in 2011. We really just wanted a different lifestyle. We always had solid jobs that paid good money, but there was a lack of flexibility that came with those jobs. So, we were looking for something different. And it was in early 2011 that I ended up at a Matt and Liz Raad's Digital Business Skills Summit at Surfers Paradise.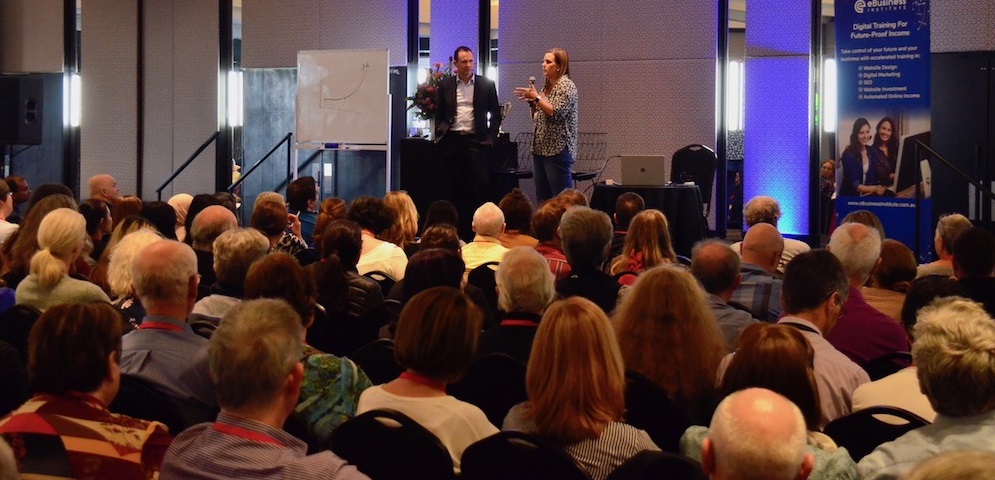 Liz: And what attracted you to learn about digital skills with The E-Business Institute? Had you tried other things like property or shares etc?
Renee: Well, originally it was Pete that was interested in the digital space. Prior to 2011, Pete was a police officer and a qualified lawyer.
We had our first daughter (Chelsea) in 2011 and decided I didn't want to do any of that. So, I had to decide what do I want to do? I knew I didn't want to go down that same line.
Pete went with a friend to the Digital Profits Summit and thought, "This sounds interesting." it was the most enthusiastic I've seen him in a very long time about something. So, he decided to give it a go. I continued back with full-time work once Chelsea was born, and Pete stayed as a stay-at-home dad.
Liz: And what were you doing at that stage Renee?
Renee: I was at corporate level of the Commonwealth Bank, so an executive level that travels basically three weeks out of four each month.
Reskilling to Learn Digital Skills and Make Money Online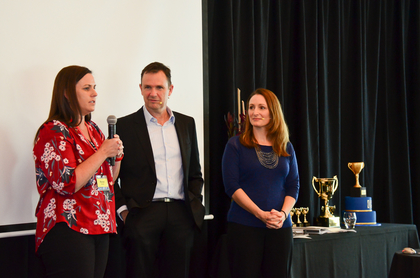 Renee: Pete ran the household and looked after Chelsea, and I worked. He joined the course doing Legends to start with (an eBusiness Institute elite student program). We both did the training, but Pete was obviously a lot more involved in it at this stage. And by the end of the Legends program, we were both really keen.
I was still working full time at this point, and we went on to do a second year of training (now known as the Champions program) as well. During the Champions program, I fell pregnant with our second daughter. It was when I went on maternity leave was when I realised that I didn't know who our oldest daughter was because I was always at work. So, that was what really changed both of our mindsets about changing careers.
I always said, if I was going to leave the bank, which I'd been in for over 20 years, that it would have to be for a completely different industry.
So, I just fell in love with the digital world and how we could help ourselves. But also, how we could help other small businesses within the community to really grow their business as well. So that's where our passion came from.
Liz: I think a lot of people can relate to your story. Being in that corporate world and just finding that you're at that point where you've had enough, and you want to get out. Where you want to do your own thing and just being in control of your own time so that you can decide.
The Freedom of Making Money Online Allowed for More Family Time
Also, you were saying in terms of holidays, you're not having to fly around three out of four weeks of work. So now when you travel it's for holidays. So, where have you just been?
Renee: Last year went two weeks overseas to Hong Kong and Macau. And we were able to actually take the two weeks off work and let our staff run the business.
And we've just taken three weeks off over Christmas, New Year as well and fully dedicated that to family time, as well.
Liz: That's awesome! That's going to change your kids' lives as well.
And so, you both made the decision and you got into this digital world. Now Pete, I know when you first started, you weren't particularly tech savvy. You had a lot to learn, but good on you guys! Something we always admire about you guys is that you just get in and you do it. And if we said, "Okay guys, you need to do this in order to move forward," you went, "Right, on we go!" And you just got it done.
Working as a Team to Build a Successful Digital Agency
We teach a few strategies on how to make money online. You started out on the portfolio site strategies, which is buying websites. But in order to get that leverage to get Renee out of work as quickly as possible, you decided to go down the path of building websites for local businesses. So how did that go?
You were telling me before about how that has grown for you over the last few years. Can you give us a bit of an idea? Once you started applying those skills, what do you think your key to success there was?
Renee: Our key to success was identifying what we did well. Then identifying certain tasks we didn't like too much when building websites for local businesses. That was a big learning curve. We then worked out how we could overcome those challenges. And also, how to free up more time for ourselves.
For the first year, we both worked from home. And within that first year, we thought, "Well, we can take on more businesses, but if we're building these websites for them, how are they being found online?"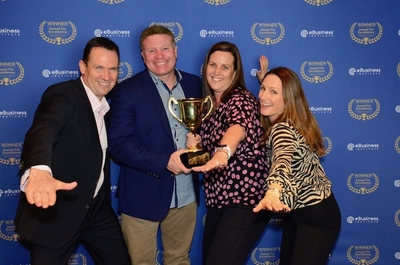 Focusing on Ongoing SEO Services to Generate Ongoing Monthly Income
We were already doing the foundational SEO work for them. So, we had to think about taking that service to the next level, and actually get reoccurring monthly income. We looked into a better way to generate regular ongoing income through providing SEO services. Once we delved into that, we realised we loved that even more than building websites.
Liz: Yes, because that's your ongoing, reliable monthly income. And how are you affecting people's lives? What's the feedback you get when you build these websites for businesses?
Renee: Yeah, it's amazing actually. It's the satisfaction of helping these businesses grow. They're constantly coming back to us and saying how we've increased their turnover – because we're all about that return on investment when we're talking to them.
But I guess the biggest compliment we get out of it is when we get referrals from them. When they're referring other businesses, their families or their friends to us. And that's the biggest compliment that we can get, that we know what we're doing is working.
Connecting with a Like-Minded Community to help Grow Online Business
Liz: Perfect. And so how do you think Champions helped you actually get there, and achieve all that you've achieved?
Renee: It gave us the foundational skills of building websites. But the connections that we built within the Champions community was probably the biggest thing.
So technically, you can learn these skills anywhere. But the difference between Champions is that you learn the skills, but you also build a network of people around you that can actually help you grow.
By building that network through the E-Business Institute gradaute community, one of the first people that we employed to help us was a Champion as well. So, mingling with people that have the same mindset, was probably our biggest positive from this program. And then those connections just allowed us to keep growing and growing, because the people we've met in that network then have another network which we then get into. So, I think that that has been the foundation for us to actually grow to where we are now.
Quickly Growing an Online Business to Replace Corporate Income
Liz: Great, now speaking of growth, can you give us a bit of an idea of how that growth has happened over the last few years? Because this is the exciting thing about this digital space. The growth in this marketplace and the opportunities are just phenomenal. So, give us a bit of an idea of how your business has grown over the last few years.
Renee: So, there's two measures of growth:
One is actually how our team has grown.
Secondly, how our turnover has increased as well.
Going back to 2017 was when we hit the ground running. That was the two of us working with an overseas techie.
We then moved into shared office space and we had a part-time Champion (E-Business Institute graduate) working with us and still the overseas techie.
Then we moved into another permanent office space with some other businesses. At that point, we had two Champions working for us at that stage.
And then through that process, we worked to getting a full-time employee working with us and a part timer as well. Still working with the overseas techie.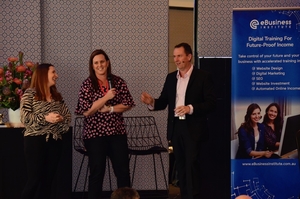 Our digital business was still growing so we then got our own business premises which was only five minutes from home which was great. We saved ourselves an hour and a half of travel every day, just by moving back to five minutes away from where we live.
To where we are today…..
We've been in the office now for 18 months and we've grown our Award Winning Gold Coast SEO agency to having full-time SEO workers, a full-time web developer, website designer, and a techie in our office. We also have a part-time SEO person and also a contracted content writer. Plus of course, the two of us!
Turning The Digital Agency into a more Passive Income Stream
Our goal with 2020 is to bring on a digital marketing salesperson, plus another SEO person to our team. We then want to build our own outsourcing team.
Liz: Nice, and that's going to free you up too a bit Pete?
Pete: That's the plan! We're working towards trying to free ourselves up, and we're getting there.
Creating a Four Day Work Week
Renee: That's right. Most Fridays Pete doesn't work now. He now only works four days a week. I still work five, but it is only Monday to Friday. It allows us to give full 100% commitment to our family on the weekend.
Rapid and High Growth In their Digital Business!
What's more exciting is that from February 2017 to 2018, we had 150% growth. Then in 2019, we had another 350% growth on 2018. Then in 2020, we've had another 300% growth on 2019. So, it's been absolutely amazing. And we definitely hit that exponential curve that Matt talks about at the Champion boot-camps.
Liz: Yes! You're definitely on that tipping point of the exponential curve upwards. Well done guys! And very well deserved!
So of course, now you guys are both full time digital entrepreneurs. And so, what's life like now? What's the difference between being in that corporate world and now being in your own business and doing your own thing?
The Freedom That Comes From A Digital Business
Pete: It still has a lot of challenges. But the main thing is, you just can't put a price on freedom. To be able to choose dates in the calendar and say "Well, we're not working then."
As an example, I think the first weekend in May, we're going to Sydney for the weekend to watch a Swans game. We're just taking the Friday off. Then in two weekend's time we're heading up to Double Island Point.
"It's just great to have that freedom where we know that the team can run things in our absence." – Pete
Liz: What's great about this, is that you've built an incredibly valuable digital business asset as well, especially with that ongoing income trail.
"There's been some big digital marketing agency buyouts, just recently, and there's more and more with higher and higher valuations." – Liz Raad
So that's very exciting guys. You've got an incredible business asset. So, one day when you decide you don't want to do that anymore, you're going get your nice big pay out. That'll be exciting too.
Using Digital Skills to Create Passive Income for the Future – Supporting the Next Generation
Does that feel different in terms of now you're working for yourselves not only for the cashflow, but also to build something together for the future?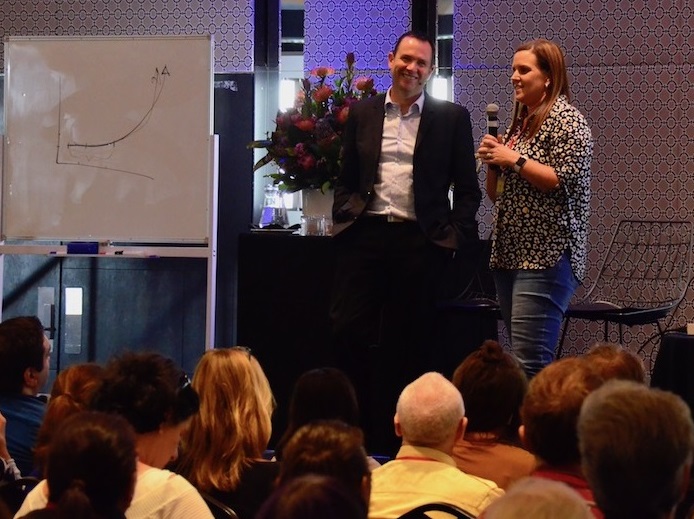 Renee: It's definitely very rewarding, and great being able to celebrate the same goals. Yes, there's a lot of challenges along the way. But it's great when you can actually celebrate the same goals with your partner, and they actually understand that goal as well.
It's a different scenario when you're working in different organisations to each other. You come home and celebrate it, and the other person's like, "Oh ok. Cool." But this way we're both involved, and we get to celebrate our achievements at home. We're talking about it all the time when it comes to running our own online business.
Also, the kids are involved, constantly asking "How's that going?". Which is great, because it's bringing them into the business and opening the opportunity of where they can go in their life as well. With how life is changing these days, who knows what jobs will be available when they're older. But it does just show that there is the opportunity out there.
And of course, we have our five-year plan (that you teach us to do), where we're aiming for us selling out. After that, it's then asking, "What opportunities are available for us?" It becomes another journey. This teaches our kids that you don't have to stay on the same path the whole time either.
Online entrepreneurs, working together in a family business…
Liz: That's fantastic. You're a team, and that's something Matt and I love and that is working together. And it's exciting to see you guys working together.
You've managed this so well, I'm very impressed! So how has that all worked out?
Renee: We've managed it. We've got a two-story office, one upstairs, one downstairs.
In the beginning, we were both trying to work in the business by doing the same thing. But now we have very separate roles.
I look after all the processing, the staff, the projects etc.
Pete brings in all the customers.
So, we have very defined roles. He works downstairs and we all work upstairs. It works out well.
Pete: And I'm only here two days a week so it does work well. No one comes to ask me questions because they know I don't have the answers, it's great!
Liz: Perfect, you've sorted it! That's fantastic guys, so a big congratulations for that journey.
Having an Entrepreneurial Mindset To Quit Your Job and Build a Profitable Online Business
A final question for you. For someone who's watching this and maybe in the situation you were in, a few years ago, what's your advice? What is the first step? What do you need to do to get to where you are?
Renee: Get out there and give it a go without feeling, "What are people going to think about me if I fail?".
Liz: That is what I always admire about you guys, is that you took action. That's what made such a difference for your journey.
Renee: I still remember that Matt said to us one day:
"You've got to stop learning and start earning." – Matt Raad
That was actually our turning point. He says, "You can learn it all, but unless you actually implement it, it's not going to do anything." And we've tried so many things. We find the things that work, and we go with those. So, it's definitely a journey. But the biggest take-away is just to give it a go and give it 120%.
Also, celebrate the small successes even though you might not achieve the goal. It's like, "What have I actually achieved to get there?" It may not necessarily be monetary goals or physical goals, but what have you actually learnt yourself? How have you personally grown? And that's the take-outs I would have.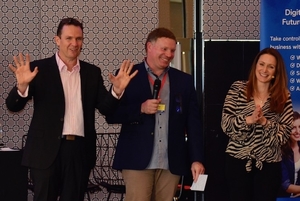 Pete: And here's another one for everyone. I actually found something about six months ago. I was cleaning out and going through a heap of notes from our Legends and Champions program some time ago. I found one slide and I cut it out and I stuck it on the wall. And I mentioned it to people all the time. And I mentioned it to Matt back at the time. I sent him a message and you guys put this up. And that's something that sticks with me every day. "A year from today you'll wish you started."
Liz: Yes, well Matt and I changed that recently to:
"You'll be grateful you started today!" – Matt & Liz Raad
Perfect! Well done guys, and congratulations for making this happen! You're getting out there, taking that consistent action, and it's really paying itself off now. And you're really on that tipping point of the curve taking off. So, a massive congratulations. Thank you so much for sharing your story with our community and we'll look forward to having updates soon. Let's see where you end up next year!
If you are interested in learning a smart new way to work from home and own an online business like Pete and Renee then here are 3 things you can do to get started: