Today we've got a really cool story to share about how one of our graduate students, Chris, has used websites to earn more and work less.
If you've been dreaming of being able to travel anywhere in the world while still being able to earn more money online, then we know that Chris' story is really going to inspire you.
Chris shares with us the 2 strategies that he personally uses to earn more online, working just 2 days a week.
Then for the rest of the week, he does whatever he wants, which typically means surfing and travelling around Western Australia on a bus with his partner Bec.
Pay close attention here, because these 2 strategies are what we teach our elite graduate students. Chris took what he learned, and was able to sell just one of his websites for $250,000 in under 18 months!
If you're ready to learn more about how to create a laptop lifestyle of your choice, then watch the video or read the transcript below.
Find out how Chris uses Websites to earn more and work less, even when travelling around Australia on a bus for over 12 months…
Liz Raad: Hello and welcome. And today we have a very special guest, one of our awesome graduates, Chris. How are you going, Chris?
Chris: Good, thanks guys. Thank you very much for having me on.
Liz: You're very welcome. We had to catch up with you, because where are you right now?
Chris: Yes, I know it has been a little bit slow to catch up with me recently. But we're currently in Exmouth, Western Australia, which is about 15 hours north of Perth. We've been hanging here for about two months and been on the road traveling around in our bus for just over a year now.
Liz: Awesome. And can you tilt the camera just slightly to your side?
Chris: Yes, this is the office at the moment!
Liz: Look at that beautiful sea, wow.
Matt Raad: Oh wow, awesome.
Chris: We're at the lighthouse, so you can see both sides. One side has the surf and then the other side has the kite surfing. So when the wind comes up enough in the afternoon, and I've finished my work, then I can be like, "Oh perfect, I can go play over there."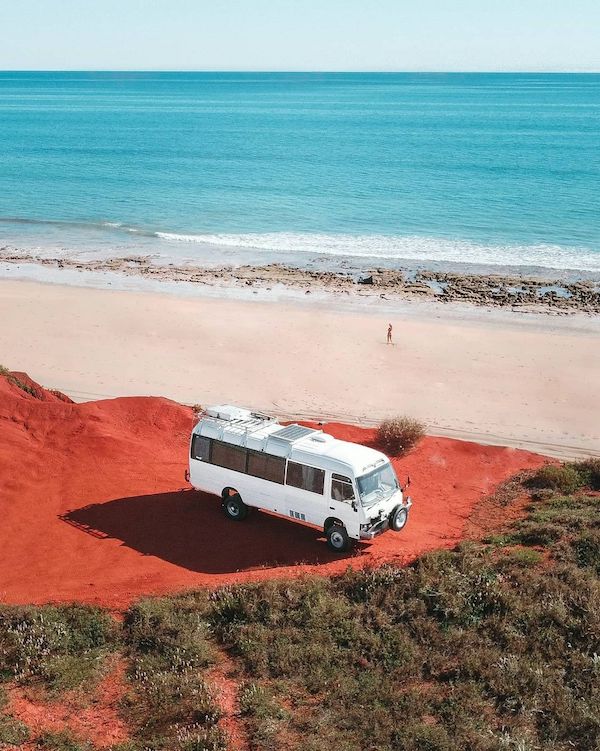 How Chris Structures his Online Business to Live the Laptop Lifestyle
Matt: This is awesome. You're doing the full laptop lifestyle over last 13 months, and you have been on the road working from your van. You're working remotely but building these websites, and you've also been selling them while you're travelling. That's a pretty impressive result.
Chris: Yes, the goal for me right from the start was the van lifestyle (or the bus lifestyle!). When the pandemic hit, we couldn't travel around the world anymore, which was our original plan. So, we just quickly changed and travelled Australia instead. But I'm not complaining at all, it's awesome!
We worked hard just to get the business to a point on where I had some offshore staff. They were doing the majority of the work. This allows us to enjoy a good four days of the week travelling. We usually work two days (normally Monday and Tuesday), then we enjoy the rest of the week travelling around.
Chris didn't always have the laptop lifestyle…how he started building websites while working on remote mine sites…
Liz: Well, that's a little bit different to when you first met us. What were your hours like, and what were you doing?
Chris: I was working in oil and gas. So, it was good time off when I was back home between shifts. But when I was working offshore, there was no reception and very little internet. For anyone who knows the mining industry in Western Australia, you know its pretty crazy hours out there. So, it was a very big change in profession, that's for sure.
How Websites Allowed Chris to Earn More and Work Less than his Career in Mining
Liz: With your digital business, have you now replaced your existing income? And are you now working on your digital business full-time?
Chris: Yes, I earn a lot more now than oil and gas. I wouldn't say I work less, but I really enjoy the work. To be honest, it's difficult to describe it as work because I just really enjoy what I do. Both Bec and I enjoy working online. It allows us to travel around, but we bring the laptops with us and continue our work.
The 2 Methods That Chris Uses to Make Passive Income Online
Liz: You've actually got two arms to your business now, haven't you? How have you structured your income, and how are you using your skills?
Chris: One side of the business is the content-based sites. These are the traditional affiliate sites. They earn passive income through Amazon associates and private affiliate deals. Most of the income comes from private affiliate deals.
I'm really investing quite heavily in that side of the business at the moment. Obviously, we know that that takes a little bit longer to get going, but they're worth a lot more in the future.
Then the other side of the business is the local lead generation websites. I won't go too much into how they're set up. They're very similar just to a normal local business website. Except I use a different model where I sell leads to the business owners in Australia.
How Setting up a Local Digital Agency Allowed Chris to Leave His Mining Career
Matt: Chris, you're now making more money today than you were working offshore in oil and gas. But we should explain, when you first trained with us (and transitioned out of your work), you started your own digital agency, building websites for local businesses. That gave you the cashflow you needed pretty much straight away, didn't it?
Chris: Yes, it gave me the cashflow and it also gave me the confidence I needed as well.
When you start your own digital agency, you learn really fast. That's because you have the outside pressure of the customer relying on you. That's the way I learn. I just needed to be thrown in the deep end and do it.
So, we were able to create the agency, and that was established really well in Perth. And we could've kept pushing on with that. But basically, the end goal for Bec and I was to travel around, so we transitioned.
Matt: You're living the dream. You've proven that for the last 13 months. There's the ocean right there; and we should also mention that Chris is a mad, keen kite surfer. You're pretty selective about where you go, by the looks of it.
Chris Sold His Website for $250,000 in under 18 Months!
Liz: Chris, you took the local Rank and Rent model and put it on steroids. And actually, you sold one of those websites recently.
Chris: Yes, it was exciting to flip our local website for profit. And it was really good, because it only took 18 months from the moment I started the website to the final sale. With this website, I was able to partner with a national provider and eventually sell that site to them for $250,000 which is really awesome.
Liz: Awesome. That's a nice bonus.
Chris: Oh, it was a massive bonus for travelling around Aussie, because it's not cheap!
Matt: It pays for the bus!
Chris: Exactly, it pays for the bus. It also gives me some leverage to invest back into all those content sites and a few other things that I'm doing. Most of the sale proceeds went back into the business; and we're just building, building, building at the moment, which is pretty cool.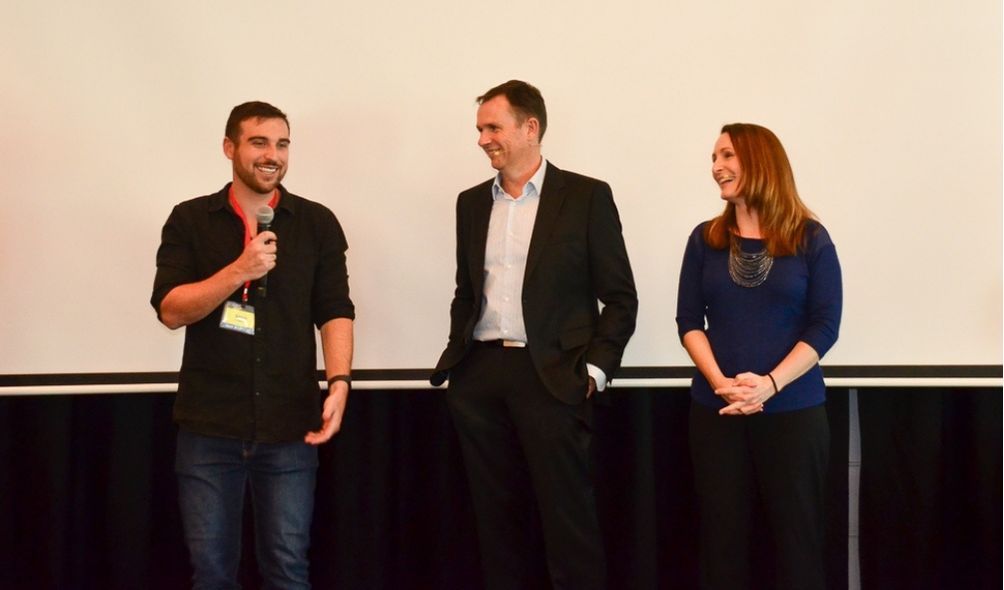 Having a Team to Leverage Your Skills to Earn More and Work Less in the Business
Matt: Yes, and all while you're travelling around Australia. You and Bec have an offshore team to make sure that everything runs fine while you're away. You've got a team behind you so you can now buy and build more websites, can't you? That's pretty much your plan now?
Chris: Exactly. Most of them are in the Philippines. For some reason I've just found people who work really well with me are in the Philippines. I've got a content editor and a site manager there as well. I also have quite a few writers, so he manages all the writers. And then I have a VA, and social media managers for some different parts of the sites.
Our team are all online. We just talk through Slack, which is a messaging platform. And then, every Monday we have a video call, which are awesome! Funnily enough, I started earning more money the less I was involved in the business. I like to say it was accumulation of all the hard work, but maybe it's a sign to say, "Stop doing stuff, Chris, you'll make more money".
Matt: That's interesting Chris.
The Future Plans for Chris Has For His Websites To Earn More and Work Less
Liz: Well, that's something we admire so much about you Chris. You have such clear goals. Freedom was your number 1 goal and that's what you're creating in your life, which is amazing to see.
There's big things ahead on the horizon, and I'm sure you're going to go to that next level. Do you have some big goals for the future?
Chris: We definitely do, especially for the content side, as we really want to leverage into that. We're investing heavily around our staff, just trying to build that up. We already have great staff, but I really want to build up a super strong close-knit team. And then we'll be able to earn more money online to work on multiple passive website projects there.
We also have the lead generation side as well. We're branching out a bit more into America at the moment. It's a bit more of a competitive field, but obviously you get paid in American dollars, so it's not bad. So that's what we're focusing on, when we've got time to work.
Liz: Yes, when you have time out of all your adventuring.
Matt: I'm just sitting here thinking you've got the team in the Philippines, and you've got websites based in America. And I'm looking at your background, Chris. Your office view does not say you've got a business in America at the moment.
Chris: No, it doesn't. When I'm talking to big clients, I just blur the background on Zoom now.
Liz: That's awesome Chris. It's fantastic to see your progress and you guys flying free and on a path to greater things. So, congratulations again, and thanks so much for sharing a bit of your life and story with us today.
Chris: You're welcome, guys. And thanks to you, because I would have never been on this path if I didn't see one of your digital training workshops 6 or 7 years ago now. So thanks very much for starting me on this journey.
For more information on how to buy and renovate websites for income, register for our free website buying masterclass.
If you want to hear about the journey of other students, check out our student success stories.