Chriss and Mark started buying websites for passive income in 2013. What's amazing is that Chriss went from being a complete technophobe who couldn't use a computer to replacing her salary with passive income from websites and living the laptop lifestyle.
Her husband, Mark, had no experience with websites either. At the time they'd just sold a cafe bookstore and was burnt out. They needed a change. And they wanted a simpler life. So they started looking at the digital space to see what they could create online.
Today, you'll hear Chriss and Mark's journey from building and buying websites for passive income, to trying every online strategy for making passive income, to working where they want, whenever they want.
See how the digital skills learnt by Chriss and Mark over 8 years ago took them from online beginners to living the laptop lifestyle
Matt Raad: Hi everyone, and welcome to this very special interview. I'm really pleased to have with us the amazing and the beautiful Chriss Smith and her husband, Mark Smith.
This is really exciting. I know a lot of people in our community know Chriss and they've followed you or seen you at our events. So it's wonderful that you've agreed to come back today to have a chat to us, and give us a bit of an update what's happened with you guys over the years.
Mark & Chriss Started their Digital Training 8 Years Ago with Zero Technical Skills
Now, there may be some people who haven't heard your story. So I'd like to just quickly go back to when and where you started with us. This is a trip down memory lane for you guys. When did you start with us at eBusiness Institute, can you remember?
Chriss Smith: This is going to be a little time capsule in 10 minutes. We started in 2013 and were in the Legends group. This was an absolutely fantastic group, there were some really proactive people in there.
Mark and I had the most incredible first year because I was a technophobe and couldn't use a computer at all. In fact, I'd adamantly vowed that I would never ever use a computer because it just wasn't my thing. Mark was very good at using computers, he's an extremely patient man.
Mark Smith: Chriss could have written a book as to how many different ways you can freeze a computer. She had trouble with Word documents…
Chriss: And emails!!
Mark: She would ask me questions like, "Where do emails go?" That was Chriss' technical knowledge.
Matt: And I do remember coaching you through this stage, Chriss. It was a lot of fun and was really interesting. It was mainly mindset that you and I worked on together. You did end up picking up the technical skills, because now you're super confident in building websites.
Chriss' confidence grew in her second year of digital training, and started gaining momentum…
So for any beginners who's reading this – here's lesson number one. It was a lot of mindset work working with you because it was a totally foreign world to you. And in that vein, you guys then decided to train with us for another year, on the new Champions group?
Chriss: Affirmative! We were in the very first Champions group (eBusiness elite coaching).
Matt: And I think for you both, that's when things really turned around, wasn't it? That's when it really fired up for you.
Chriss: Absolutely. The Legends group was fabulous. But it was implementing and concreting the knowledge that we learnt in Legends into the new Champions group that really helped. We had full immersion within the group, along with access to both you and Liz. That all made the difference in our confidence.
It helped to keep the momentum going and allowed us to ask the questions that we needed to ask. This was really important because we were still complete beginners at a lot of things in that stage. It was only in the next 3-4 years where it really started coming together for us. But now, we're super confident and can do a lot of work.
Mark & Chriss learned how to make life easy by outsourcing their tech work
We still have a fabulous techie in Indonesia. We've worked with him for seven years, and he's the best person. He's so trusting and wonderful. So, if you've got a good techie and have that person behind you to fix any issues, that really helps. We still have them, and I still crash things occasionally!
Matt: I remember when you hired him. So there you go – he's been with you from day one.
Mark & Chriss have tried every Online Strategy for Making Passive Income that we teach
So, when learning your digital skills, you've both done your own projects. But in essence, the two of you have done every strategy we teach. So Chriss, you started out buying and selling smaller websites, didn't you? That was your first big go at this?
Chriss: Yes.
Chriss builds her own Affiliate websites to make passive money online
Matt: And then you realized that you could make money by building affiliate websites. That's when things started to really take off for you. Admittedly, that's why your journey took a bit longer though.
Chriss: That's true, yes. I didn't want to buy the websites any longer because I realized that they're actually really easy to make, and really easy to rank. A lot of my websites are affiliate websites. I'm basically still an Amazon Affiliate because I've found that to be a really good way of making money because of the trust factor, plus it's US dollars into Australian dollars.
But a lot of my sites are still very small sites. Many of them are still just 10 to 20 pages and they do well. And so, I know a lot of people advocate putting tons and tons of content on it. You don't need to, it's just not necessary.
Mark: Chriss, how often are you looking at those sites now? Not often.
Chriss: Not very often, just mainly because my attention has gone into the lead generation sites, which I'm really loving.
Mark retrained his skills from Business Development to Building Websites for local businesses within his community
Matt: And Mark, you weren't really that involved in it right at the beginning. But then you started learning the digital skills with us. You were retrained because what's your background, Mark?
Mark: My background was originally in marketing and business development. At the time we'd just sold a cafe bookstore, and we burnt out very quickly from that. That's why we needed a change. Also, I just wanted a simpler life. Staff and landlords are not really the direction that I wanted to head in.
That's why we started looking at the digital aspect, and that's how we got onto Matt and Liz Raad in the first place. We wanted to see an option from having a bricks and mortar store and staff to see what we could create online. At the time, I had no knowledge whatsoever in IT or computers. My knowledge was just based on what I needed to know to run a business.
Matt: That's a really interesting point. So for the last seven years, the two of you have run this business. And you've been successful at being able to replace both of your incomes with basically just one staff member, which is your techie.
Mark: That's correct.
Mark diversifies his online passive income with a small portfolio of affiliate websites
Matt: That was a big driver for you. And then Mark, what was your first strategy that you started using that got you the results, that replaced your income?
Mark: Well, I did buy some less expensive affiliate sites, which I'm pleased to see they're still ticking over. So there's probably $1,000 a month coming in from passive income. I look at these websites about once every six months.
Matt: More could be done, Mark!
Mark: Yes, more could be done…
Mark's passion is helping businesses grow in his local community…
But I think the big jump for me was when I assisted the local hockey association, which our sons are involved in. I rebuilt their website, and I started getting work through members of that community which helped to enhance my profile in that particular community. I was approached by a number of organizations to create websites, and to recreate existing websites that were not performing satisfactorily.
I ended up being directed by demand into local websites from that aspect. And even to this day, I still help a Little Athletics with their website and I've just completed a website for another community Marathon event. I still enjoy being involved in the community side of things, and it's my way of helping out. But I've also realized, what you put in always comes back around. And I'm certainly known by a lot of people around the community for providing assistance in the digital arena.
Matt: And we should mention your community. You guys live in quite a rural area. You're on acreage, and we're not talking a big community here. It's your classic rural community.
Mark: Very much.
Matt: Your journey is such a great story. And those in our close-knit community know that Liz and I love working with people like you guys. We understand that this transition is challenging. There are ups and downs, and it's a scary time to walk away from everything you've done for the last 20 years of your life to suddenly just go, "I'm going to make money online, working from home."
Chriss is still using multiple income generating methods to diversify her online income
So let's now get into the exciting part, because you two are in a really good space in life. The stars have aligned and it's worked out even better than what you thought. What's the main strategy that has worked for you both, what have you settled into?
Chriss: Over the years, we have tried a few different things.
I have a number of eBook programs, which tick along quite well, but they're not my focus anymore.
The Amazon affiliate sites just go along really nice and steadily.
For 2 years, they worked on their Amazon FBA business…
We also ventured into the Amazon FBA space, which was really interesting. So we sourced product in China, did the trademarking process, had all the packaging organized, and so a product went straight from China to the US, into the Amazon FBA centers there.
It was a very challenging two and a half years. It's not for the faint-hearted because so much is completely out of your control with Amazon. And while they're very much customer-orientated, that's for their buying customers, not for our supply customers. So, it was with great joy we actually closed down our Amazon account earlier this year because it was just taking up too much head space.
Chriss now uses her Digital Skills to create Online Leads for Local Businesses to make her Passive Income from Home
So now, I've been working on lead generation websites since early 2019. I'm loving this strategy because I'm working with people, I've made friendships, we get along really well, and it's a win-win situation because we're helping each other. The people that we are helping through this strategy are just so appreciative of the business that's coming in. And for a couple of them, it's changed their lives completely because they've gone into niches that they never thought they'd ever go into and loving the new lease of life that it's brought them.
For me, I love this local strategy because it's easy. I find that with blog affiliate sites, you're constantly churning out articles and trying to stay ahead. Whereas the lead generation sites, it's very stable. Once you rank number one, it's a very stable arena, and you're much less likely to be hit by Google algorithms. And for that, I'm very grateful.
But the biggest part that I'm really enjoying (other than getting a really stable income in every month), is the fact that it's fun and it's really easy to rank. Yes, some niches take longer (12-18 months) to get going. But now that I'm really familiar across a range of niches and how other "designers" build their websites, I can see that the majority of these people are actually graphic designers. They don't have a real idea of how to build a functional site. And for me, having all that knowledge since joining eBusiness Institute in 2013 is just amazing.
Mark: Keep it simple strategy.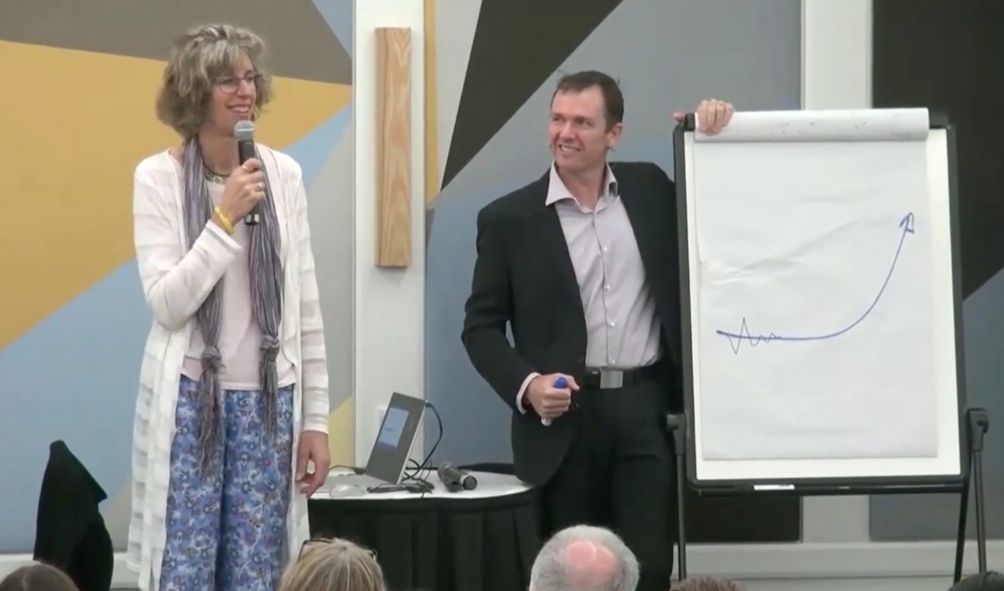 Website Buying Skills helped Mark & Chriss create their Ideal Lifestyle
Chriss' lifestyle has changed since learning her new digital skills – she now housesits whenever and wherever she wants
Matt: Yes. It's all based on your lifestyle, because what is your lifestyle like these days? Can you mention some of the other new fun hobby that you have, Chriss?
Chriss: Oh, I've taken up house sitting because I'm in a different energy space. So in the last couple of months, I've done four house sits (three this year), and they've all been fabulous. They're all on acreage in Warragul, VIC, and I get to look after cats and dogs. But for me, it's given me a different energy space, and it's allowed time for lots of really great ideas to come in and to be re-inspired.
I was recently house sitting on 100 acres, and got to look after two really fantastic dogs, a Collie and a little Jack Russell whose name is Buddy. And it was wonderful gazing into the mountains, having a cup of tea. And while I was in that space, I came up with some really, really good ideas.
Embrace the Laptop Lifestyle and use it to inspire new ideas…
Matt: So while you're house sitting on these beautiful properties, you can just sit there with your laptop. And that's your life now.
Chriss: It's very much a laptop lifestyle. Anyway, thankfully this house has very fast NBN, which has been really good. And on the odd occasions where it hasn't, I've just come back home and say, "Hi guys, I'm here just for the day to do some work." And then I disappear off again! And so it's been absolutely wonderful and I've really enjoyed it.
It's about having a different space for me to work in for 3, 4, 5 or even 10 days of the month. Next month, I'm going down to Belnarring, VIC, by the beach. I've got 10 days to housesit with a fabulous cat and a lady who grows her own herbs. And I love that house because there's this best cafe there.
When I'm there the ideas are so good, and I come home feeling refreshed and re-inspired. It's really good to get out of your space because you tend to think the same in the space that you're in all day. And by being out in a different space, you've got different energy factors, and you've got different influences. So, you tend to think differently, which allows other ideas to come in.
Mark's life is now in flow thanks to digital online money-making skills…
Matt: Look at all the cool things that's happening in your online business now because of this. For both of you, your life suddenly freed up, which is fantastic. Talking to you recently I can just tell you're in the flow now. And you're telling me about your kids, they're at the point where they're doing really well. They're going to be leaving home soon in the next two or three years. So in life, you've really settled into a very nice spot by the sounds of it.
Mark: Today I was running a bush trail, and I ran about 8kms. Then I caught up with Chriss at a local cafe and thought we'd get back home and do some work and website auditing. Then we arranged some appointments for next week for business mentoring. And tomorrow I'll be back at the college, so my life is mixed up now in such a variety, which I find very stimulating.
Matt: I look at your both, and I can remember when the two of you came onto our course together, eight years ago. Who would have thought that today, you'd be saying to yourselves, "Man, I've just had the best day ever. I got to go out for a 8km run, sit in a café with Chriss, and the joyously do some website auditing."
If we went back 8 years ago, you'd probably be thinking, "What the heck is that?!". But today, you're both so joyful and blissful. And Chriss, I remember building websites for local business owners was something you never wanted to do. So, isn't it funny the paths that our lives can take us when we apply consistent action, and we push ourselves to retrain in a new environment.
So, for you guys this has worked out perfectly, and it's fantastic to see your journey guys.
Chriss: Thank you.
Mark: Yes, thank you.
Matt: Thank you so much for sharing with us today your journey over the last eight years Mark and Chriss. Hearing your story is absolutely fantastic.
Chriss: It's been fun. Thanks, Matt.
Mark: It's been really fun. And we're happier and healthier now, for sure.
Want To Learn More About Buying Websites For Passive Income?
Take our free masterclass for beginners on how to buy and renovate websites for income and profit. You'll learn our simple 3-step website investing strategy for buying websites with big profit potential and existing passive income, including examples of websites our students have bought and sold, along with how online beginners are replacing their wage with passive income from websites with no technical or website experience.
Click here to join or learn more about the free masterclass.