See how Anne & Dean quit their corporate roles in London to create a location-independent online business…
4 weeks ago, Dean made a daring decision: he walked away from a stable seven-year corporate career to go full-time and run a location independent business with his partner, Anne.
For three years, they meticulously planned this transition, nurturing a dream of freedom and independence.
Today, you'll hear how they shattered the shackles of the conventional 9-5 grind, including:
Why they choose to create location-independent business
How long it took to resign from corporate
The business model and digital skills they learned to replace their income
How they've set up the business so they can work from anywhere.
If you're tired of the 9-7 job, if you sense the walls are closing in and you want to trade the mundane for the extraordinary, then click below.
Dean and Anne's insights are more than words. They're the spark that could ignite your own journey toward a life location independence.
Matt Raad: Hello again, everyone. It's Matt Raad here, host of the Digital Investor Podcast. Today, we have an amazing couple who are recent graduates of ours.
Anne and Dean have come from full-on corporate backgrounds. But they are now creating a location-independent business. That was their outright goal, and they will share how they did that.
Welcome, Anne and Dean, all the way from London.
Anne: Thanks for having us, Matt.
Matt: Good to see you both. And Dean, I love the shirt. As your famous quote goes, you are definitely living the dream.
Dean: Absolutely, Matt, living the dream.
Matt: You both have an impressive journey, so I want to thank you for coming here and sharing your story.
Anne & Dean now run their Digital Agency after leaving big, stressful corporate jobs
Dean uses his technical skills to work in the digital agency full time
Matt: Looking back at your journey, Anne, you started studying at eBusiness Institute three years ago. So, you've been with us for a while. And in that time, you've convinced Dean to come onto the journey with you and to quit his corporate job.
And now, Dean, you're sitting there in your beautiful shirt. What have you recently done?
Dean: Well, four weeks ago, Matt, I chucked in the corporate gig, and I'm now working full-time with Anne on our digital agency.
Matt: On that note, Dean, we should mention it wasn't just a small corporate gig. Are you allowed to say who you used to work for?
Dean: Yes, I'm quite happy. I've spent the last seven years in the e-commerce sector. I had four years at Amazon. For the last three years, I've been with a company, Flywheel Digital, working with lots of big, well-known global brands. I've been helping those brands grow their business on Amazon.
It was your typical stressful, long-hour corporate gig. So, I'm really happy to leave all that behind.
Matt: Now you work full-time with Anne in your leading London digital agency.
Anne learned her new digital skills as a complete newbie online
Matt: I can't wait for you to share what you've both been doing because Anne is a superwoman here. Anne, you've been sitting there all quiet, so can you tell us about your background?
Anne: Yes, I originally started as an Accountant (CPA) in Australia for around seven years. I came to London for a 12-month working holiday. And 20 years later, I've worked for 30 clients across the USA, Asia, Europe and the UK. So, I've been in 20 different countries doing business transformations across lots of industries.
About two years before COVID, the work was getting very high-pressure, with long hours and a lot of personal sacrifices. I was really wanting something more. So, when COVID hit, a friend in Brisbane introduced me to the Digital Investors program of eBusiness Institute.
The rest is history. I attended the Annual Digital Investors Summit and signed up for the Champions program. I've never looked back. It's been great.
Matt: Thanks for sharing, Anne, and we've loved having you on the program. It's been unreal seeing your journey. As you probably know, having personally met a lot of people in our community, many of our students are very similar to you both, working in highly stressful roles.
Anne's first client website build was for $15,000!
Matt: You guys are obviously in London, which is the world's financial hub, and doing these full-on corporate roles. And so, Anne, when you said you came onto Champions and never looked back, what was your first website build?
I want people to read this because you're very calmly saying you never looked back. But your first website build blew everyone away.
Anne: Yes, so my first website build for a client was for US$15,000. It was to rebuild a medical practice website in Tennessee. It was a big job for my first website build, but I just took all the learnings from Champions and consistently applied them.
We didn't get the hockey stick (which we refer to in Champions as "Matt's graph"). But their website got a really nice, gradual, steady growth of traffic and page views. So, it was a great first client.
She took her new digital skills to build a successful website for her client
Matt: Anne is an ultra-high achiever. When you first came onto Champions, our rule is to start out small and find a nice, easy website for a friend or a local charity, etc. But Anne just jumped in and got a full-on $15,000 corporate client. Did you find that stressful?
Anne: Yes, very. There were lots of ups and downs, and we had a lot of calls about it. I massively over-delivered because I wanted to use all of my new digital skills. But I turned a 1,000-word website into 30,000 words and 30-40 pages.
Overall, it was a good learning experience, and the client was very happy with the results, so that was most important.
Matt: Absolutely. I wouldn't recommend what Anne did to our readers. She did bite off more than she could chew.
Anne, looking back, was that a bit too full-on for your first client website build?
Anne: It was, but we got there in the end.
Matt: Dean, you must be very proud of her because she nailed it in the end. There were lots of ups and downs, and our coaches here were helping you with it because it was a seriously big site.
As you said, you over-delivered, but you got to earn while you learn. And let's not kid ourselves, it was for US$15,000. That's a great earning opportunity, and you learned a lot through the process. You are set up really well now because you're very confident building these $20,000 websites. That's your specialty. And you both build classy websites.
They now regularly network & build $20,000+ sites for high-end clients
Matt: So, what's your main focus with the digital agency these days?
Anne: We're working with small, medium, and corporate clients. We offer website builds, hosting, and SEO services as well.
Our biggest SEO client came through networking, as did our first website build. That's really important and a great lesson that was reinforced with Champions.
Matt: And here's another great example of the importance of networking to create cool business opportunities. Anne's profile was recently featured in the CPA Australia magazine. This came about from a networking conversation in London in August 2022 with CPA's Board Chair and resulted in an article to profile her career transition from Accountant to Digital Agency Owner!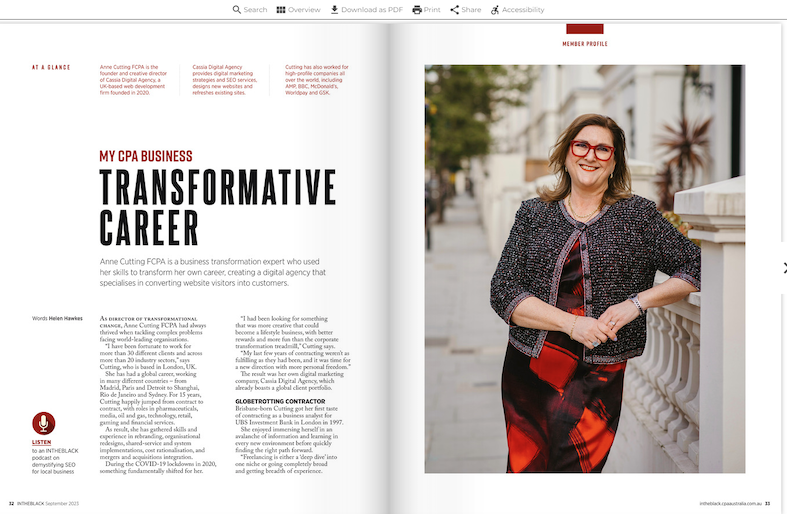 The biggest challenge of building a $15,000 client website…
Matt: What was your biggest challenge in building a $15,000 website?
Anne: Initially, it was the sales pitch. They originally came to us wanting to spend $10,000 on Google Ads. But we said, "You don't really have a website that has the roots to sustain and get the value out of a Google Ads campaign."
So, we talked them through the whole sales process that you take us through in Champions.
We explained why a website is so important as the roots and foundation of the business, and then to build upon that.
So, that was the first big challenge. Once I took the client on, we had to deal with the website's design, strategy and structure. We also had to hire some medical writers and manage the outsourcing.
Anne uses her program management skills to operate her online business
Anne: I have strength from my corporate background in program management, deliverables, stakeholder management, risk management, etc. So, I was great at managing all of that, and delegating to people to support the build and do the writing.
This was a great case study and example of all the key things that Matt and Liz Raad teach us about the local agency strategy and entrepreneurial skills in terms of building that client.
Matt: Well done, because the client is in Texas, and you were in lockdown in London at the time. So, this was all done virtually, which is really impressive.
I want to point out to our readers this is what Anne and Dean do really well. They are based in London and have established themselves as a boutique digital agency targeting specific clients. They specifically target businesses that have a bit more money to spend on a higher-end website.
Why a lifestyle business is so important for Anne & Dean
Matt: So, what's your main drive for doing this? You've come from being a burned-out corporate; how have you set this up to suit your lifestyle now?
Dean: Well, after the first year for Anne, we realised this has really got some legs, and it's a big opportunity for us.
Year two was all about putting some foundations in place. And we've taken a lot of the good advice you had given around goal setting and planning to heart.
So, we've been working towards this big moment of leaving the corporate world for over two years. We made the decision about nine months ago that I would be resigning, well ahead of me actually handing my notice in. So, we've been working towards this for a while now.
You mentioned location independence as a big part of what we wanted to achieve with this.
We've set up the business so that we can offer our services from anywhere.
It will allow us to spend some time back in Australia, closer to our family and friends. We've done a bit of testing and learning along the way, which has allowed us to do a couple of these short trips.
How they prepared the business to ensure it will work for their lifestyle goals
Matt: Having a location-independent agency for high-end clients has been a big vision for you. Can you explain how you've been practising and building on that vision over this last year?
1./ They incorporate work into their holiday breaks
Dean: It's been great, Matt. And I want to say that none of what we've done has been from jumping in head-first. We've done lots of testing and learning, to the point of incorporating a holiday break and adding a week of work onto the end of it.
We've been to Wales, Majorca, and recently we've been to Morocco as well. Each time we've taken the laptops, we've intentionally been spending time there in those holiday destinations but also working.
We've had a couple of strange looks when we were sitting by the pool in Morocco with our laptops. But it has worked perfectly for us.
Matt: I really like this strategy. And for us Aussies, it's a bit hard to appreciate with such big distances to travel here in Australia. But for you in London, you can get to these places a lot easier.
Anne launched her first website while travelling in Mecca
Matt: So, you're going to all these amazing holiday destinations. How long would you go for? Are we talking a couple of days, or is this for a week or two at a time?
Anne: Our trips are normally for around two weeks at a time.
Our first one was when I was building the US site. We had gone to Mecca, but the course hadn't quite finished. So, I'm tapping away at the laptop the first two days of our holiday, but it worked out perfectly well.
We've done bootcamps from Mecca too.
2./ They determined the tools needed to run their business remotely
Anne: But I think the other good thing about 'test and learn' is that when you're travelling, you rely on Airbnb, hotels, etc. So, it's about finding the effective tools, techniques, and setups to work effectively, and then shut down and have a holiday.
For example, I bought an extendable screen, which gives us a three-screen option when we're working. It simulates our office setup but allows flexibility when travelling.
Matt: That's a good idea.
When you're travelling in Europe, are there any big challenges when living off a laptop and running a classy boutique agency in trendy London? Have you found any particular challenges in those practice runs?
Dean: Well, I think Maslow's Hierarchy of Needs now includes internet access, food, water, and battery power, doesn't it?
So, the biggest thing for us is ensuring we have good Wi-Fi connectivity and a space we can work from. It could be a dining table or something like that. We just don't want to be propped up in a bed working with a laptop on our lap. We want to be able to have a desk or table to sit at.
3./ They use virtual platforms like Zoom to interact with clients all over the world
Matt: And what about from the client's point of view? You're dealing with corporates and medium-sized businesses. Do you tell them that you're sitting by the pool? How do you manage that side of it?
I know a lot of us Champions are doing this sort of thing here in Australia. But I'm curious how you do it in London. Do you tell them you're off to Morocco for a couple of weeks?
Anne: It depends on the relationship whether we disclose that we're travelling, and that will be on our "out of office".
One thing that's worked well is having our branded business Zoom background. So, the client never sees our home office environment, nor do they see our office environment when travelling either.
…which provides the flexibility of working with different clients' time zones…
Matt: That's why, for all these years, whenever I get on Zoom with you and Dean, I see your office background. That's very clever. You're training your clients, and they wouldn't even know.
Anne: And that's the flexibility. It doesn't matter if we're on a Zoom call at 10 p.m. where we're travelling; as long as it's within the client's office time, that's all they're looking for.
It's all in the communication. If UK mornings work better for where we are, we just manage our meetings before midday and keep it simple.
Even when we were in Australia last year, I won a new client who wanted a small piece of work. When I had my first call with them and started the work, I was in Sydney. They've now turned into multiple new website rebuilds and ongoing work. And that's all been done over Zoom within different time zones.
Creating a location-dependent business you can dial up or down as needed
How the digital agency provides Anne & Dean with options for how they want to work without having to retire…
Matt: You are both at that stage in life where you want to travel a lot more, but you also don't want to stop working.
Dean: That's really important for us. We've had corporate careers and are used to working intensively hard. Neither of us is ready to retire.
This is a big part of setting up our third or fourth career (depending on how you count it), because we want something that can last with us for many years that we can dial up or down when needed.
Putting our feet up on the sofa isn't our style. We really enjoy working hard, but we've now got the reward of working for ourselves, and we're benefiting from the fruits of our labour, which is a big motivation for us.
Matt: Yes, and well done, guys. It's been cool seeing you quit your job, Dean. You can see it's working.
They set a plan for how to transition out of their corporate career
Matt: To give people an idea, this has been an iterative process over the last three years, hasn't it?
Anne: We've always had a plan since we got together. But I think the learnings we had in Champions, along with the goal-setting and vision, we've just been living that and working out the steps we need to do to achieve it.
I'm a project management expert, and we had created those stepping stones. Then, it was just doing the work and realising the gains. That's been great for us, and we have a good plan. We have a 10-year vision that we're heading towards, and this has all been part of that.
We love the intellectual element of working with businesses, but I also enjoy the elements of being creative and doing design. We love helping businesses succeed.
And, of course, we love SEO.
Matt: Yes, you have to say that! For me, that's the fun part. You know I'm a bit nerdy about SEO, too.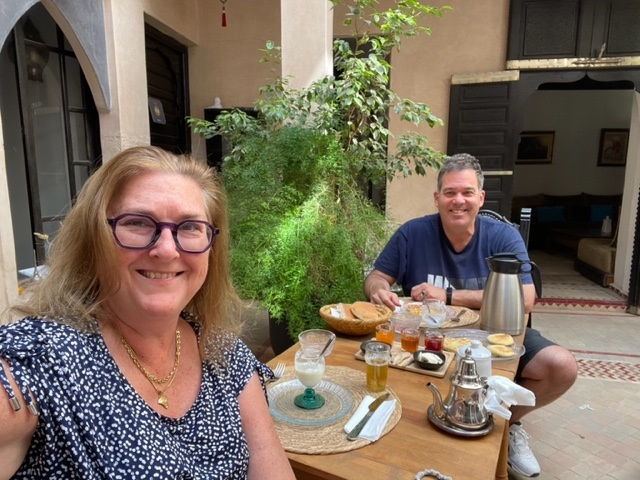 3 vital steps to transition out of corporate and
Matt: So, you both know our community really well. And as you can appreciate, there are a lot of people in there like yourselves who are in this situation.
When you look back over your last three years, what advice would you have for someone from a similar corporate background? You both were in full-on roles and earning really good money. Now, you've quit your corporate jobs and have a location-independent business.
1./ The importance of an entrepreneurial mindset
Matt: What would you say to someone getting to that gap when they're starting out?
Anne: It's really important to have a vision of what you want your life to be for this part of your career. Then, you need to put the stepping stones in place.
For me, when I started Champions, I thought I would get all the technical training for digital marketing and web design. But the surprising value-add was the mindset work that Matt and Liz Raad provided with their coaching.
I actually think the spine of Champions is the entrepreneurial mindset and entrepreneurial skills we get out of this.
So, that was a bonus value-add that I wasn't expecting. And we coupled that with Dean's technical background; it has set us up for a wonderful life that we're creating. We're just so excited.
Matt: That's awesome. People often overlook that bit in this journey. We're obviously really good at teaching people how to build and SEO websites. We love it, and all of us live and breathe it. But the mindset part is 80-90% of it, and you guys have blitzed it and embraced it fully.
2./ Set clear, intentional goals
Matt: So, for you, Dean, what would be your advice to someone starting out?
Dean: We touched on it a moment ago, Matt, which was the goal setting. For me, it's having that goal, the objective for the future. We have our lighthouse objective that we've printed onto our mousepad because none of this is by accident. We've been very deliberate with our plans and processes.
3./ Take consistent action on your goals
Dean: We've been working towards this culmination of me leaving the corporate lifestyle for several years, and we've put a lot of plans in place to help us facilitate that.
It's all about having those goals and understanding what you need to do to achieve them. Then, put the steps in place to execute them.
Like you say, Matt, "Reps, reps, reps."
Matt: That's right, and congratulations. I've watched you guys execute this perfectly.
I remember when you first started coming onto the calls with Anne, Dean. I was hearing about your background and thought about how important it is you put into place all the mindset and goal setting that we teach.
That's a really big thing. As you guys know, that's what changed Liz and my life. It's how we've been able to achieve everything we wanted in life – setting goals and executing them.
Anne & Dean have achieved their goals in under 3 years!
Matt: So, hats off to you both. You've created this amazing business where you do an awesome job for your clients. And if anyone reading this is based in London, Texas, or anywhere in the world, reach out to Anne and Dean if you're looking for a professional website build.
You should be proud of yourselves. You're both perfect for the strategy of building websites for bigger, medium-sized businesses. You both bring so much to the table with your corporate background, and you combine it with your entrepreneurial thinking.
Thank you for inspiring so many people who are reading this. They're going to realise you might not do it in a year. But in three years, here's where you can get to. This is unreal. So, thank you so much for coming along and sharing today, guys. It's definitely been a pleasure having you here.
Dean: Thank you, Matt and Liz, it's been great. And thank you to the Champions community that you created, too. It's something that we really value and enjoy.
Since we've joined Champions, we've not looked back. It's really been changing the lifestyle we've created, and we're so excited. We're living the dream, so thank you.
Matt: Well, I can't wait to have you both on again with an update from you.
Want to start a location independent business and quit your corporate job?
Matt: If you're in corporate, want to quit the rat race, and want to get started online, why not try our free website buying masterclass? This masterclass is where Anne and Dean both started. It's where we show you how you can buy or build websites and set up a location-independent income.
---